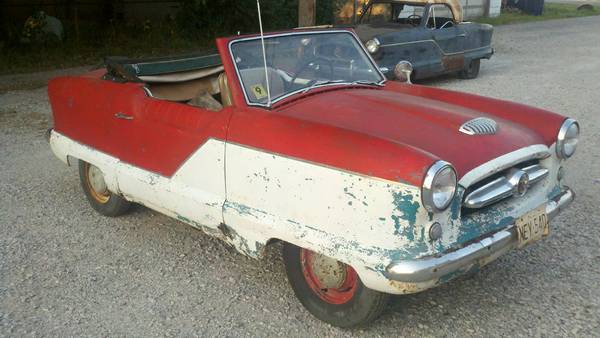 There's something about tiny cars that almost everyone loves. It seems like they always have more personality! Besides, what could be more fun than owning a car made by a company that also made refrigerators? Although Crosley pretty well had the small car/appliance market cornered, that didn't stop Nash Kelvinator from making an attempt! Although its been (poorly) repainted at some point, this little Metropolitan is complete, intact, and in need of a loving restoration. Off the road since 1971, this Nash can be found here on craigslist in Indiana with an asking price of $3,750.
The current color scheme of this car is not the best. Though it was originally Caribbean Blue, someone in the past applied a "a very amateurish paint job" over top of the original paint, and left the original interior colors. Though the red and white doesn't look terrible, Caribbean Blue was a very iconic Nash Metropolitan color and once restored it would look fantastic on this car. This car has all 2 options available: heat and a radio. I don't know what the original seat color was, but I would hazard a guess that medium brown was not it. However, the seats, dash, and interior panels are all present and intact, and this would be a great candidate for a small restoration (pun intended).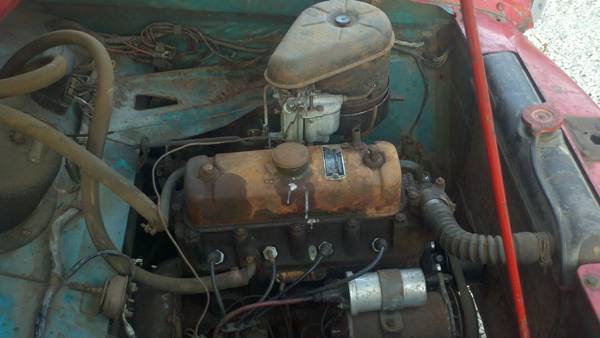 This Nash is not only from the first model year of production, but it is actually one of the first 10,000 units commissioned by Nash from Austin Motor Company, at least according to the ad. Under the hood is the Austin A40 1,200CC inline four cylinder engine producing a whopping 42 horsepower. The seller states that the engine runs, but will need the gas tank cleaned out before it will be operating properly. Although it runs, if one were to restore this car it would probably be a good idea to go through the engine at some point during the process.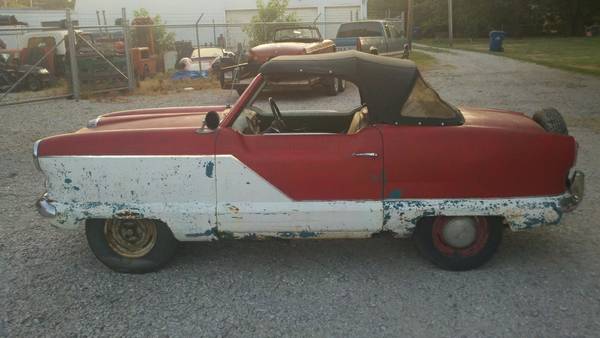 As shown here, the home-cooked paint job is peeling in various places, and there is rust visible in the rockers on both sides. If it weren't in need of rust repair, I would be curious to see if the paint could be scuffed or buffed off down to the original finish. Regardless, this car is in need of a full restoration, and based on the condition of other Metropolitan projects I have seen, this is a good starting point. According to the seller, it needs floor pans, but new ones are included in the sale. Would you attempt this project? Or wait for a better one to come along?