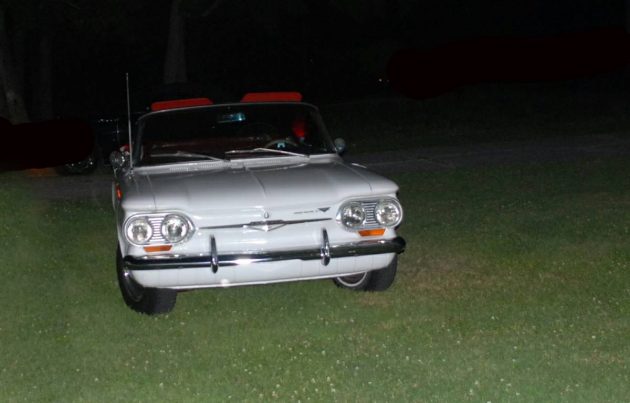 I am just going to start with the price on this one: $3500.  Yes, a convertible Corvair that looks to be in fairly good condition for just $3500.  While Corvairs are an acquired taste, and their prices trend lower than other cars in their sales bracket from that era, that is a pretty low price.  If you are expecting a rusted out bucket of rust, you may be right.  However, the pictures don't show anything I can find to justify the price.  This 1963 Chevrolet Corvair Monza is being advertised on Craigslist in Hendersonville, Tennessee, and it just popped up today.  The asking price, again, is $3500.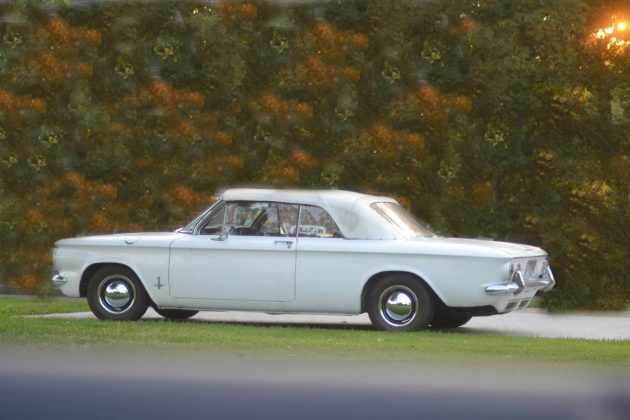 As you can see from this artistically blurred picture, it is a rather good looking early series Corvair.  The tires are holding air, it has a functional convertible top, and all the glass is in it as well.  The seller does say that the top liner hasn't been installed, but one is included in the sale.  Moving on, white paint is the worst paint for hiding rust, but I cannot see any here.  In fact, with the chrome hubcaps and trim rings, the car looks really nice.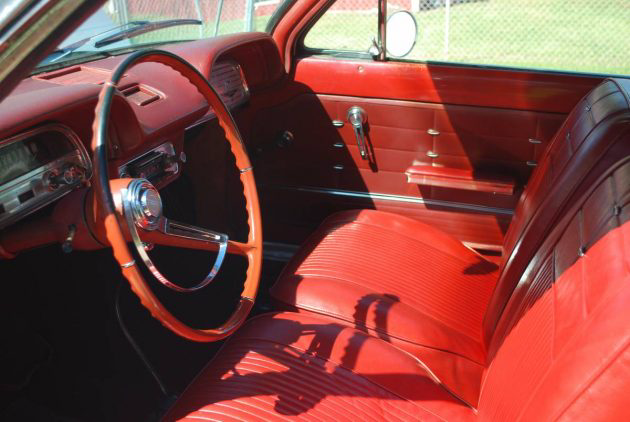 The picture above is pretty clear, and we can see that the interior looks great as well.  The dash cover is a bit faded, but the seller says that they have a cap for it that goes with the car.  Otherwise, the rest of the dash looks great and the seat covers are nearly flawless.  While the area is covered by a dark shadow, the carpet looks to be intact and properly stitched as well.  The steering wheel paint is worn off in a few areas, but the door panels seem to be tip top.  It even has a windshield!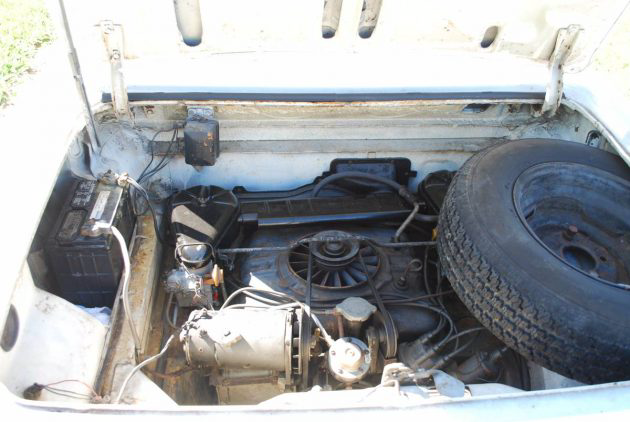 Under the hood, things don't seem to be as polished.  However, I don't see any deal breakers here.  Everything looks to be in its place, and even the bizarrely routed Corvair fan belt is in place.  The battery  looks to be sitting squarely in its tray instead of dangling precariously by its cables into a rust created chasm.  The air box even looks to be restored.  I just don't get it.
The ad further states that it has a functioning AM radio installed, but there is an AM/FM radio that goes with the sale.  The car also has a new gas tank and a Grant wooden steering wheel that will be thrown in in case you are aesthetically challenged.  The ad states that it even runs.  The only problem noted is that it needs a master cylinder but, you guessed it, a new one is included too.
So, what's the deal here?  Is this a project that someone has just gotten so fed up with that they want it gone before the next time the sun rises?  Is the underside of the car look like rusty lace?  Or, is this one of those mythical situations where a divorce is imminent and one party wants to punish the other for their crimes?  I have no idea.  If you are a Corvair nut, and you make the trip to Hendersonville to see this car, let us know what is going on.  I am not a Corvair fan, but I am contemplating a run to Hendersonville in the morning after calling in sick with citrus canker or something.