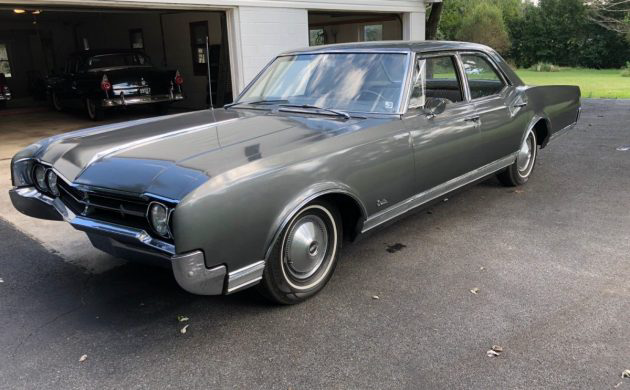 In the mid-sixties, it was pretty much the bigger the better. Intermediate and compact cars were available by then, so there was no reason to not make the big cars even bigger. In 1965, Oldsmobile "tested the waters" with a new Delta model that was part of the Dynamic 88 line. In 1966, the Delta 88 became a stand-alone model. This is a 1966 Oldsmobile Delta 88 Celebrity Sedan (4 door sedan) for sale here on eBay in Dover, Delaware. Thanks go out to Barn Finds reader Ikey H. for finding this car and bringing to our attention.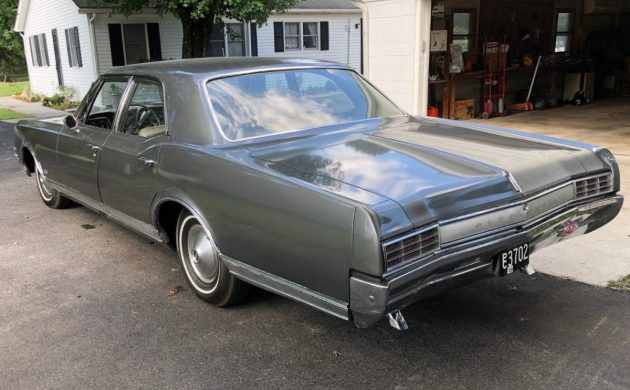 This car has new Gun Metal Metallic paint with metal flakes. This Oldsmobile has been garaged. It has dual exhaust. On the driver's side, the "88" portion of the Delta 88 name is missing. The body is straight and there is no rust anywhere on the body of the car. The lister also provides a few pictures of the car's underneath. A YouTube video is included in the listing as well.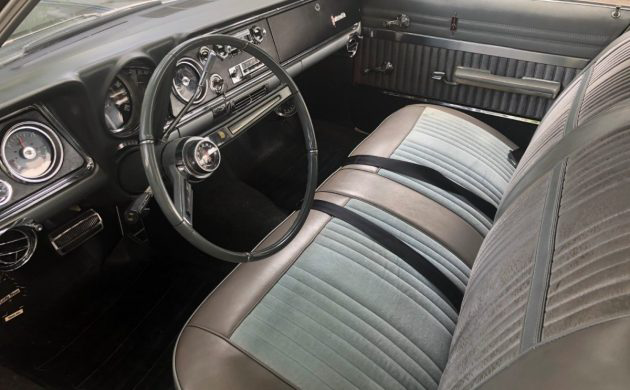 The lister doesn't state whether this is an original interior or if it has been redone. Due to its great condition, I tend to believe the interior has been redone at some point in its original pattern. The seats are finished in grey vinyl with cloth inserts. This Delta 88 has a factory air conditioning and the lister says it blows and the compressor works but it needs a charge of R12 refrigerant. Automatic transmission, power steering, and power brakes will make getting this big car around a lot easier. There appears to be an aftermarket tachometer on the passenger side angled toward the driver for viewing.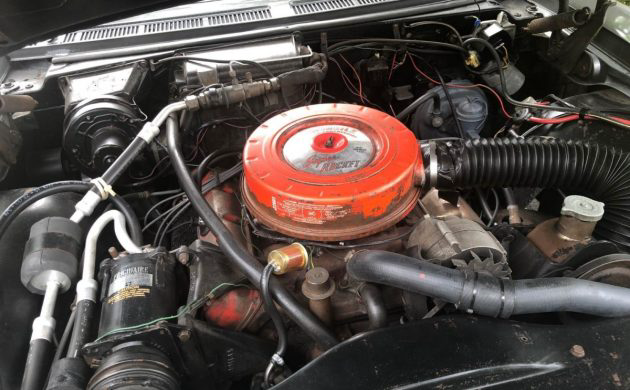 The engine is a big block 425 cubic inch V-8. The car has current tags and is driven often, running and driving excellent. This Oldsmobile has 82,000 miles. The car is being listed for the father who doesn't use a computer by his son or daughter. The father has other cars in his collection including another 1966 Oldsmobile and is downsizing due to the need for garage space. This 1966 Oldsmobile Delta 88 is being offered at a Buy it Now Price of $8,000. For that price, the only thing you will need to be concerned with is the car's need for refrigerant. Are you ready for some Rocket action?
Have something to sell? List it here on Barn Finds!