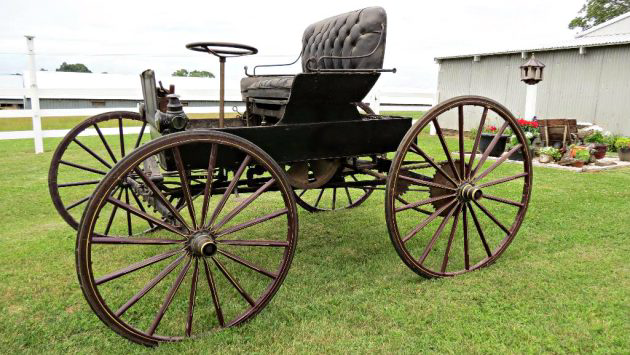 In the early days of the automobile there were so very many tinkerers that developed their own version of the automobile leading to many small automotive brands in the early days. This 1907 Success Auto Buggy Model C spent its entire life in the same area it was purchased new, and spent many years tucked away under a canvas tarp in a barn. Thankfully the dry barn preserved this early beauty to be discovered in such a nice original condition. With 9 days remaining to bid, this Success is currently bid up to $7,050. Check it out here on Enlisted Auctions out of Stuarts Draft, Virginia.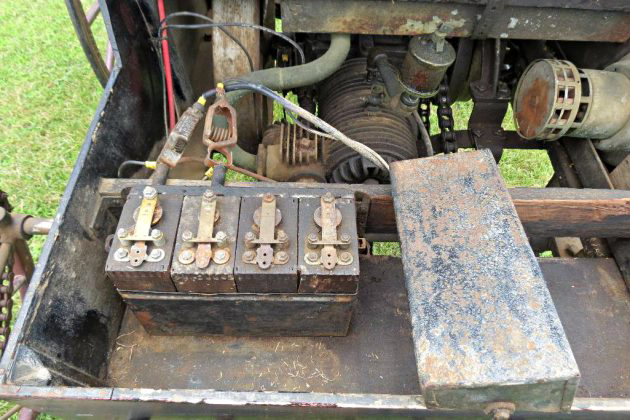 The opposing air cooled two cylinder engine can be turned over and does have compression. The auction house is leery of awakening such an old engine, but from the details, this engine sounds promising. There are a few "new" wires to be seen on this car, but a couple of them appear to be battery terminal related. The drive-train appears very complete, which is wonderful as I would imagine that Success parts are nearly non-existent. The wooden spoke wheels look excellent, as do the hard tires.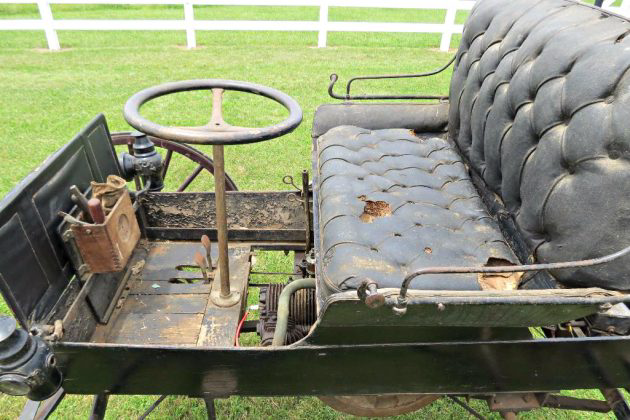 The interior as you would imagine is quite simple, and still strongly resembles a horse buggy. The horse hair filled seat is still mostly there and in arguably good condition for being 110 years old. The air cooled engine could pull cool air from the cabin, or better yet on chilly days it also functioned as a foot heater.  The steering on this Success is rather unique as the front steering is set up as a "fifth wheel" pivoting from the center of the front axle like many horse drawn buggies. Owning and driving a car in this era absolutely required tools, and patience to make your trip a "Success-ful" one. The Victorian era folks were not shy to name their products to inspire potential buyers. Many of these early buggies inspired, or infuriated, later successful automotive pioneers like the Packard brothers who purchased a Winton Motor carriage that was so unreliable and bad according to their account, that they developed their own automobile that would later be known as Packard.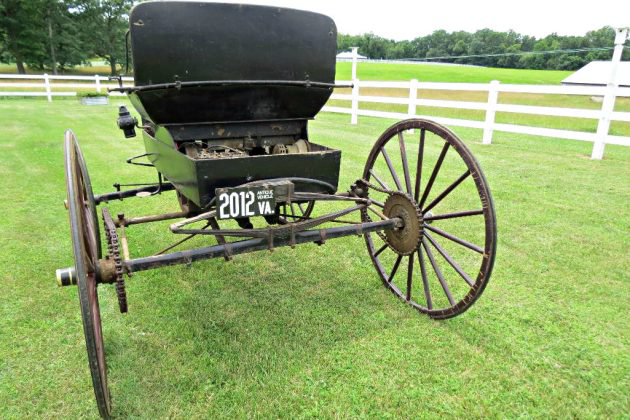 With a simple body construction this not so weather friendly Auto Buggy has survived the test of time nicely. There are a few areas on the wooden body parts that have chipping paint, including the wooden wheels. The seller has mentioned that some touch up work has been done, so this one isn't "exactly" original, but darn close. The fold up buggy roof is included, but is very delicate and needs to either be carefully stored, or restored and used. Although not particularly fast, this Success Auto Buggy is just as important as any classic, perhaps even more so. Certainly a rare sight to see and even a rarer opportunity to own, this important and well maintained Auto Buggy is a valuable piece of our automotive history. Would you take on this rare and important piece of automotive history?