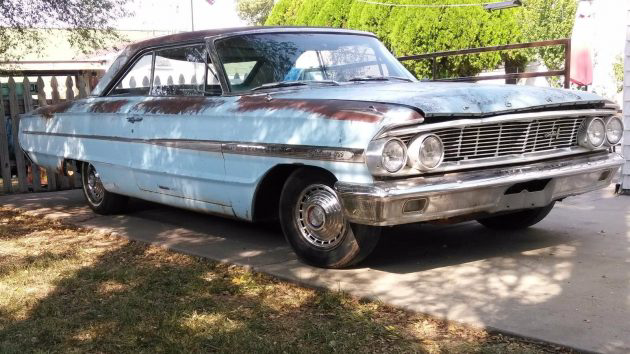 This 1964 Ford Galaxie 500 2-door fastback is characterized by the seller as a "complete rolling project." What's surprising is that the opening bid is $1.00 (no, that's not a typo) and there's absolutely no reserve. You can view (0r bid!) on the auction here on eBay. This beautiful "ol' car" is located in the heartland of America in Wichita, Kansas. And I wish it were in my yard!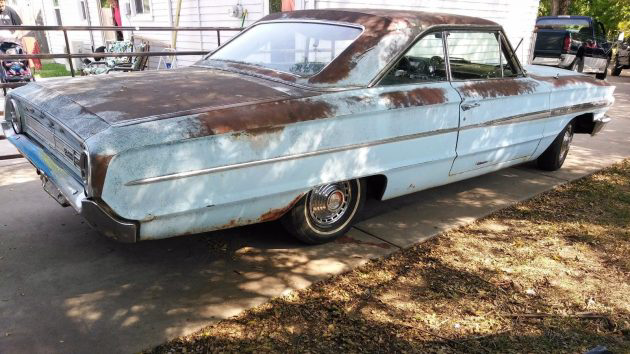 As you can see, this car is probably still wearing it's original paint–or what's left of it! And what a beautiful shape! This is the "fastback" version that was so beautiful on this generation Ford (yes, I'm biased, I'm a Ford fan). And while the body has some dents and dings as well as some rust, it doesn't really look too bad. I'm not naive enough to think bidding will stay this low, but I wonder how high it will end up?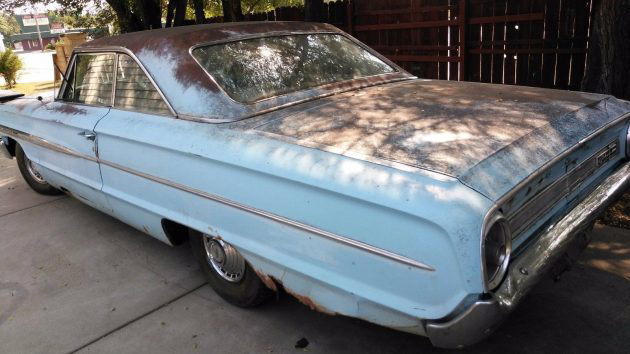 You can see the worst of the rust here in the rear quarter panel. The seller tells us that the quarters and under the driver's door are the worst areas for rust, and that the floors surprisingly aren't rotted out. You can find the right hand side rear panel here, and I'm pretty sure you could uncover a left side without too much trouble either. And here's the rocker panel, ready to install.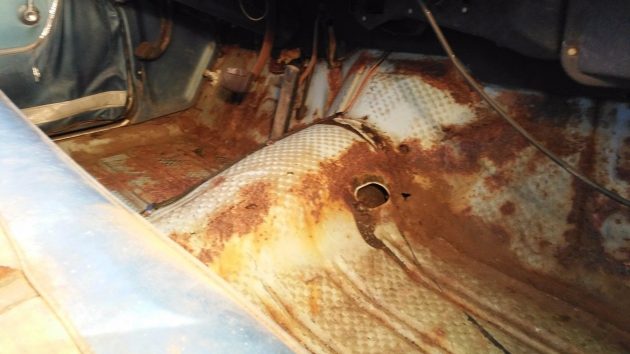 And, as you can see from this shot, the floor is pretty decent. I'm guessing the majority of this surface rust will clean off easily and some POR-15 or a similar product will keep it that way. I certainly wouldn't be looking to replace any of it! What a pleasant surprise–an old, inexpensive classic that doesn't need a new floor welded into place! Actually, the seller does state that there are "3-5 small" holes in the front floor pans, so some localized welding will be needed.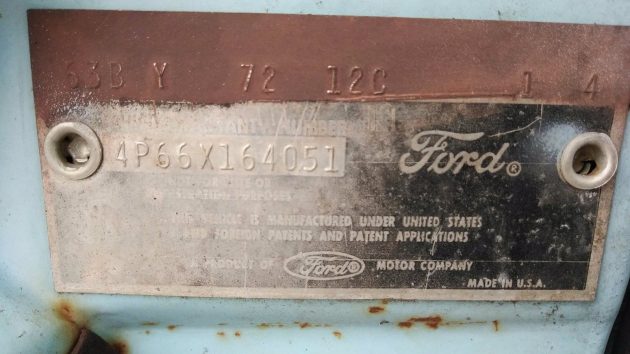 So what can we learn from this VIN tag? Well, according to this helpful site hosted by the SoCal Galaxies Car Club, this car was manufactured in the Twin Cities, was fitted with a 352 cubic inch V8 and a four barrel carburetor, was painted Skylight Blue (it still is) and had Medium Blue and Light Blue Diamond Lustre crushed vinyl interior, with a three-speed manual transmission.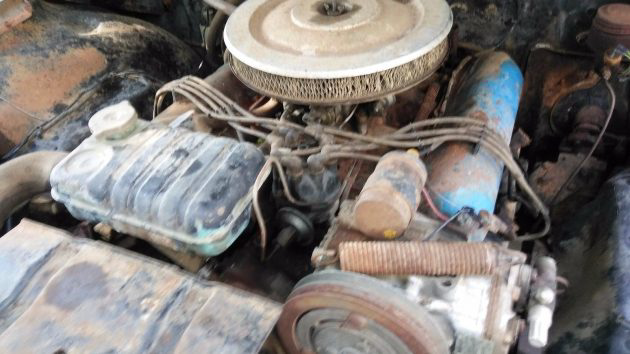 Look at this great looking engine! I believe this is the original engine based on what we know, and that air conditioning compressor means that an aftermarket compressor could be substituted and a conversion to R134 would mean you could actually get it charged and functional. Yes, I'm thinking ahead. I might just have to bid on this car–unless one of you beats me to it! Will you be the one?