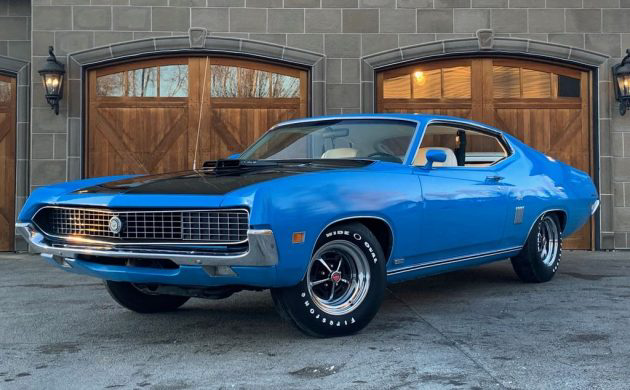 The Marti Report on this 1970 Ford Torino GT tells part of the car's story because it reveals a vehicle that was ordered with a view to creating something that was both eye-catching and potent. However, a piece of paper can only tell you so much because you need to lay your eyes on a classic like this to gain the full impact of what Ford created. Not only do you have the chance to do that, but there's also the opportunity to park the GT in your garage. Located in Alberta, Canada, you will find the Torino listed for sale here on eBay. Bidding has reached $47,540 in what is a No Reserve auction. The seller notes that while the GT is currently located in Canada, they do ship cars across the border weekly.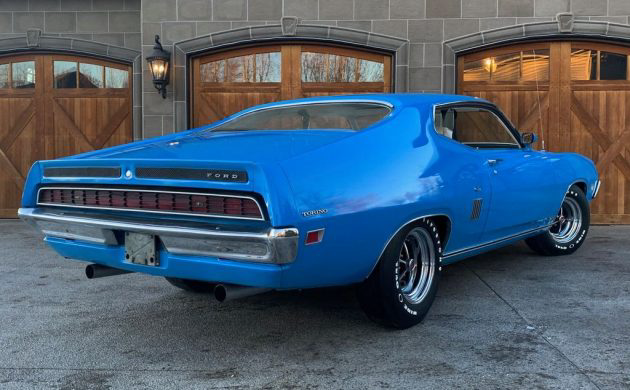 The Torino is finished in stunning Grabber Blue, and the Marti Report indicates that it is 1-of-39 to wear this combination of paint and interior trim. The car presents superbly, with a shine that catches your eye. The panels appear to be as straight as an arrow, and there isn't a spot of rust to be seen anywhere. The seller makes no mention of any rust on the Torino's underside, and the lack of even the smallest amount of surface corrosion on any of the car's components gives us cause to be optimistic on that front. The trim and chrome present as nicely as every other aspect of the GT, and the hideaway headlamps are a classy touch that makes the Ford stand out in a crowd. The glass is spotlessly clean, with no evidence of cracks or scratches. The vehicle rolls on a set of 15″ Magnum 500 wheels, and these are free from any faults or problems. One dealer option that is included with the Ford is a set of louvers. These have never been installed and are in as-new condition.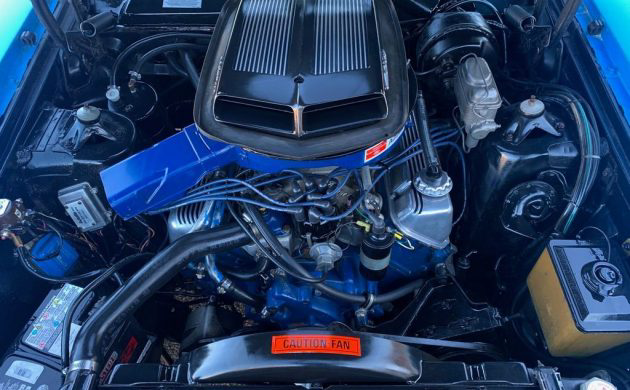 For buyers in 1970, the Torino GT offered an interesting alternative to the Mustang. Its performance didn't lag markedly behind the pony car, but it provided slightly more space and luxury. Of course, it could also be made to go hard if the buyer wanted, and this GT is a perfect example of that philosophy. Under the hood, we find a numbers-matching 429 Cobra Jet Ram-Air V8 that was claimed to produce a conservative 370hp. In this case, all of that power finds its way to the rear wheels via a 4-speed close-ratio manual transmission. Power steering and power front disc brakes mean that the driver isn't going to raise a sweat behind the wheel. Performance figures are all that you might expect from this car, with the trip down the ¼ mile taking a mere 14.7 seconds. Point it at a straight piece of road, and it will eventually run out of breath at 134mph. Surprisingly, the seller doesn't indicate how well the Torino runs or drives, but with the engine bay's presentation being so impressive, you would have to think that the news would be positive on that front.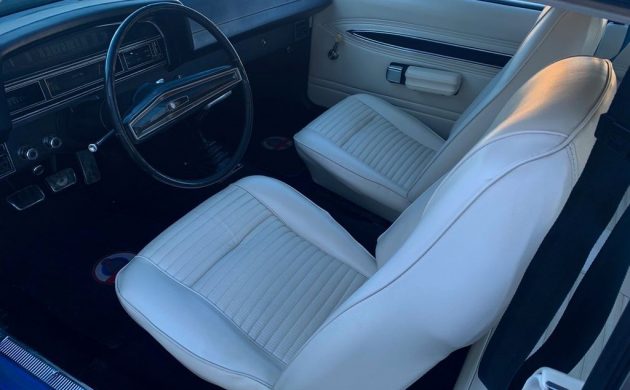 White upholstery in older cars can be such a pain. As time passes, it becomes prone to stains and yellowing, and it isn't unusual to see classics of this age with significant issues on that front. That isn't a problem with the GT because the White vinyl on the seats and door trims looks clean and crisp, with no evidence of any wear or damage. It also provides a striking contrast to the predominantly Black interior and prevents it from feeling oppressive. The dash looks to be in excellent condition, as does the carpet and the headliner. The distinctive and original Hurst shifter sticks out of the floor, while the gauge cluster features the cool ribbon tachometer. There have been one or two changes made to the interior. The addition of some aftermarket gauges mounted under the dash is probably a smart move because it allows the driver to monitor the health of that incredible V8 accurately. We don't get a clear look at it, but it appears as though an aftermarket stereo has been slotted into the dash in place of the original AM radio. I can't tell whether the dash has been cut to accommodate this, but you'd have to hope not. If I were to buy the Torino, I would probably source a genuine radio to refit and would ditch the stereo.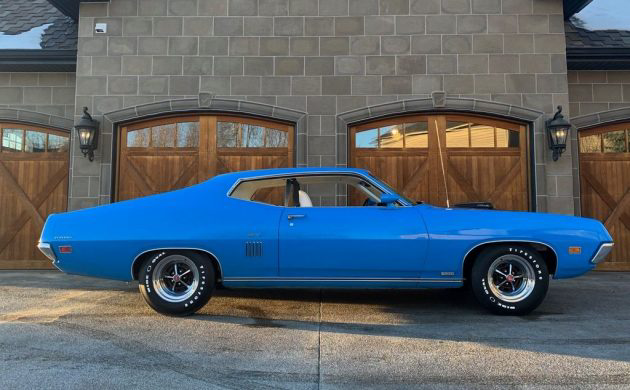 This 1970 Torino GT is a stunning car, and with its mechanical configuration, it has the power to burn. The fact that it is being offered for sale with No Reserve makes it a tempting proposition. There is another factor to consider here, and it's an important one. Some classic cars took a significant value hit during 2020, and the Torino GT was one of them. We're talking about a drop of more than 20% across the board, regardless of condition. There are some indications that this trend is beginning to reverse, which means that they are heading back in the right direction. As always, I would suggest that potential buyers investigate the market thoroughly themselves to verify this. If what I have seen is accurate, now might be a great time to think about parking a Torino GT in your garage. If you do go down that path, this one would have to be a strong candidate.