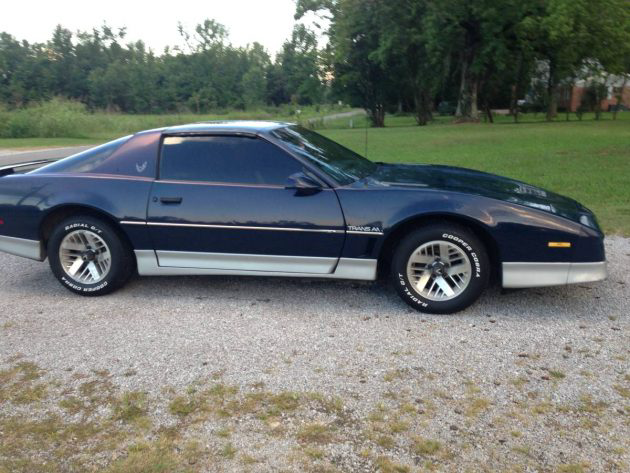 When I was in junior high and high school, I always had a copy of a car magazine hidden under my textbook in class.  I had a terminal case of car lust, but at least I was patriotic about it.  Corvettes were the best, and IROC Camaros were next on the list.  Considering that the Pontiac Trans Am was basically its twin, I guess it shared second place.  They were fairly revolutionary for the time, and these third generation pony cars were fast by 1980s standards.  While most of these cars have gone to that great junkyard in the sky, there is a fairly good example still rolling around beautiful Birmingham, Alabama.   Lucky for us, this 1985 Trans Am is for sale on Craigslist, and is in better than average condition.  The best part is that the owner is asking just $2800 for this eighties icon.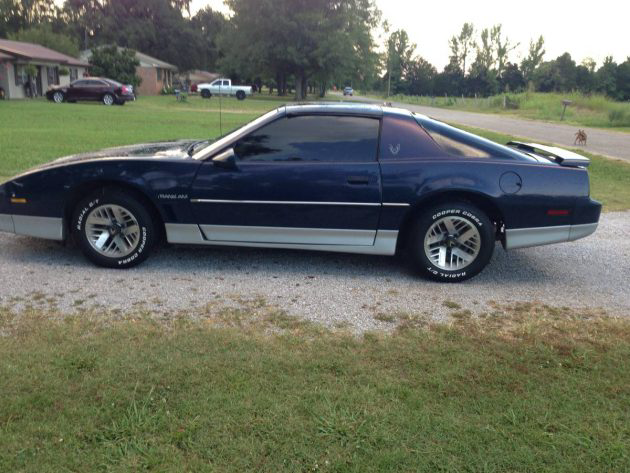 For those of you with daddies that were still gnawing on Fudgsicles and watching Bugs Bunny at the time (thank you Warren Oates for that one), the 1970s and early 1980s were a dark time for performance automobiles.   Big blocks were dead and gone, emissions equipment was strangling horsepower, and safety standards were making cars on existing platforms heavier in many cases.  The Camaro and Firebird bodied cars still move when you stomped on the go pedal, but they would be eaten alive at the drag strip by their older brothers.  Thankfully, two things happened: the aftermarket speed parts industry kept finding ways to make more horsepower, and the complete restyle in 1982 made the cars desirable again.  Boasting low coefficients of drag, a very low center of gravity, and a continuation of the V-8 engine, the Z-28 Camaro and the Trans Am were hot cars once again.  Performance numbers were creeping up, handling was outstanding, and it was obvious to everyone that life for gearheads was going to get better.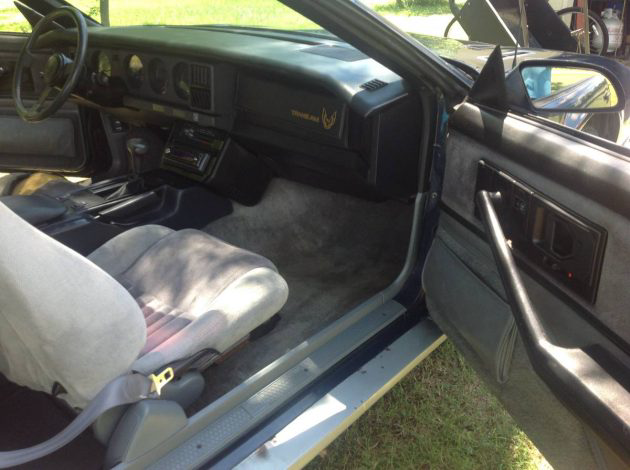 This 1985 Pontiac Trans Am is one of only a few I have seen for sale lately.  These cars are getting rare for many reasons.  Perhaps the biggest reason is that performance cars tend to get beaten on by their owners.  As they get older and cheaper to buy, this process is accelerated by demonstrations of speed gone wrong, blown engines, amateur tinkering, and teen drivers.  For Trans Ams, you can add to that the difficulty of working on them in such a low and tight engine compartment and the floor pan destroying addition of T-tops in some cars.  This one seems to be in very good condition body wise, except for the eventual necessity of a paint job and some new decals.  All Trans Ams have a 305 V-8 in one of three versions, although we aren't told which version this one has.  It also has an automatic, which is kind of a bummer but not a deal breaker.  The strength of the drivetrain is proven by the 156,000 miles that the car has racked up so far.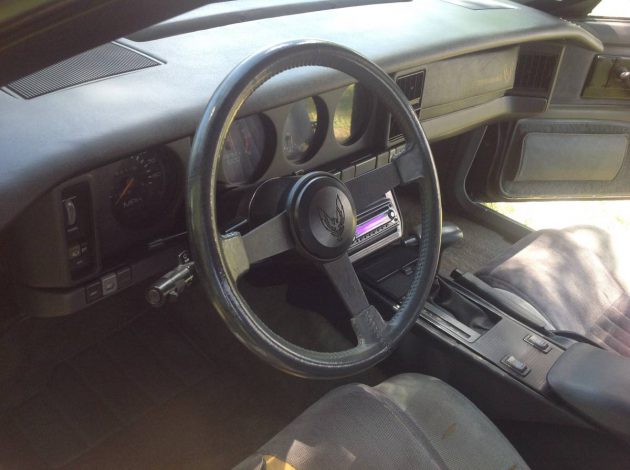 Most of the interior is in pretty good shape.  The door panels show no major problems, and the dash is in excellent condition.  The console hasn't been torn up, and even the steering wheel looks good for a car with high mileage.  What little we can see of the carpeting looks like it could be made to look presentable with a thorough cleaning.  The problem lies in the seat upholstery.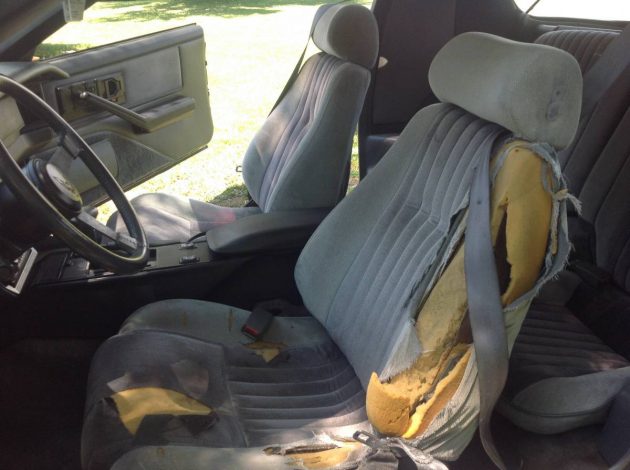 The big issue is the driver's seat, which is shot.  In fact, this one re-defines what shot can really mean.  The rest of the interior is presentable at first glance, but the sun really weakens GM cloth seats from this era to the point that any future owner should plan on replacing the seat fabric all around.  While I am sure the foam could be re-used from the other seats, it looks to be junkyard roaming time for another driver's seat.  Re-skinning these seats with an upholstery kit from the aftermarket probably wouldn't cost too much, but it depends on what you want to do with the car.  The owner suggests that it would be a good father and son project, and he would be right.  The exterior is in decent shape, and the interior refurbish could be delayed with a junkyard seat and a set of cheap seat covers.  These are cool cars, especially with the T-tops off, and, if Junior is a lead foot, at least they don't have the higher horsepower of today's cars.  It would be good to see this car go to a family who will use it to teach responsibility, basic mechanics, and how much fun an older car could be to an up and coming teen gearhead.  If I had a son, he would be forced to like this car no matter if he liked it or not!  The cost of entry is cheap, and parts aren't a problem.  Other than the seat, what's not to like?
Oh, one more thing.  I'd insist on a screaming chicken for the hood in the event of a re-paint.  Trans Ams are just not perfect without a screaming chicken on the hood.  Its like a law or something.