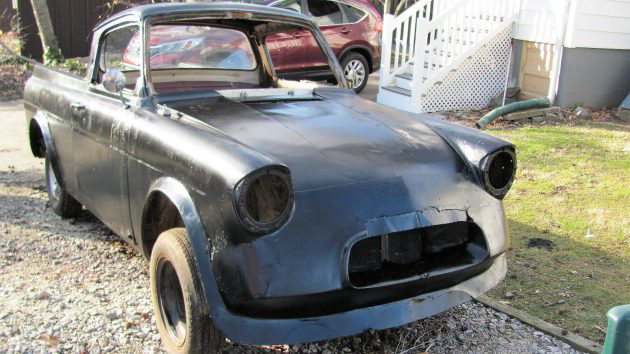 Featuring some heavy modifications from stock, this 1960 Ford Anglia/Thames was submitted by reader Craig B.–thanks for turning us on to this rather unusual British Ford find! It is advertised here on eBay with bidding starting at $500 and there's not a reserve. Wilmington, Delaware is where you'll have to go to pick it up if you are the high bidder.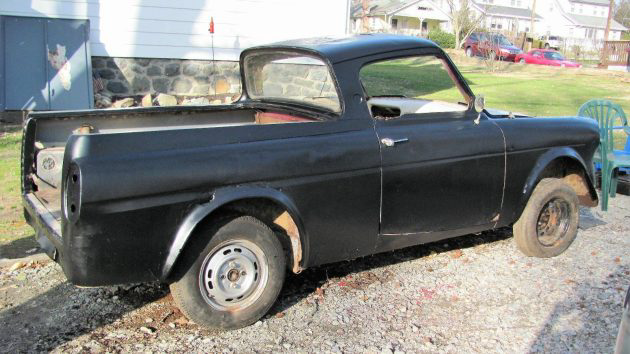 Let's start with what this is, and what it isn't. As far as I can discern, Ford UK never made an Anglia or Thames pickup. The VIN plate shows this is a 307E, which means it started out life as a Thames panel van, like this one. However, the greenhouse area more resembles a 105E Anglia sedan, like this one, especially in the rear. Then there's the fender flares, and grille area modifications–I admit, I'm not seeing what the creator was going for, but it could be interesting, especially if you share the vision!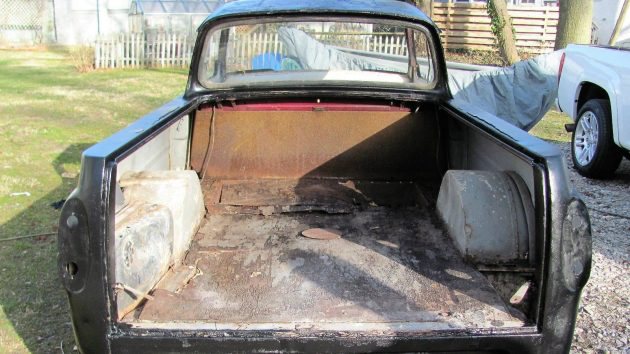 The bed area certainly needs more finishing, as I'm pretty sure that's the seat showing at the top of this shot. I would also either want to located a fuel tank under the bed or at least wall off the one on the left so that things I was hauling didn't slide into it. Then there's the matter of a tailgate, but that may be trivial compared to replacing what looks like a plywood bed. However, you have the vision, right? Right??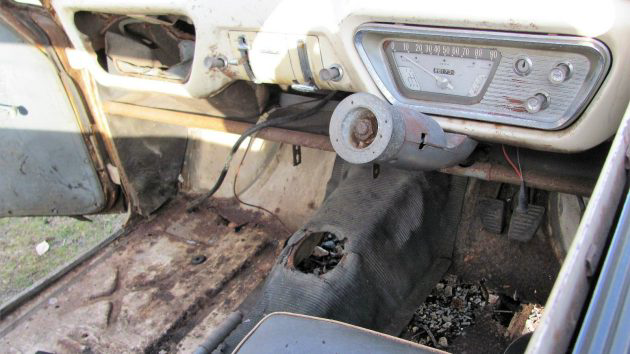 Patching holes in the floor and sourcing a steering wheel will be fairly simple, especially since originality shouldn't be a concern. There is, however, that little matter of a transmission–and what it connects to.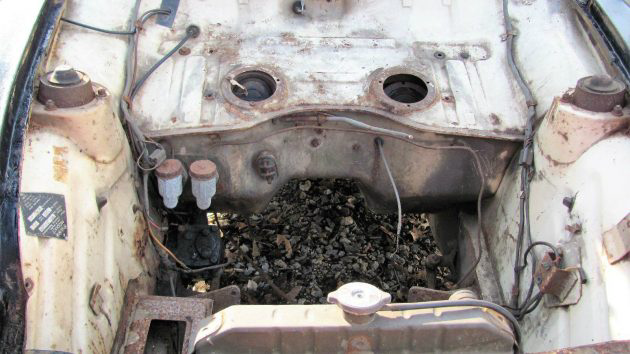 That's right, there's nothing doing up here either, apart from the VIN tag on the left which did help identify the vehicle. So what would you put in there? Me, I'd go with as late a Ford Ranger drive train as possible, the V6 if it would fit, and if not the twin-plug version of the venerable 2.3 4-cylinder. Let's adapt dual-circuit brakes, might as well use the Ranger items, while we're at it. Fabricate a tail gate, add some metal to the bed and floor, and I would also go back to the stock configuration in the front grille area. Now add some stock steel wheels from the Ranger and I think you'd have a pretty cool little pickup. Do you share the vision, or do you have one of your own? Or does your vision include a metal recycling depot? Let us know in the comments!