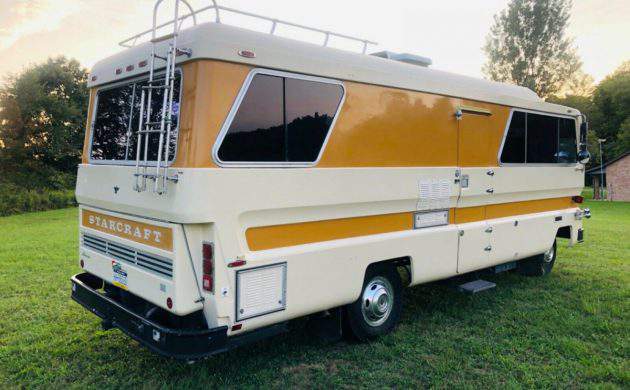 This 1973 Starcraft Suncruiser is a total trip, yet another example of an obscure motorhome made in the heyday of the Dodge-powered motorhome yachts that used to storm the Earth. I've not seen one, ever, from what I can recall, especially one that wears such epic '70s colors and comes with a shockingly clean interior. The recipe was the same from one motorhome to another, but finding one that isn't completely trashed is the real trick. This one looks like an awfully nice example that isn't going for much money at the moment, as it's listed here on eBay at no reserve with bidding just under $12,000 at the moment.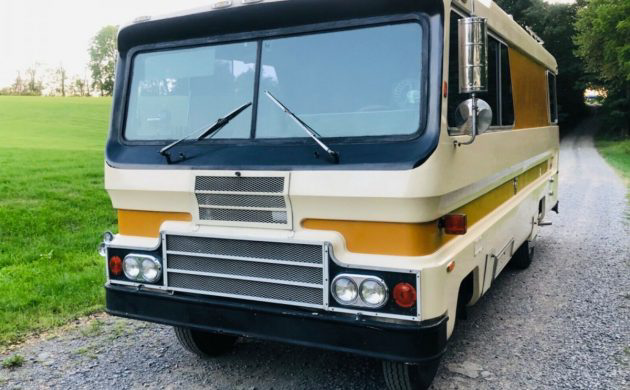 Nearly every motorhome from this era was a gigantic brick hurtling through the wind, but the upside of that engineering was a cavernous interior that you could truly live in for months at a time. The paint scheme on this one is just right for the era in which it was made, and I love the gigantic Starcraft lettering across the rear gate. I've read the Starcruisers were the first motorhome built out of a one-piece fiberglass shell, and as Bangshift notes, the original construction utilized "…steel box tubing….which means means no water damage, no rotting wood, no nothing." The seller notes just typical age-related blemishes on the exterior, and that the tires are new.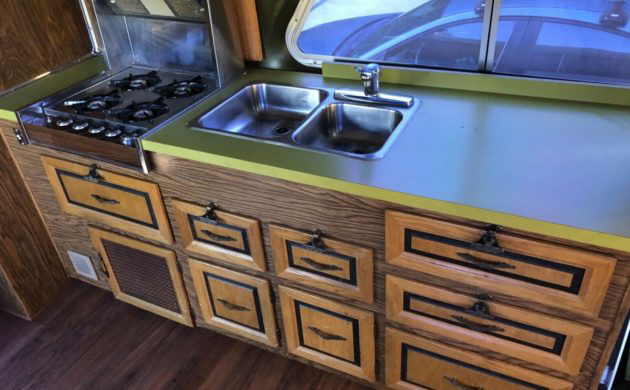 The interior is fantastic on this vintage R/V, and certainly reinforces the assertion that water infiltration wasn't an issue on the Starcraft models. The wood paneling is in fantastic condition, as are the countertops, cooking areas, flooring, and other interior finished spaces. The photos are a bit light on the sleeping quarters, but I would assume from the overall condition on display here that there's not much to worry about. Pictures do show some cosmetic damage near a roof-mounted vent panel, and it may be water or just dirt. Either way, it's the only thing I spotted that could be cause for concern. The seller notes some of the light fixtures and interior trim need attention, and that the generator could use a tune-up.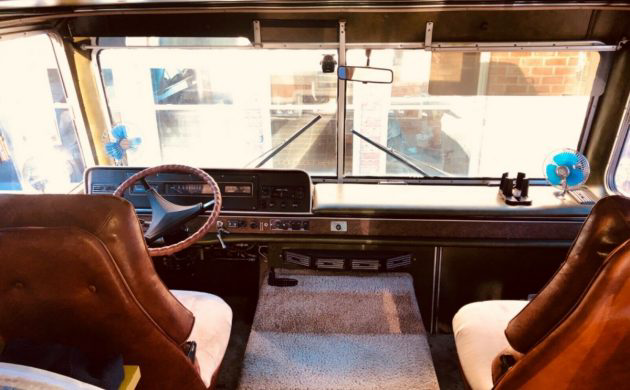 The Starcraft sometimes came with the venerable 440, but in this case, it uses a 392 International V8 backed by a 727 Torqueflite automatic transmission. It's said to run smoothly down the road, and the braking system was just recently refreshed. Rooftop mounted AC blows ice cold, and the seller notes the refrigerator and toilet have both been replaced. Overall, this seems like a vintage R/V that never went down the slippery slope of deferred maintenance and being lived in by hobos, but rather somehow escaped the '70s as a well-loved example that has only needed minor – but meaningful – refreshing to remain a road-going vessel. Find another one!