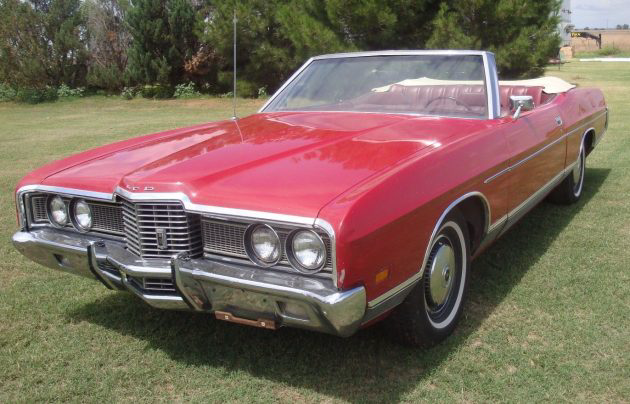 A few weeks ago, I sat down and watched the second film from the "Dirty Harry" franchise, Magnum Force. In the movie, Harry Callahan (played by Clint Eastwood) drives a 1972 Ford LTD convertible in blue. As soon as I saw the car again in the film, I was once again smitten. This 1972 Ford LTD convertible is not only the same year as Callahan's LTD, it is said to be 100% original. Find it here on eBay in Munday, Texas, with eight bids and a little over a day to go.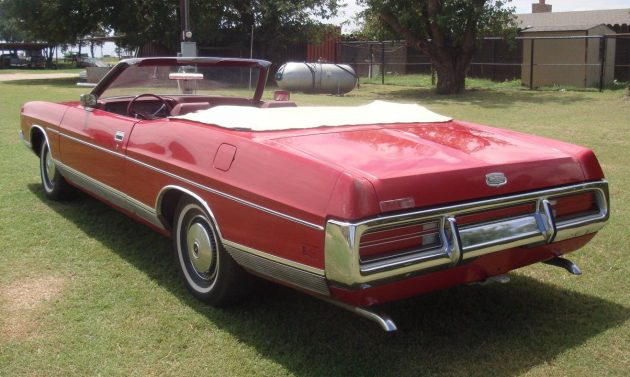 Introduced in 1971 to replace the XL convertible, the LTD convertible was available for only two years: 1971 and 1972. For 1972, the LTD's front bumper now stretched across the lower section of the grille; a new rear bumper integrated the taillights, and the design of the trunk-lid was squared off. Due to decreased demand in the segment, however, 1972 was the final model year for the LTD convertible; overall, 4,234 LTD convertibles were built for the 1972 model year. Looking over the car, the car looks beautiful in red with a white convertible top (both of which are all original), and looks sharp with full hubcaps and steel wheels wrapped in thin whitewall tires. Dual exhausts look sharp, and I love the wrap-around rear bumper with the horizontal tail-lights. There are the normal "dings, dents, and scratches" on the car according to the seller, but I would clean the exterior up and buff it, leaving the cosmetics original.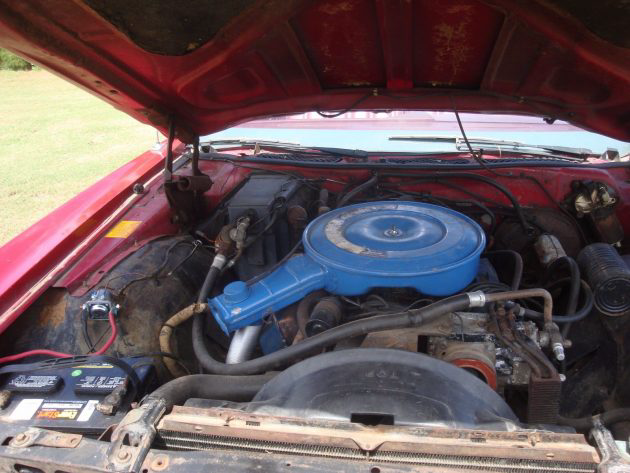 Though a two-barrel 351 V8 was standard in the LTD, this LTD convertible is powered by the optional 400 V8. Rated at 172 horsepower and 298 lb-ft of torque, the 400 is no barn burner, but is perfect for top-down cruising in this LTD. Backed by a C6 three-speed automatic, the engine is mostly original and is said to run good according to the seller. I would swap out the generic battery for a more era-correct looking one, detail the engine and engine bay, and take this car on summer cruises.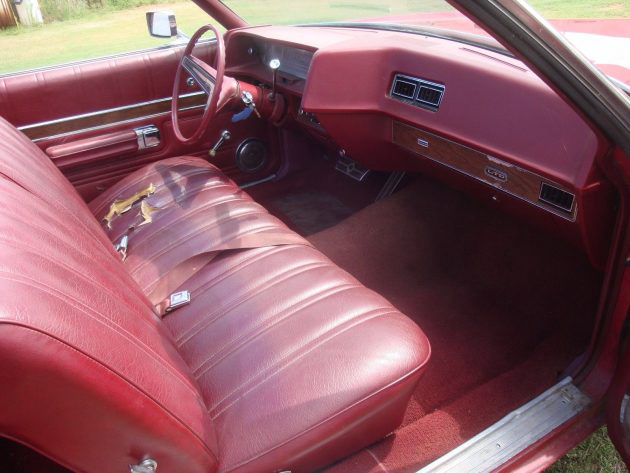 Unfortunately for this beautiful cruiser, the interior is a bit of an Achilles heel. The seat bottom on the front driver's side has some tears and rips in it, and might be beyond repair. The backseat is also a bit worn and dirty, and could use a bit detailing. Otherwise, the rest of the interior presents well, and has only minor fading. Roll-up windows are a nice plus, as is the air conditioning and the AM/FM radio. Overall, this LTD should be a nice bargain, and with some minor fixes and detailing will make for a reliable cruiser from spring to fall before being put away for the winter (unless you live in a warm state like Florida). What are your thoughts on this all-original LTD convertible?