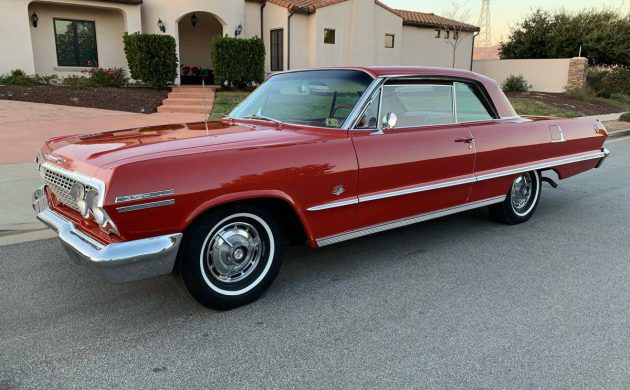 This 1963 Chevrolet Impala SS is almost too spectacular for words. Its condition is incredible for a vehicle of this age, and the fact that it is a numbers-matching survivor with a 409ci V8 under the hood adds to the attraction. It is easy to see why Barn Finders Pat L and MattR both spotted it for us. Thank you so much for that, because this is a car that it is a privilege to write about. All good things must come to an end, so the owner has decided to part with the Impala. It is located in Nipomo, California, and has been listed for sale here on Craigslist. If you hand the owner $37,900, you can drive away in this stunning classic.
The Impala isn't completely original because the owner does admit that it has received one repaint in its original Ember Red. It isn't clear when the work was performed, but it has held up exceptionally well. There is nothing to fault here because the paint shows no apparent signs of significant marks, and it shines beautifully. The panels are laser straight, and the car is claimed to be 100% rust-free. I find this claim easy to believe because when you look across every aspect of the vehicle, it is difficult to find so much as a spot of surface corrosion. The beauty continues when you look at the trim and chrome because it sparkles as impressively as the paint. I can't spot any flaws with the glass, while the magnificent hubcaps show no signs of damage or staining. In case you hadn't noticed, I really do like the look of this classic.
Opening the door and sliding behind the wheel continues the trend towards faultless presentation. There is some wrinkling of the Red upholstery on the driver's seat, but I believe this is acceptable on a car of this age. That's about all there is to be critical of because there are no signs of any other trim issues, while the carpet, console, and dash all appear to be flawless. When you look at the rear seat, it seems like no-one has ever used it. There have been no aftermarket additions inside the Impala, which means that the original AM radio remains in situ. One excellent feature is the factory tachometer mounted above the steering column on the dash. There is little doubt that Chevrolet saw this gauge as a priority, so they mounted it where it was clearly visible to the driver.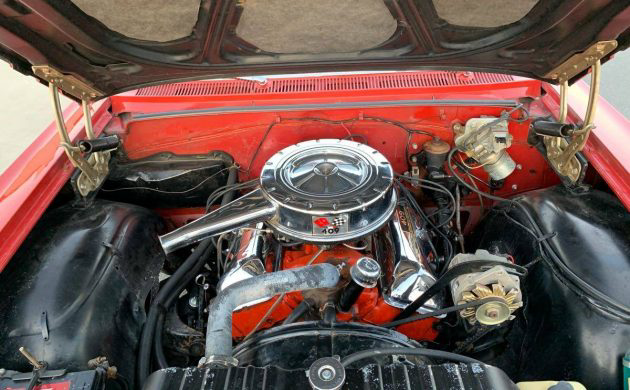 Okay, I know that you've been waiting patiently for it, so there is the numbers-matching 409ci V8. This engine should be pumping out 340hp, which finds its way to the rear wheels via a 4-speed manual transmission. This car is all about the purity of the driving experience, which means that it features no power assistance for the steering or brakes. At 3,790lbs, the SS is not the lightest car on the planet. That makes the 15.3-second ¼-mile ET all the more impressive. The owner says that the Chevy has a genuine 52,000 miles on the clock. He doesn't mention whether he holds evidence to verify this, but he claims that it has accrued a mere 11,000 miles since 1986. It seems that he really hasn't made much of an effort to wear out this baby, but that's no bad thing. I am quite surprised that he doesn't provide any information on how well the Impala runs or drives. However, if appearances count for anything, it should drive about as well as it did back in 1963.
This 1963 Impala SS has the "wow" factor in abundance, and it is easy to see why it caught the attention of our enthusiastic Barn Finders. It presents superbly, and I can only imagine the admiring looks and comments that it would attract at any car show or Cars & Coffee. It is a car that needs nothing but a new owner who is willing to treat it with the care and respect it appears to have received for the past 58-years. It has been on the market for less than a day, and I wouldn't be surprised if someone snaps it up pretty quickly.