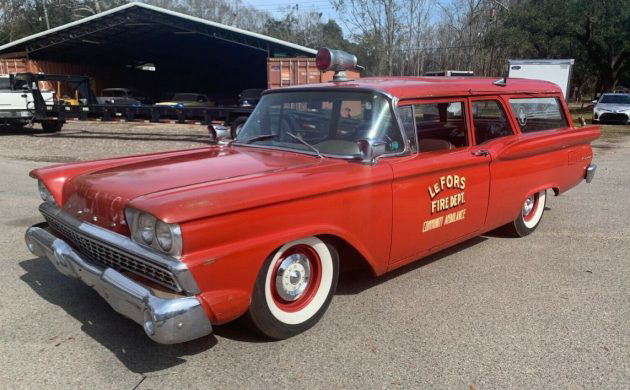 Today's fire and rescue vehicles are so incredibly bland compared to what used to be available direct from the manufacturer. Now, I suppose that sentiment will change over time, especially as the modern-day Ford Explorer becomes a classic and there's someone thirty years my junior who will be all too excited to get his hands on an Ecoboost-equipped Explorer that belonged to a local fire department. Anyway, this is much better, as it's a highly original 1959 Ford Courier ambulance ordered new by the City of LeFors Fire Department in LeFors, Texas. It's presently listed here on eBay with bidding at $7,100 and the reserve unmet.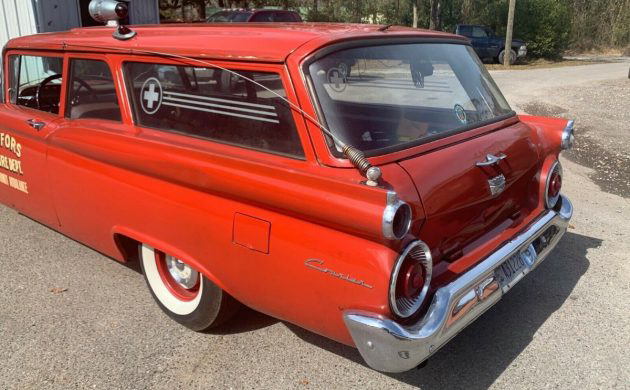 The ambulance conversions were handled by a variety of different aftermarket vendors, and those of you that follow the ambulance/hearse/flower car market can likely rattle off with ease which company had their hands in creating different models. I'd love to know the history of this ambulance conversion as it grew older and more outdated, as it's clear no one caretaker ever felt it necessary to strip it down and return it to civilian use. It remains incredibly original, from the etched glass to the extra communications antennas to the emergency response equipment inside, not to mention the must-have wailer on the roof.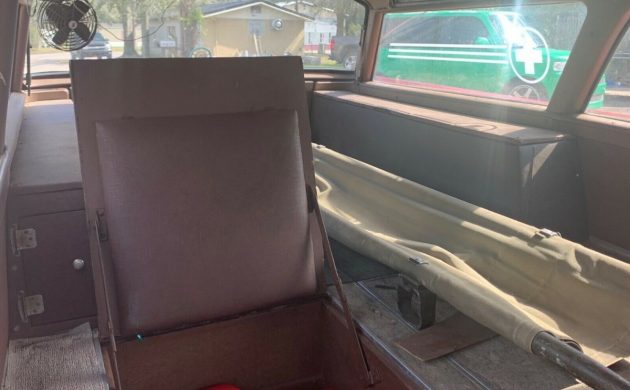 The seller notes that the Courier was ordered with very few options aside from the equipment for its duty as an ambulance, with the build sheet indicating it was merely outfitted with a heater, windshield wiper, window washer, and a 292 V8 engine. Of course, the wagon featured two bucket seats up front and a unique solitary rear jump seat for a nurse or EMT to ride in and take care of the patient while en route to the hospital. The stretcher also resides next to the jump seat, and this does not look like a recreation – it all looks like the original equipment that would have been used in 1959.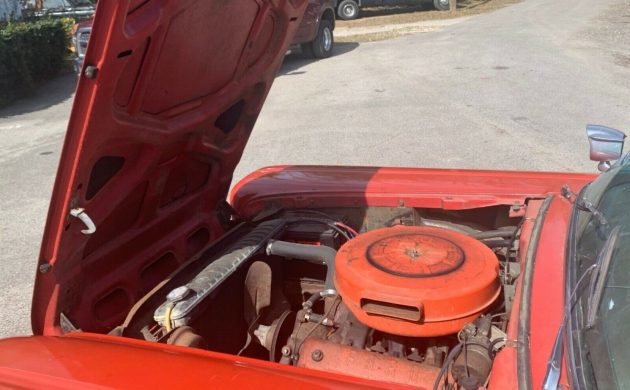 The Courier looks nice and straight from every angle, though the seller does report nominal rust in the lower rockers. Being a Texas car all of its life, it's survived largely intact, but the listing does claim it was repainted with new lettering applied at some point in the past. Recent maintenance in the last three months includes new brakes, a fresh carburetor rebuild, replacement fuel system components, and more, and all of the emergency lights were tested and confirmed working. The 292 runs excellent with no smoke or noise, and the 3-speed transmission is said to shift smoothly. The seller says he feels confident you could hop in and drive in anywhere, likely drawing a crowd wherever you go.