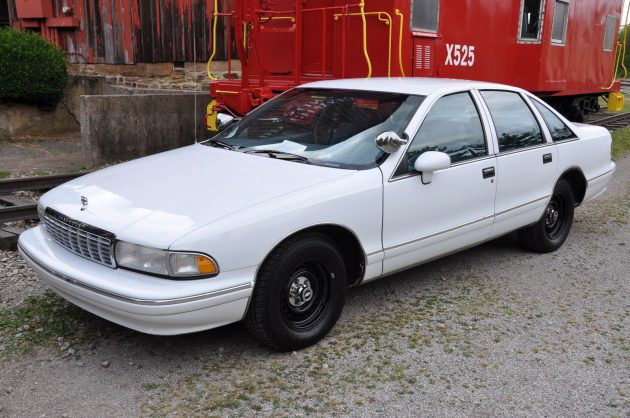 This car evokes one word: Yes. A 1994 Chevrolet Caprice 9C1 police car that never actually saw police service? This is not only a rare find, this is the ideal used police vehicle. Inside and out, this Caprice looks to have seen very little use at all, and the fact that it has covered 14,092 miles is surprising given the overall condition. The seller states, "This example is a survivor. It was purchased brand-new by a small college in Michigan for use by their criminal justice training center," and claims that the car never saw any aggressive driver training of any sort. This car can be found here on eBay with bidding currently at $7,300 and the reserve not met.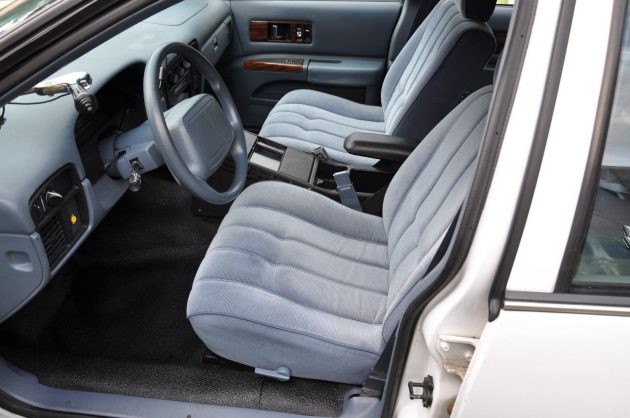 Like most police-spec vehicles, this Caprice is outfitted with cloth front seats and what appear to be vinyl rear seats. Both sets of seats are in immaculate condition and a very nice light blue. This is an interior color that disappeared along with the Caprice in the late '90s, and it is very appealing compared to having a black or tan interior. The floor is covered in a durable rubber material typically found only in base-model trucks and service vehicles, such as this Caprice. This material is very easy to maintain, and only makes me want this car more! Both spotlights are present and appear functional, as well as the digital gauge cluster. The dashboard appears un-cracked and un-warped, a testament to the care this car has received.
Under the hood is the coveted LT1, which is clean but shows that this car has seen some use. The surface rust visible indicates that this car was likely not driven on a daily basis, which the seller more or less states in the ad. General wear aside, with a little bit of cleaning I think this car would show very well! This LT1 feeds power to a 3.08 Posi-Traction rear end, which means this car is probably a lot of fun! As large as it is, I suspect it handles quite well due to police-spec disc brakes, suspension, and an upgraded cooling system. It has dual exhaust, and is quite possibly the most well-optioned police vehicle for sale right now. With all of these features, it checks most of the boxes on my list of basic cool features.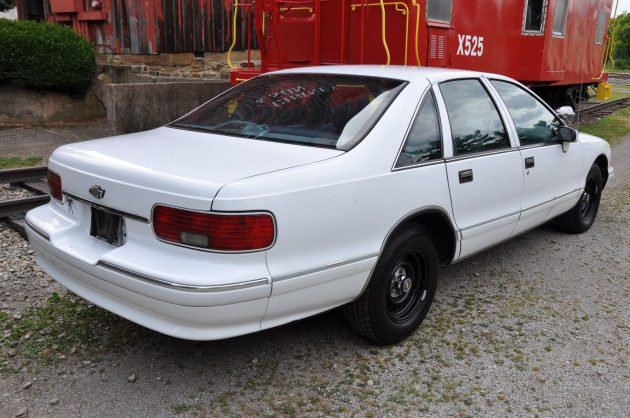 The seller states honestly that this car has not been babied, waxed weekly, or stored in a heated garage. However, this car has clearly been maintained and has never seen abuse, or even winter. There is no rust, and although the paint has some nicks and chips, as far as a service vehicle goes this car is near-mint. I don't see 9C1 Caprices very often, especially in comparison to their Crown Victoria counterparts, and I doubt there are many others this nice or low-mileage in existence. If you like police cars, but have been struggling to find a nice one, this is the car for you!