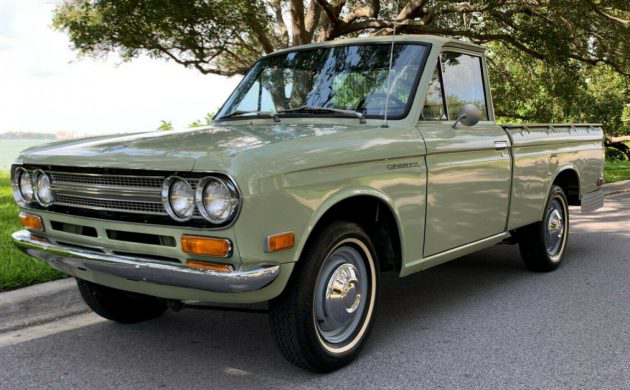 Former U.S. Vice-President Thomas Riley Marshall (1913-1921) is credited with saying, "What This Country Needs Is a Really Good Five-Cent Cigar." There are some counter claims that he just picked up the comment from someone else, but it doesn't matter as he got the credit. What this country really needs today, however, is a really good reliable small pickup truck like this 1971 Datsun 521. There is nothing today approaching the compactness of this Datsun and there hasn't been since Ford discontinued its previous version of the Ranger. A mid-size pickup today is gargantuan and a full-size is Brobdingnagian (really huge). So let's take a look at how things youstabee with this Datsun 521, located in Clearwater, Florida and available here on eBay for a current bid of $9,077, reserve not yet met.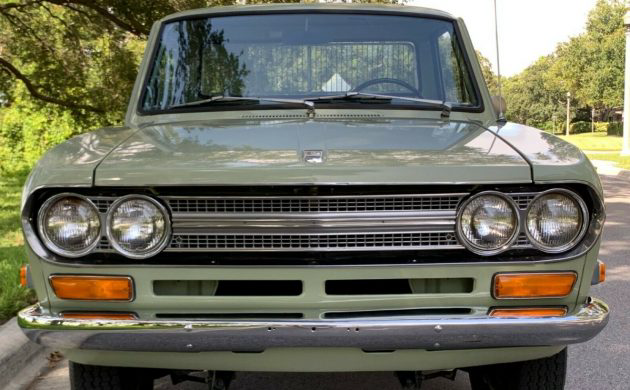 Compact Datsun pickup trucks were first produced between 1955 and 1997 and were then replaced by the Frontier, which isn't as out of wack size-wise as some of its midsized competition, but it is definitely not in the same size league that the 521 was. The 520, and its similar successor, the 521, were offered for sale between 1966 and 1972 and came in both right and left-hand drive arrangements. The 521 claims to be the first compact truck sold in North America with a half-ton capacity rating.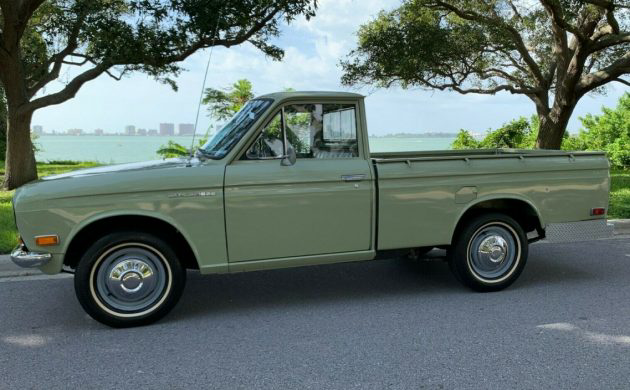 The seller advertises this 521 to be all original with only 60K miles or 60K "known" miles. It started life in Bakersfield, California and was sold with just two options, a front bumper and an AM radio. The seller considers the condition to be pristine and I would have to agree with that assessment. He further states, "Garage kept! No rust". And there is no evidence of rot, typical for a dry California vehicle, or body panel damage. The cargo bed looks used but certainly not overused and the underside of this Datsun would seem to be better than one would expect a 49-year-old vehicle to be. And all of that leads back to the exterior finish, it almost looks too good to be original, it still has a substantial sheen and there is only one minor issue, that I could note, on the tailgate. Rounding it out, are the doggie-bowl hubcaps and white stripe tires, they make a light and innocent statement.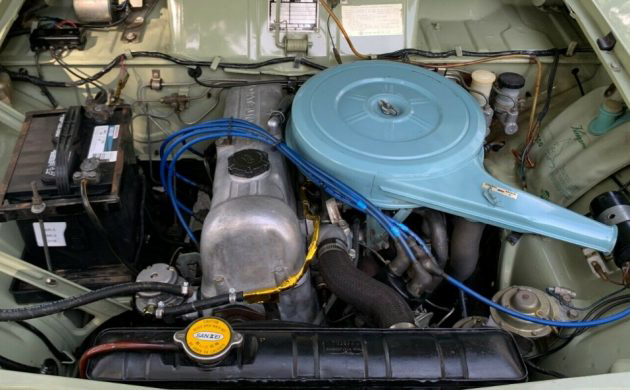 Under the hood is a 1.6 liter, in-line, four-cylinder engine known for developing 96 HP. The seller claims, "1.6 liter 4 cylinder runs fantastic". He mentions a "dry carburetor" if not driven within the week which I take to mean carburetor leak-down, something that should be easily remedied assuming there are no cracks in the carburetor casting. Power to the rear live axle is distributed via a four-speed manual transmission.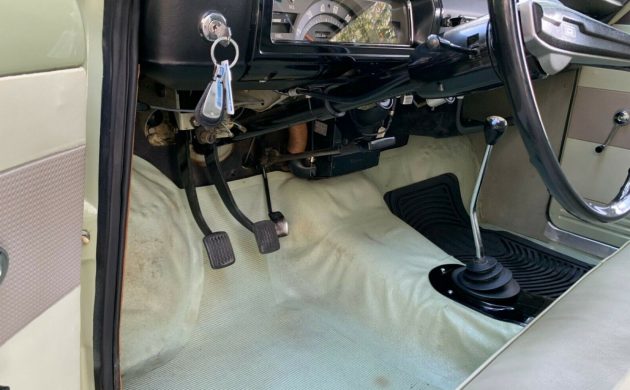 The interior is notable for what's not here, it is a typical early '70s truck interior, as modest as it gets. The upholstery, door cards and instrument panel present as original though the seller comments that the dash pad is cracked, not sure how easy that will be to remedy on a not commonly encountered pickup like this Datsun. The head-scratcher is the rubber/vinyl white floor mat. It seems like the absolute wrong color for any vehicle, especially a truck that's likely to see lots of dirty feet. The more vehicles complicate themselves, the more I appreciate the simplicity of this Datsun's instrument panel.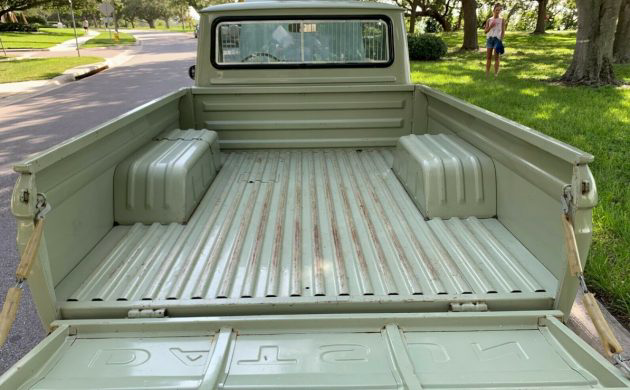 So, would you agree that what this country needs is a really good reliable small pickup truck like this Datsun, or am I living in the past? (What we need is a really good five-cent anything but that's another matter.) Or have times moved on to the point that bigger is better and a '71 Datsun 521 is just a throwback reminder of a past that won't be repeated again?