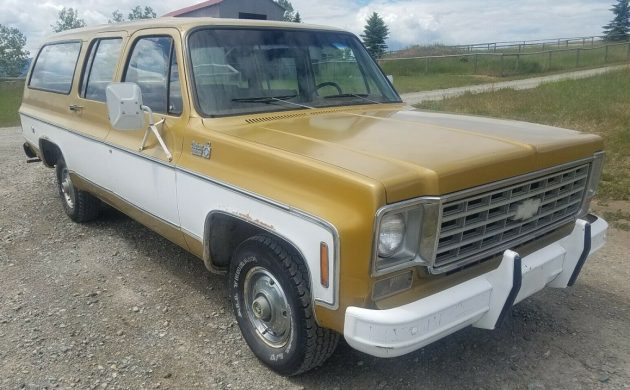 At first, this looks like another decent Chevrolet Suburban, certainly a respectable driver but nothing that necessarily makes you stop in your tracks. But here's what sets it apart: it has a four-speed manual, a feature I can't recall seeing in any of the 'Burbans we've recently featured. This truck also comes with the 350 V8 featuring a four-barrel carb and the 12-bolt rear end. It's missing some parts and has some rust, but overall, it looks like a fun project. Find it here on eBay with bids to just over $1,500 and the reserve unmet.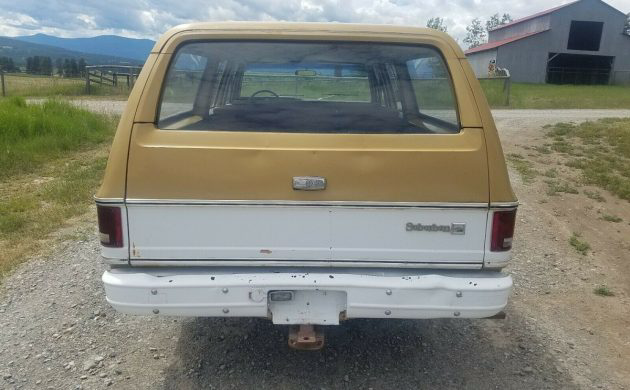 The Suburban is located in Montana, and comes with the Custom Deluxe trim. It's certainly original, with somewhat tired two-tone paint and white painted bumpers that have seen some love taps in their day (well, not really in the front, as it has those giant bumper overriders.) The seller notes it's mostly rust-free as it should be for the high plains, but it does have some corrosion issues to sort out, specifically in the front fenders and rear quarters. The seller also notes there are holes in the roof from the original roof rack, and it does make sense to simply raid a junkyard Suburban for another one.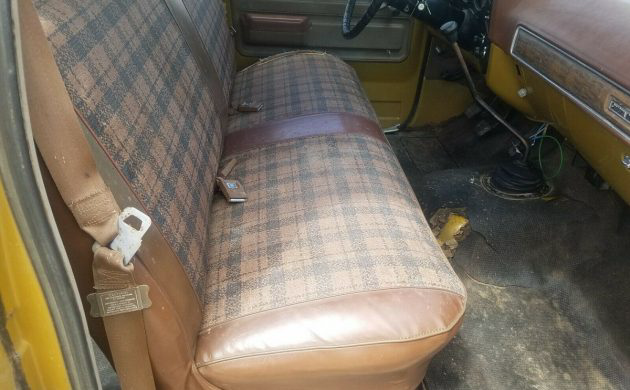 I believe the Custom Deluxe package got you this fancy plaid trim, but power features weren't exactly standard equipment at this point, so you're rolling up your own windows. The seller notes that while the Suburban may have left the factory with a third-row seat, someone has previously removed it, undoubtedly to become a sweet couch or garage chair. The interior looks decent overall, with the first and second row benches not showing any significant damage. The dash does have some cracks but nothing major. Both that and the rear seat could also likely be pillaged from a local junkyard with older vehicles.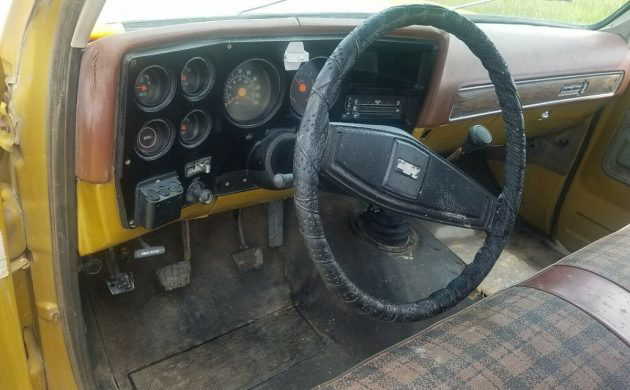 The four-speed really is a trip to see in a rig like this, and I'd be sorely tempted to add some Flowmasters and catch a few folks by surprise at a stoplight when they catch me power shifting. OK, it likely won't be that impressive, but it's fun to imagine. The seller claims the Suburban runs out pretty well, with good oil pressure and no overheating issues. There is no water in the oil or oil in the water, and the engine doesn't emit any smoke or blow-by. Overall, this is a truck you can simply get in and use, right now, while slowly picking away at the bodywork to keep it preserved for the long haul.
Have something to sell? List it here on Barn Finds!