SOLD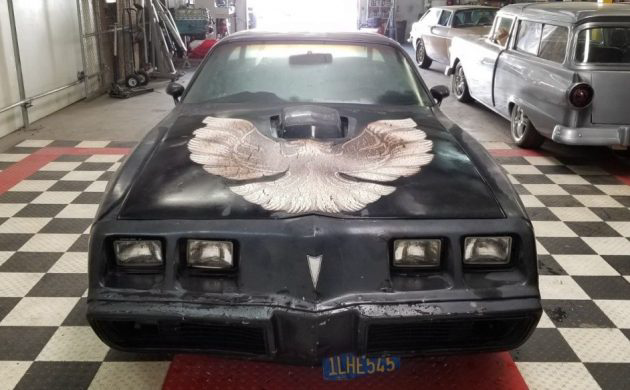 Finding the actual Bandit Trans Am that Burt Reynolds drove in Smokey And The Bandit would be incredible. Heck, even finding one of the cars from the later movies would be awesome. While reader Dale D's 1980 Trans Am Bandit wasn't used in the Smokey and The Bandit movies, it was owned by a movie production company and could have been on the silver screen at some point in time! Whether or not it was, it's still a great project and would be a blast to have!
Seller's Description: Cool Trans AM project with T-Tops and the shaker hood. A super solid car that would make a great resto-mod or return to original. Bandit II did come from a local production studio but sadly there are no documents on it ever being on film. Its original California Blue plate is still on the car.
Price: $3,500
Location: Stanton, California
Mileage: 56,000
Title Status: Missing
VIN: 2W87WAL124982
Body Condition: Super solid car. No visible rust. One poor repair on the right rear quarter starting to show through. The shaker assembly is complete. The original screaming chicken decal is in place. Incorrect seats are in the car. All of the trim looks to be intact.
Mechanical Condition: It's a project car and does not run. Freshly rebuilt 301 engine has been placed in the car for ease of storage but not installed. No transmission. Lost it when the engine was pulled. Otherwise, stock 4 wheel disc brakes.
Seller's Listing: Here on eBay
Getting a title for this Pontiac could be a challenge, but Dale isn't asking crazy money for it, so it might be worth the work. At $3,990 or best offer, it could be worth buying just for parts (well at least if the engine is in good shape still). Be sure to take a closer look at this Trans Am via the link below.
Do you have a project that needs a new home? Please consider listing it with us here on Barn Finds!
List your classified here on Barn Finds!