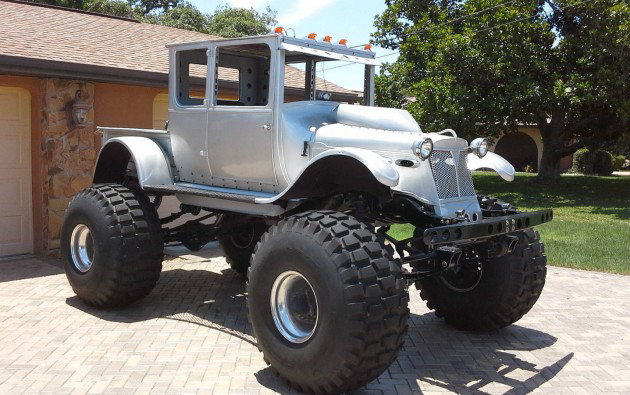 Yesterday, the doorbell rang. It was my neighbor and he was there to inform that he had just ran his truck right into the back of my Spitfire. My neighbor's truck isn't just any old pickup though. It has been jacked up into the stratosphere and actually looks pretty humorous sitting behind my little sports car. It sits so high, in fact, that the only damage caused by the incident was to my luggage rack. My neighbor claimed he forgot it was there and apparently he couldn't even see it when he started to pull forward. I was surprised that he didn't run it right over! That sort of put a damper on the day, but when I saw this monster Model T listed on eBay, I instantly came up with a plan for retribution…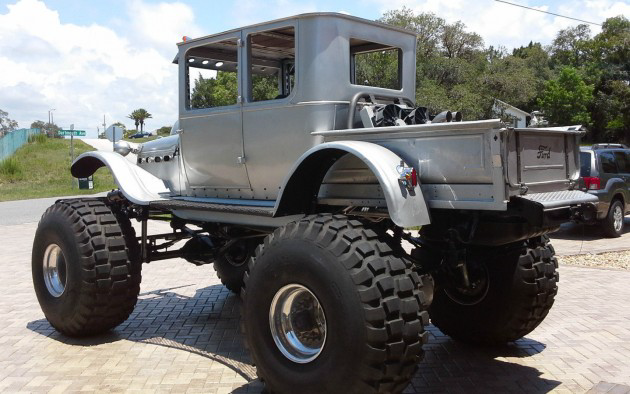 Wouldn't it be fun to park this out front and then "accidentally" bump into his truck? I could then knock on the door and inform him that I had just backed into his truck. "Sorry, I couldn't see the poor little guy down there", I would say. We could then go out to inspect the damage. Oh boy, I'd love to see the look on his face when he's greeted by this beast! I'm still not sure why so many "city guys" insist on driving jacked up trucks, but I can think of a few good reasons and they don't have anything to do with off-roading. Perhaps, my desire for this monstrosity is proof that I'm starting to think like them. Or maybe I've just been living the city too long. Either way, this looks like fun to me!
Have something to sell? List it here on Barn Finds!