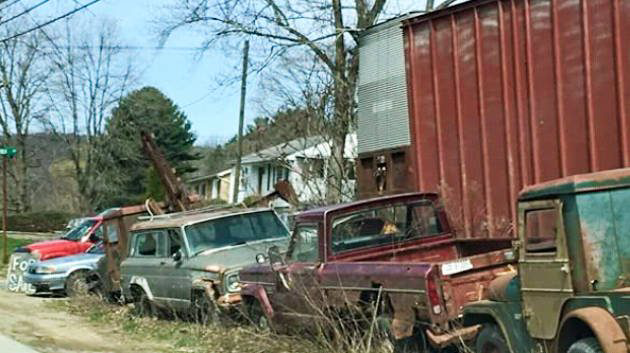 Reader Jim B recently spotted a row of rusty old Jeeps sitting along the side of the road in Franklin, Pennsylvania. When he first spotted them, he had no idea how much drama these rust buckets and their owner has been causing in this Pennsylvania community. Jim did a little research and found out that the owner has even more old vehicles and RVs parked along the side of roads on several chunks of land throughout the township. Apparently, he refuses to sell any of them or to move them out of sight, simply to stick it to the township supervisors and his neighbors. It's one heck of a story and thankfully Jim was kind enough to grab photos and information for us!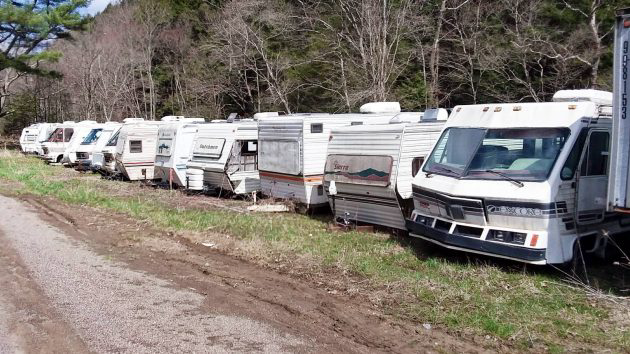 This isn't the first time we've heard about a hoarder causing trouble, but this one is a bit different than most. Rather than parking stuff out of sight or at least in the heart of their own property, they are parking everything right on the edge of the road. It really is an eyesore, so it makes sense that their neighbors want the mess cleaned up. Now some might say that this hoarder is simply running out of room and should be cut some slack, but that doesn't seem to be the case. It sounds like the owner is actually trying to use the mess as a negotiating chip.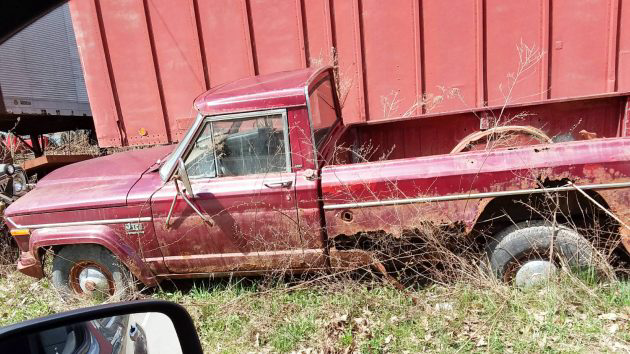 Getting a license to operate a junkyard these days is quite difficult and expensive. There are all kinds of environmental concerns as well as zoning issues, but this owner wants to skip all that headache by forcing the community to give them not one, but two licenses to operate two separate junkyards. They've told the township's supervisors that they will move all the cars and RVs out of sight once they've been given their licenses and reimbursement for $6,000 worth of fines they've had to pay as a result of the mess. You have to give it to them, they have some serious guts to not only demand two licenses, but also money!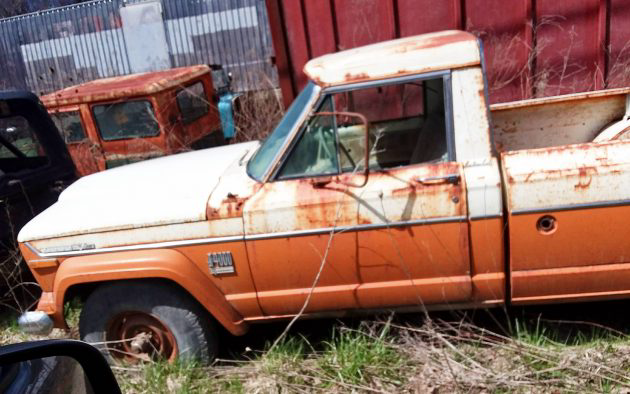 Having talked to Jim about this roadside junkyard, it sounds like this has turned into to quite the fiasco. Neighbors are in an uproar, community leaders aren't sure what to do and the owner has found enough loopholes to create a stalemate that is going to be difficult to resolve. And at the heart of it all, are several classic Jeeps and a number of old RVs that decay a little more each day that this standoff continues. Our best wishes to this community as they try to come to some type of solution. Perhaps the owner of the yard will get his licenses and actually follow through with cleaning things up, but it seems unlikely. So, what do you think of this situation? Should he be awarded his licenses? If any of you happen to know more details, we would love to hear about it!
If you've spotted something interesting along the side of the road, in a barn or a garage and can take photos, we would love to see it. You can send your sightings and stories to us via email at mail@barnfinds.com.