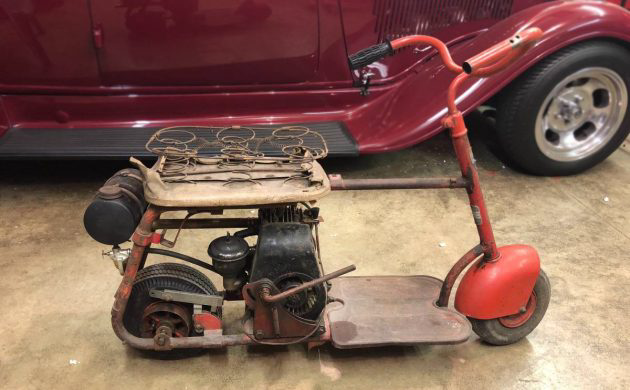 I know that a few of you have to remember the classic old variety stores such as Ben Franklin, Woolworth's, and Gambles? This classic 1946 Hiawatha Doodle Bug would have been sold by Gambles stores. This rare little barn bug can be found here on Craigslist in Massillon, Ohio, just west of Canton, home of the Pro Football Hall of Fame. The seller is asking $1,400 for this little barn find bug. Thanks go to Roger for sending in this tip!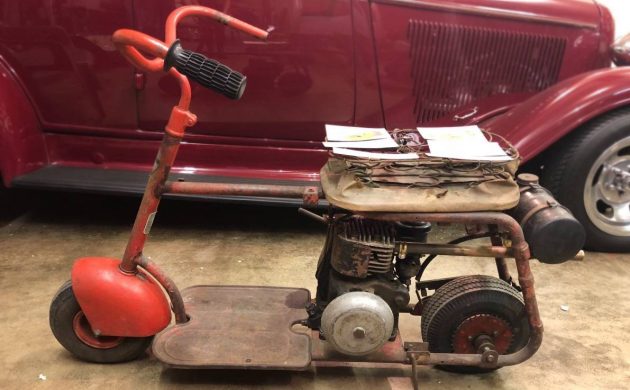 This example appears to be missing a few parts and some very key pieces such as the shields that give it the classic, sleek Doodle Bug look. Gambles-Skogmo was a huge company in a sea of similar companies with variety and hardware stores and others, up until the early-1980s when they went out of business. The Doodle Bug was made for three short years, from 1946 to 1948, in Webster City, Iowa and they sold them under the Hiawatha name at Gamble's Hardware stores. They were meant to compete with Sears-branded Allstate scooters made by Cushman. Now we can say that in one short paragraph we have talked about two giant companies that were too big to ever fail, yet they both did. That's either scary or exciting depending on if you're a history buff or you like to keep things evolving.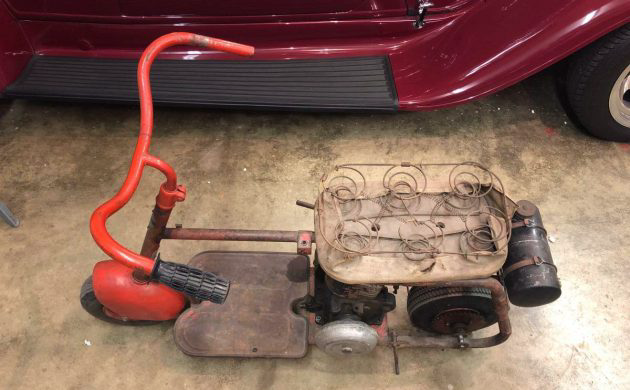 This Hiawatha is a "Model A" that used a Briggs & Stratton engine. "Model B" Hiawatha Doodle Bugs used a Clinton engine and they're much rarer. There will be some fabrication work needed to make the missing parts for this example but the other portions of the restoration should be fairly straightforward. The seller says that this is the original seat. That may cause a few folks to laugh and point, like seeing the guy at the state fair with shorts and black socks on, but any decent upholstery shop could restore that seat to an original-looking beauty in no time.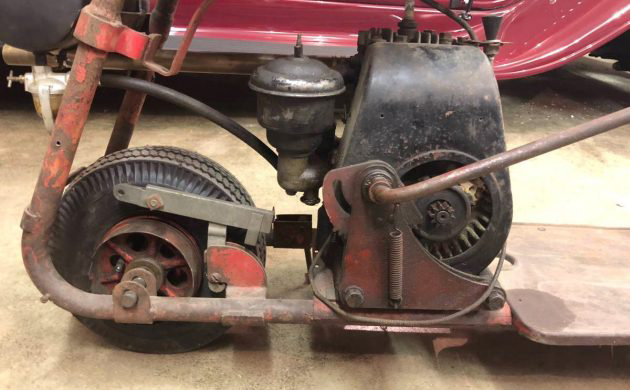 Beam Manufacturing of Webster City, Iowa made around 40,000 Doodle Bugs in that short span between 1946 and 1948 yet we rarely see them today. I bet that there are thousands of these things hidden in garages and basements all over the US. The Model A Hiawatha used a 1.5-hp Briggs & Stratton and there is no word on if it runs or even kicks over. Yes, they were kick start!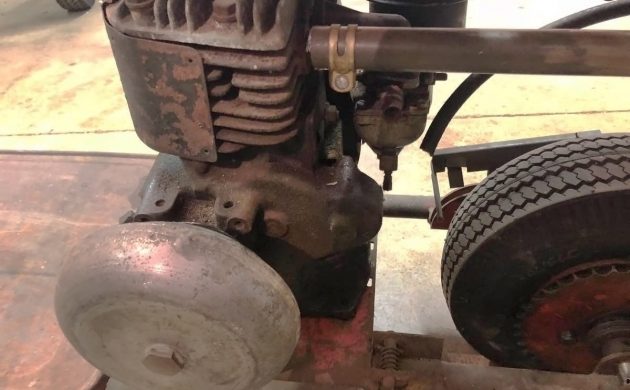 Most Barn Finds readers could rebuild the mechanical systems on this Doodle Bug in a few weekends and restore everything else in a few more weekends. It's the fabricating or somehow finding those original shields that would have me pounding my forehead against the nearest door. Have any of you owned a Doodle Bug?