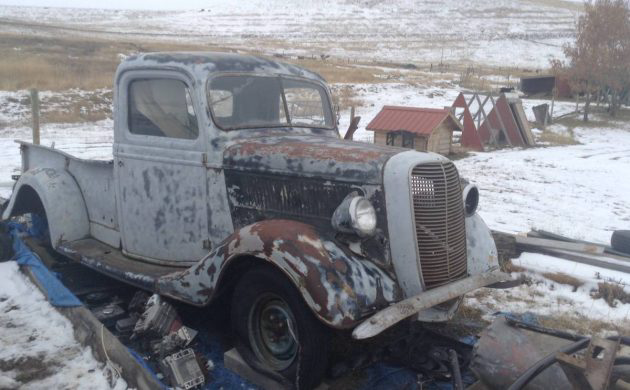 Chances are that when this tale finds you, the latest snowmageddon will be working its way across our great land.  While most of us will be snuggled up in our jammies and abusing the internet, there will always be someone out on the roads for whatever reason.  That person, if they are hunting old cars, will have an advantage over you and I.  The snow changes how you see objects, forcing you to reprocess what you are seeing into shapes and contrasts.  The advantage is that old cars have a distinctive shape we recognize, so car people like us now notice what we normally pass by.  Take for example this 1937 Ford pickup, which is currently resting in snowy Polson, Montana.  Thanks to alert reader Simon P., we don't have to brave the icy roads to spot this $3,500 diamond in the rough.  A simple click of the mouse on craigslist makes this  find possible.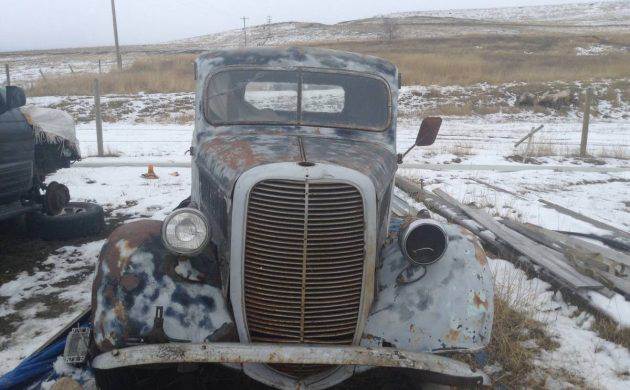 As you can see from the pictures, this is likely not the first snowfall this old Ford has ever seen.  While the ad simply tells us that the truck was slated for a restoration, but the seller has no time to complete it.  It has no motor though, and there is a cryptic insertion of the work "Cragar."  I am assuming that a set of Cragar mag wheels were purchased for the truck.  Perhaps they are in a barn where the truck should be.  What we can see is that the cab looks pretty solid compared to many other project trucks of this vintage.  The grille and fenders are solid as well.  Too bad the front bumper isn't in as good condition.  It may be useable though.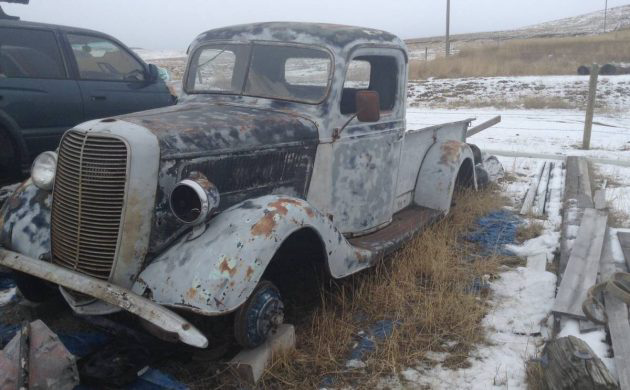 We can also see that the truck has not been subjected to the humiliating removal of its frame to replace it with one from an S-10.  The brake drums you see look to be from a 1939 or later Ford with hydraulic brakes.  While there is no engine in this truck, at least you have the makings of a pretty good driver.  There is not much to these vehicles, and parts are plentiful.  It would be nice to see more of the bed area in the pictures.  We can observe that one of the bed sides is bent, and it is impossible to discern if the tailgate is present.  It is times like this that we wish sellers would take advantage of all the free words they car write describing the vehicles they are selling on craigslist.  More pictures of the interior, cab corners, and floors would be helpful as well.
Is this truck worth the asking price?  I think so.  Most of the parts you need to make a nice truck are there and in fairly good shape.  Early Ford trucks like this one sell for a lot more than this in running and driving condition.  If you can brave the Montana winter to pry it off the frozen ground, then I'd say you'd better get on the horn with the seller.  Try to be the first one to make a deal during the storm.  This truck might sell fast now that it has some national exposure.
Have winter conditions ever helped you find a project vehicle?