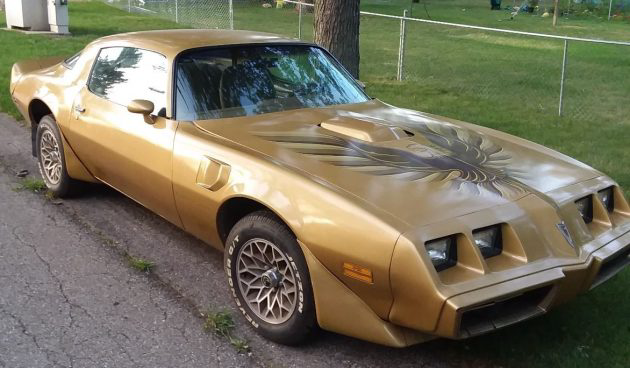 I'll admit it: if there is one car that I am completely obsessed with, it is a second-generation Pontiac Trans Am. When I was in kindergarten, my mom used to drop me off in the afternoon in a 1975 Trans Am (with a built 1972 455) and wait for me afterwards, shaker hood vibrating and all. My brother Kurt would later drive it as his first car when he was a junior in high school (after discovering that the car's gas mileage was abysmal, he switched to a Caprice 9C1 painted to look like an Impala SS). My dad also bought a 1979 model with manual windows, no air conditioning, and T-tops, for $300 outside of Philadelphia in 2005. After my family builds a garage with a lift, our plan is to swap the motor out of the 1975 into the 1979 (the 1975's body is shot, and the motor is not original, so don't panic). This particular Trans Am is a 1979 model, and is a Y84 Special Edition Bandit with T-top delete. Find it here on eBay in Portage, Michigan with no bids and a Buy-It-Now price of $15,900.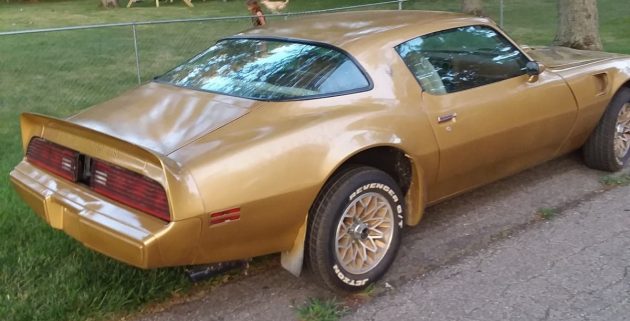 After facing near-death in 1973, the Trans Am soldiered on through the 1970s as the sole survivor of the muscle car era (keep in mind the Camaro Z28 was on hiatus from 1974 to 1977, and the Mustang became the Mustang II, which is not a muscle car. Ever. Even if there's a fire.) and set sales records. In 1979 alone, Pontiac sold 116,535 Trans Am, the highest sales total in its 35-year production span. For 1979, the Trans Am and the Firebird it was based off of received new front-end styling. This particular 1979 model is a Y84 Special Edition Bandit in gold, and is 1 of less than 20 T-top delete hardtops known to exist ( the Special Edition option came automatically with T-tops, but the option could be factory-deleted, which is why very few cars optioned as such exist today). According to the seller, this particular car "was verified to be one of the few existing Y84 t-top delete cars by Pontiac Historical Society" (the documentation comes with the car, along with a clean vehicle history report from NMVTIS). Though it was recently purchased by the seller (he was going to fix a few things and "drive the hell out of it" (his words, not mine)), after learning of its rarity the seller decided to sell it as-is. Overall, the exterior of the car is in fantastic, with only a cracked windshield as its only flaw. The sellers also mentions the addition of new parts on the car, which include hood hinges, some window trim pieces, the gas cap taillight door, passenger door handle, and the trim pieces in front under the front bumper. Though I wish it had the T-tops, the car does look cool even without them. The car was originally painted black, but I would leave it gold; I would even leave the paint as-is. I would swap the tires for a set of BF Goodrich Radial T/As, as the tires currently on the car are 13 years old.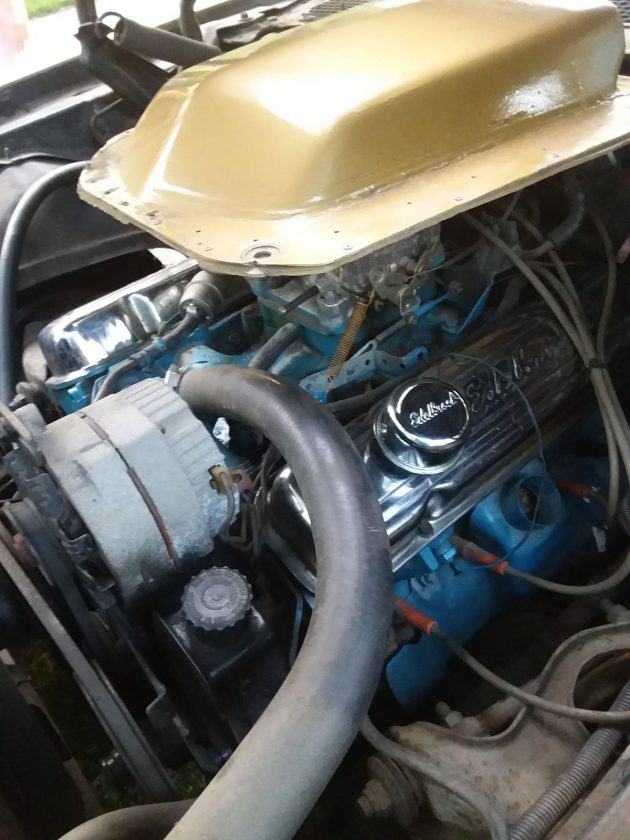 Though originally powered by an Oldsmobile 403 V8, the car is currently powered by a 301 V8 (the seller thinks it's a turbo 301, but I think it's a regular 301). If it is a turbo 301 (the seller includes the engine codes in the description of the car), it would be rated at either 200 or 210 horsepower and 340 or 345 lb-ft of torque (the former ratings are for a 1980 engine, and the latter ratings are for a 1981 engine). The shaker scoop appears to be missing its rubber surround, and there's a pair of Edelbrock aftermarket valve covers currently on the engine. The transmission is an automatic (I'm guessing a TH-350) and has a small leak. I would remove the 301 and source either a 400 or 455 to build up, a four speed automatic with overdrive, and build up a drivetrain that is speedy and reliable.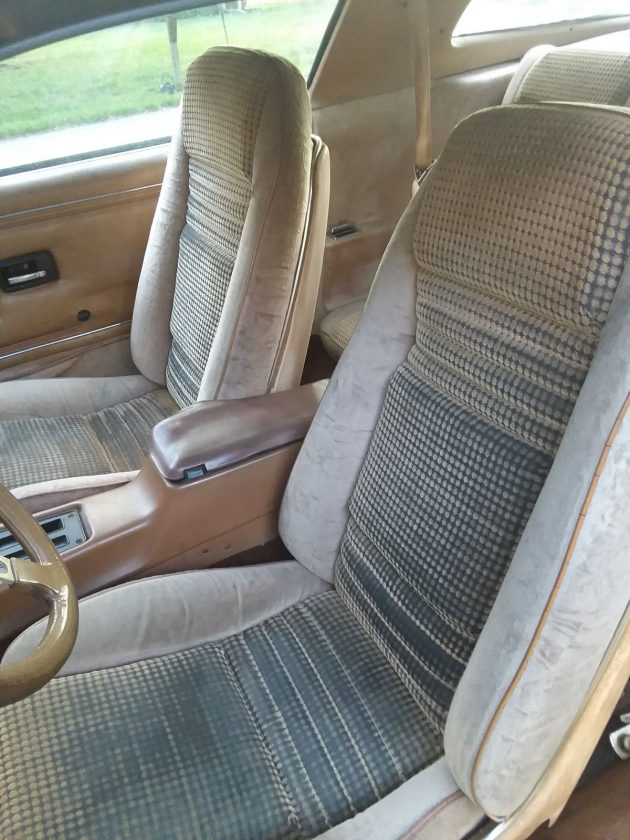 Resplendent in gold and tan, this Trans Am features the less-common cloth interior and looks really cool. Interior options include rear window defrost, custom air conditioning, acoustical insulation, vanity mirror, tilt steering, and an AM/FM radio. Overall, the interior is in amazing shape, but does need some finishing. According to the seller, the car needs a headliner and the door panel armrests, and the carpet needs to be "glued down or adjusted in spots".  I do like the gold Formula steering wheel, and once finished properly, the interior would be a nice conversation piece. Overall, this car is in nice shape, and with the necessary swaps and finishing touches should make for a nice cruiser at any car show and Cars and Coffee event. What would you do with this rare Trans Am?