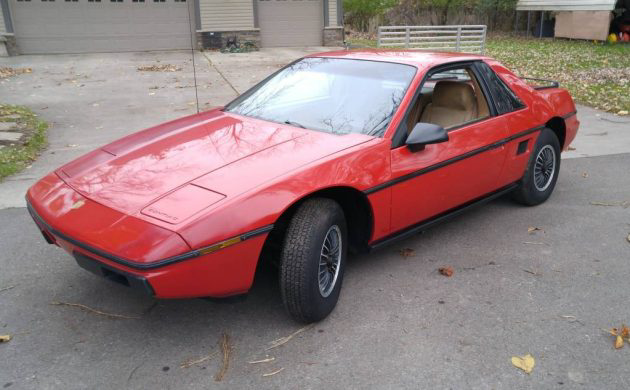 $1,900 won't buy you much of anything of value these days, but it will get you into the driver's seat of a 1985 Pontiac Fiero 2M4 that's been stored for 30 years with just over 40,000 original miles. The seller reports that the Fiero may be the best in Michigan given its superb cosmetics, and while it will need some of the usual refurbishment that goes along with a long-stored vehicle, it looks like an excellent starting point for one of the more affordable 80s classics out there. The Fiero is listed here on craigslist and is equipped with an automatic transmission and the standard four-cylinder engine.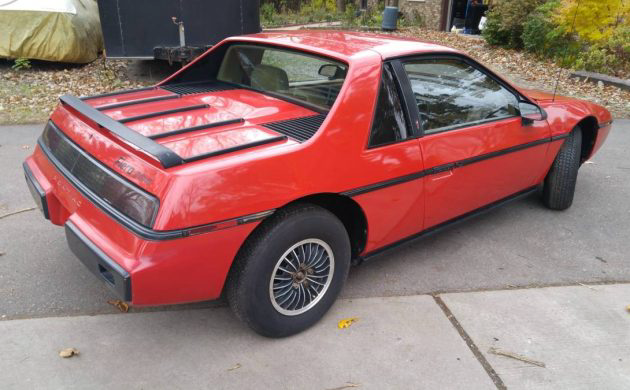 Now, the automatic is absolutely a buzzkill. I'm not going to deny that at all, but when it comes to snapping up survivor versions of iconic cars, it's really hard to go wrong as it relates to the equipment options impacting the bottom line. A manual transmission-equipped base model Fiero isn't appreciably more fun than the automatic, in my opinion, and there's a good chance the slushbox has been driven more gingerly than an economy car with three pedals would be. This Fiero seems like the kind of vehicle an early-stage retiree would buy, when they still wanted a sports car (kind of) in the garage but didn't want something as intense (kind of) as a five-speed Mustang GT.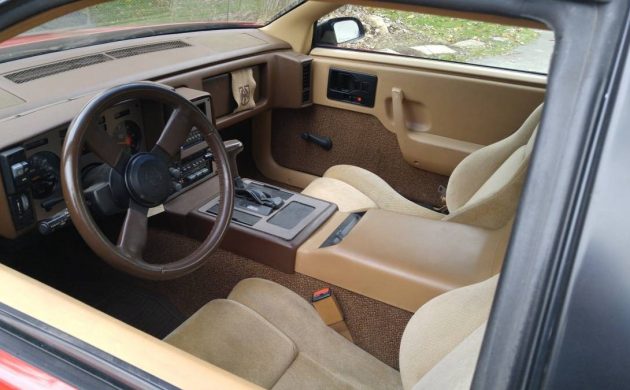 The interior is a definite highlight here, as the biscuit-colored cloth buckets and door panels are in excellent condition. The steering wheel and dash show next to no signs of wear and tear, as a car left outside for years would reveal plenty of age-related damage in both areas. With no cracked dash and no evidence of grubby hands sweating all over the steering wheel – and hell, look at the armrest for that matter, with nary a sign in sight of a greasy elbow resting on it for decades – it's safe to say the seller may not be over-selling the "best in Michigan" credentials. There's no mention as to whether it's equipped with A/C or if it works.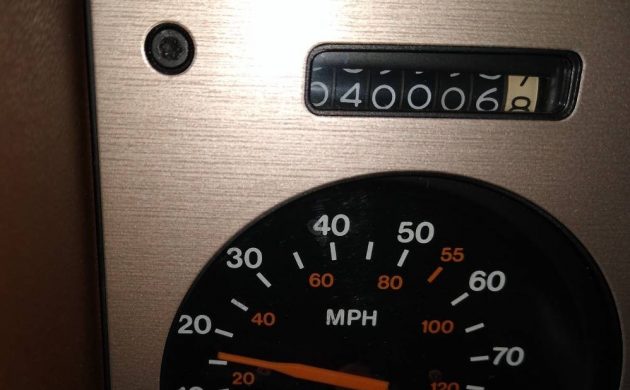 Mileage is indeed low, and while odometers can always be wonky, I don't see any confusion here given the clean cosmetics. The seller reports that the Fiero will need the full assortment of tune-up tasks completed, including the fuel tank being dropped for cleaning and/or replaced, and the carburetor rebuilt and all fluids changed. While it doesn't run at present, the Fiero does turn over with ease, according to the seller. A new battery and some "extra parts" are included with the sale, and the seller will even assist with towing short distances. There's a lot of value here for a Fiero fan, and it certainly looks like a car worth saving.