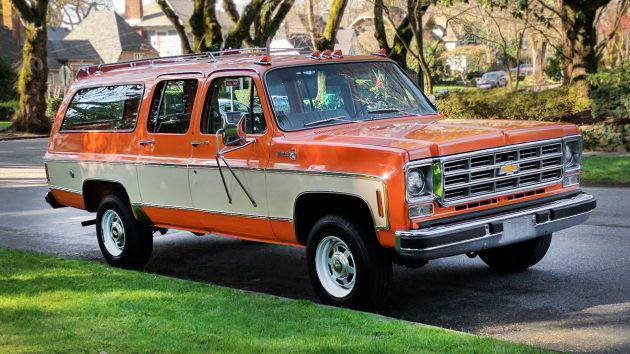 This gorgeous, orange, low-mileage time capsule is a 1977 Chevrolet K20 Suburban Silverado and it looks like a winner, and is priced accordingly. It's listed on eBay with a current bid price of $11,500 and there are still two days left on the auction! It's located in Clackamas, Oregon and it looks like a true fly-in-and-drive-home type of vehicle. At probably 10 mpg it may be cheaper to have it shipped, but the life experience would make it worth doing the former.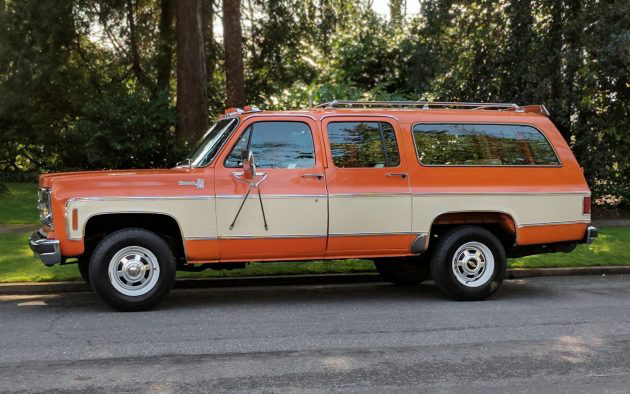 This is a seventh-generation Suburban and being a K-Series, it's a 4WD model. The K20 designates it being a 3/4 ton so it's set up for your towing or heavy hauling. This is one fantastic looking vehicle, in my opinion. This Superwagon is a pretty versatile vehicle, with three rows of seating and lots of head room, not to mention a lot of storage room, this will make a heck of a camping vehicle. Load it up, throw a small motorcycle on a front rack, pull your trailer or boat, and go!
Silverado was the top trim-level above Scottsdale and Custom Deluxe. If you're going to get a classic or vintage vehicle, you may has well get the best one in the highest trim level that you can find; that would be this one right here. But, it's not perfect, there will be a few trim items to tidy up before you hit the car shows. This is all-original paint, only having traveled 37,492 miles in the last 40 years.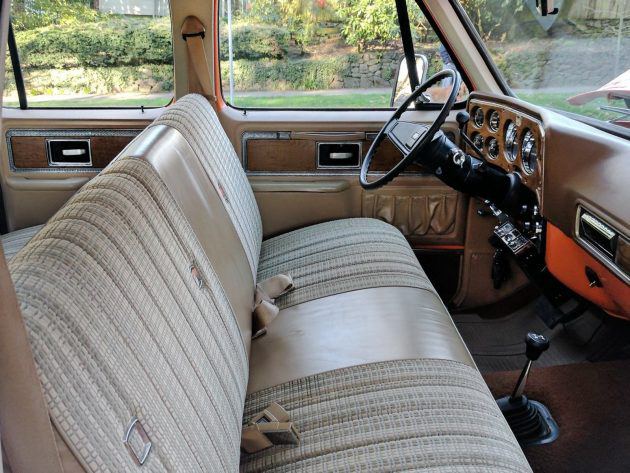 The interior looks about as perfect as you will ever find in a four-decade old vehicle. There will be enough room for quite a few of your son or daughter's sports teammates along with their gear in the back of this huge Suburban and they'll all be comfortable with the rear heat and AC. The underside looks amazing, too.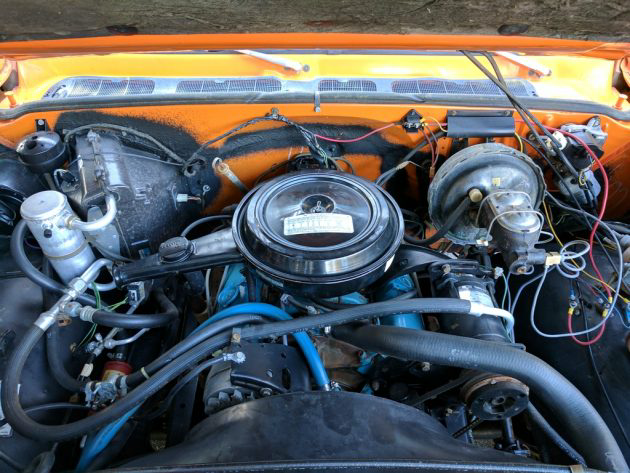 This Suburban has Chevy's optional 400 cubic-inch V8 which would have had 175 hp, and yes, it looks great, too. Wyoming must not use salt on their roads, the seller says that this is a Wyoming truck. Either that or it was never driven in the winter. Would any of you have a use for a Chevy Suburban? Or, have any of you owned one?