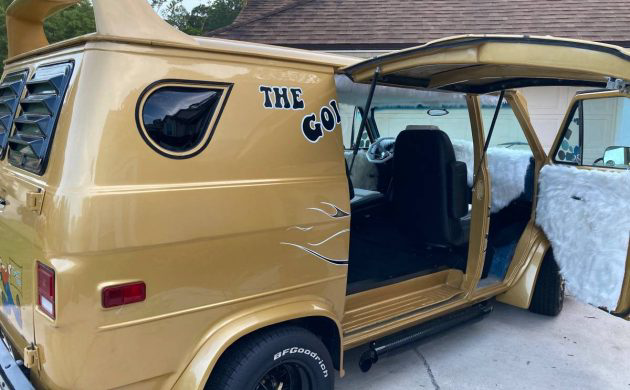 With Easter Sunday upon us, it seems slightly cheap to post a vehicle that is dubbed a "shag wagon" by the seller, but perhaps he's just referring to the acres of shag carpeting inside. The van in question was, at one time, a standard short wheelbase 1981 Chevrolet G20 van, but obviously, it's a long way from home in terms of how it left the factory. If the gullwing doors weren't a strong enough clue, there's plenty of other details to feast your eyes on. Check out the "Golden Ticket" van here on craigslist for $15,500.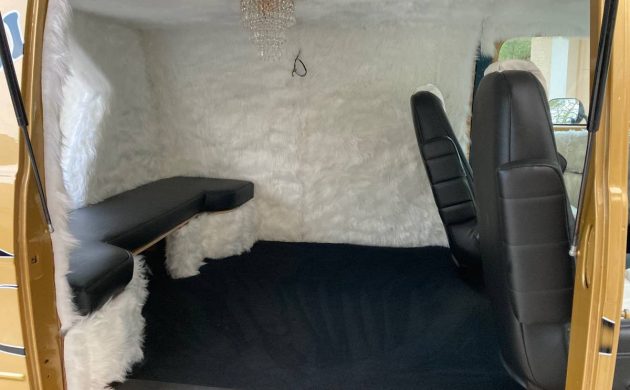 The interior has been completely redone, with the walls covered in fluffy white fur that looks as soft to touch as the critter that gave its life to make this happen. OK, it's doubtful that any animals were harmed in the creation of this van unless those are leather seating surfaces we're looking at. Now, what's surprising is that the builder of this van didn't opt for the standard rear bench / convertible bed in the back, as we typically see. Instead, it appears to just be a sort of uncomfortable-looking bench that I guess would be good for lounging on at van meets.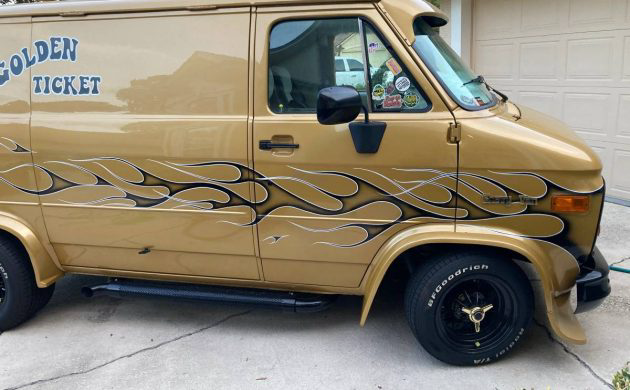 Honestly, I can dig the fact that the builder concentrated on the exterior over going crazy with the captain's chairs and hidden beverage cabinets inside. There are fender flares, a front air dam, custom paint and graphics, roof visor, aftermarket wheels and tires, side-exit exhaust, and more. The front end is completely blacked out with zero proof there are actual headlights in the grill, and there's a huge roof-mounted rear spoiler. The louvers on the back glass are a must-have, and obviously, the gullwing-style side door puts it over the top.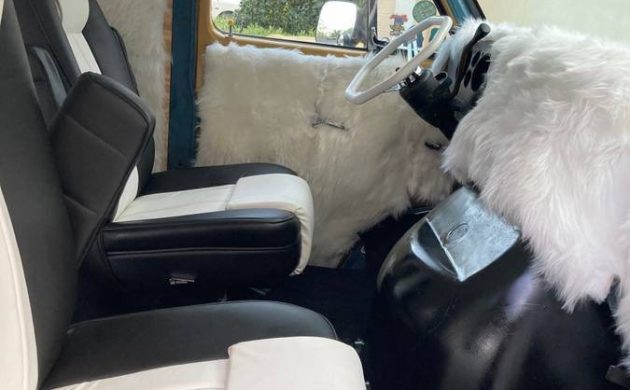 If you live driving around pretending there's a big shaggy dog lounging on the dashboard, your ship has come in. The front buckets have been re-done in an attractive pattern, and the dash sports aftermarket gauges and a steering wheel. The shag "motif" continues to the door panels, so this truck is not a great choice for wallflowers. It's difficult to even put a price on something like this, but at the end of the day, a short wheelbase G20 will always be in demand. Would you rock a G20 called "The Golden Ticket"?