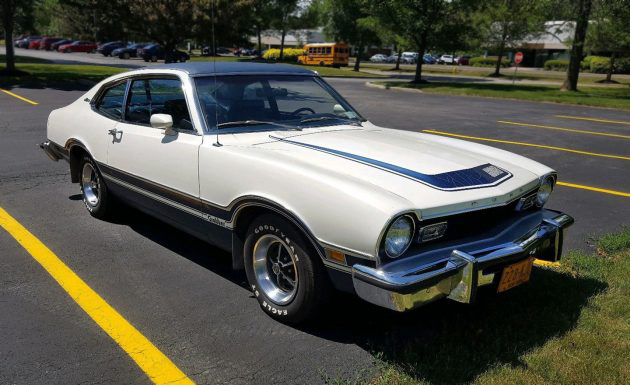 This car has a lot going on. There are enough details on this 1975 Ford Maverick Grabber to keep your eyes busy for quite a while. "Less is more" doesn't apply here, this is like that piece of cake that I always go for, the one with the most frosting on it, that corner piece that sort of sunk down and they really iced it up to make it even with the others. This car is on eBay with a current bid price of just over $3,000 and it's located in Tonawanda, New York.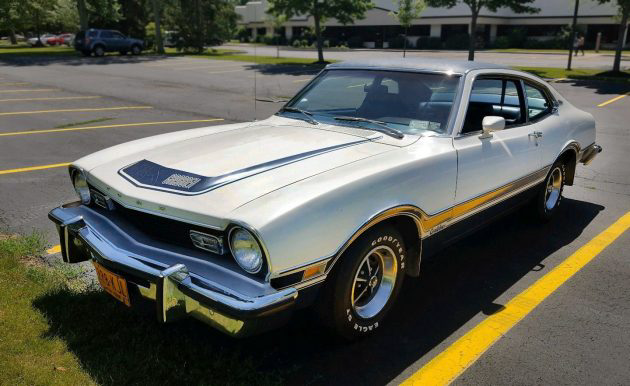 This is one great-looking car, at least condition-wise. Whether a person likes the airstrip-like bumpers, that's another discussion. But, I absolutely love this car. Yes, even the vinyl top! I grew up in the vinyl top era and always thought they were nice. The "cheap" cars didn't have vinyl tops in the 1970s it seemed like. It's like tucking in your shirt and not wearing a belt to not have a vinyl top in this era, it just doesn't look like a finished product to me. And, it's funny how most people felt that way back then but hardly any do now, or will admit that they felt that way back then. Revisionist history is alive and well.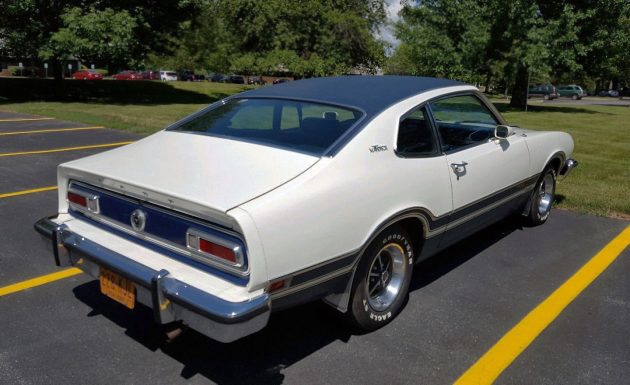 The seller says that this is a Midwest car, which is surprising to me. Having lived in the upper-Midwest my whole life and having had my share of unbelievably rusty vehicles, for this car to be in this condition and also be a Midwest car is amazing. Even the underside appears to be rock-solid. Although, in looking at the trunk photo, there's something lurking there. There are some cracks in the striping and they say that this is a three-owner car that was always garaged, has 71,000 original miles on it, and has racked up only 10,000 miles since 1984. Even the plug wires are original! Yeah, I'd want to change those, but I'd keep them for shows.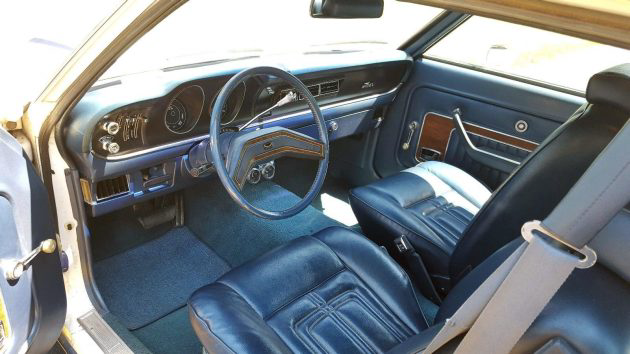 If it only had one less option, that automatic transmission. But, like vinyl tops, that's what most people had in the 1970s and the decades on each side of the 1970s. We like to romanticize about so many vehicles having manual transmissions, but once the automatic hit the market, it took over. I would guess that most of us would prefer a 3-speed in this car, though. A 4-speed wasn't available, but I'm sure that a lot of cars received one in garages throughout the US. The interior looks as fantastic as the exterior does on this Grabber. Those highly-detailed seats are killer and they look as close to being new as any that I've ever seen in a car from this vintage. The seller mentions that the dealer-installed AC is there but doesn't blow cold, but the cruise control still works! I've never seen cruise control in a Maverick, very cool.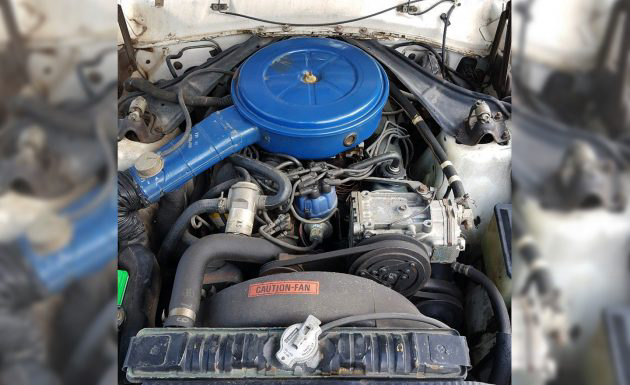 1975 was the last year for the Grabber and by then the 302 cubic-inch V8 engine had dwindled down from a peak of 210 hp to 129 hp. I know, bummer. "Pump the gas once and it starts right up. Runs and drives well for a 42 year old car." This Maverick Grabber sure looks like a winner to me. Other than preferring a manual transmission I wouldn't change one thing on this car. What would you change if you had a chance to check the options boxes in 1975?