It's amazing how a set of trim rings over some steel wheels can transform a grandma wagon into a tough-looking street cruiser. This Chevy Caprice wagon spotted by Barn Finds reader Pat L. is said to be a two-owner survivor that was garaged nightly up until the seller took ownership and comes equipped with desirable features like the third row seat. It has 107,000 miles and is for sale here on craigslist with an asking price of $4,200.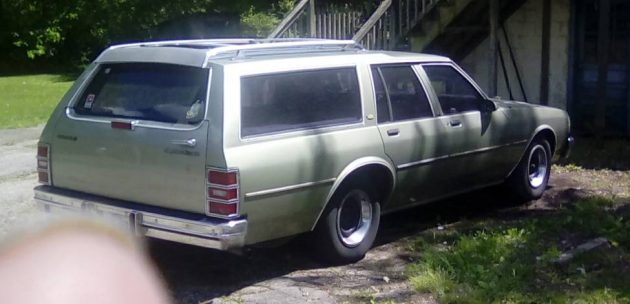 Equipped with the venerable 307 V8, this Caprice wagon wears an interesting shade of green not often seen in a sea of white, navy or beige Caprices. This model features power windows, seats and functioning A/C. The Caprice of this generation enjoyed a modest boost in horsepower to 170 b.h.p. and 250 lb.-ft. of torque. Not earth shattering, but more than enough to move grandma down the road. This wagon also comes with a sliding rear window in the tailgate and strong chrome on the front and rear bumpers.
That folding third-row seat was either a feature you loved or loathed as a kid, depending on your appetite for being the entertainment of cars behind yours. The cargo area in this Caprice looks impressively clean, free from the usual stains and scuff marks associated with heavy use. While this example makes do with cloth seats, the front and rear benches at least appear to be in excellent condition if not exactly luxurious.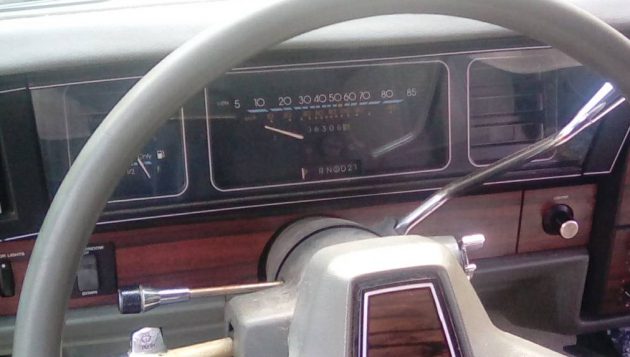 New-for-1987 included this woodgrain applique on the dash below the cluster, and it looks great on this example. The column shift automatic made it easier to slide across the front bench, should you be looking to squeeze in as many siblings next to grandma as possible. For $4,200, there are plenty of project cars on craigslist to choose from; but if you were able to bargain a bit on the price, it could be a fun hauler with a robust parts network and service-it-anywhere simplicity that doesn't exist in today's tech-laden vehicles.