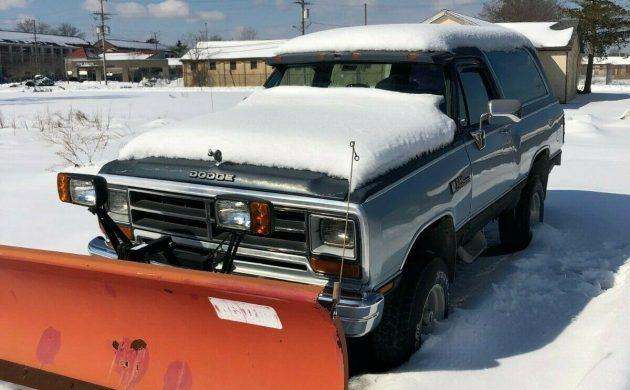 Old plow trucks never die – but they sure do get rusty. It's amazing how many Dodge Ramchargers, Ford Broncos, and Chevy K5 Blazers were thrust into plow vehicle duties, long before they became the valuable square bodies they are today. Unfortunately, while their stout drivetrains may have made them seemingly un-killable performing the daily rigors of clearing snow and ice in the northern states, their bodies were not quite so resilient. This 1989 Dodge Ramcharger here on eBay may still look just as ready to battle winter's worst as it did three decades ago, but Old Man Winter and Father Time have not been kind to it.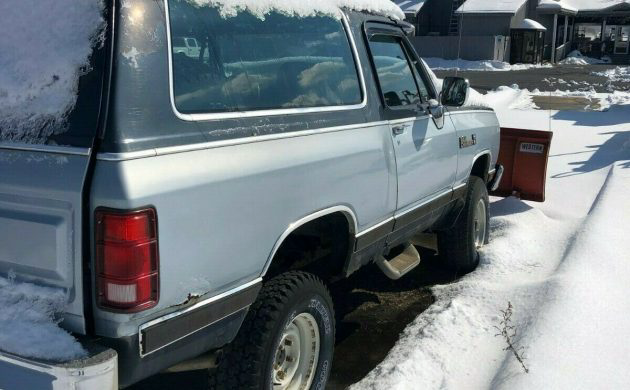 The seller has listed this Ramcharger with a Buy-It-Now of just $1,800, with the option to submit a best offer. The body may not look terrible from angles like these, with what looks like original paint still applied in the classic two-tone scheme. The seller notes it was a strong-running truck, but was parked a year ago due to a bad fuel line. Mileage is unknown as the odometer is believed to have rolled over, and close-up photos of the tires reveal those are in pretty rough shape. The back passenger quarter panel shows what looks like some rust beginning to blister through the paint. All glass looks good, at least.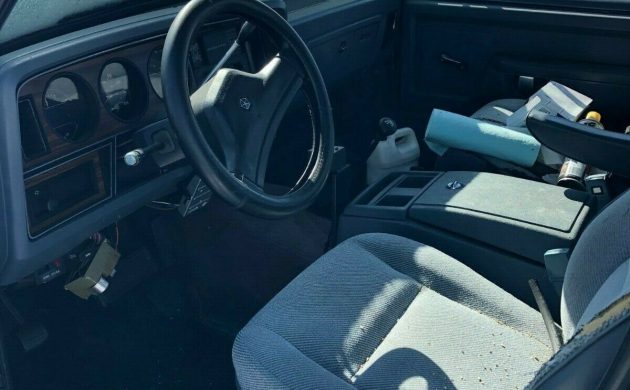 The interior isn't as bad as I'd expect for a vehicle used for plow duties, with decent cloth buckets and fake woodgrain trim in the instrument binnacle. The thing about plow trucks is that they were usually fairly tired vehicles by the time they were relegated to plowing the back lot, but still running well enough to press into continued duty. No retirement years for a truck like this, which was likely 20 years old before it became to go-to for when the weather turned messy. It's too bad the fuel line wasn't simply fixed when it went bad, as the seller claims the Ramcharger drove quite well leading up to it.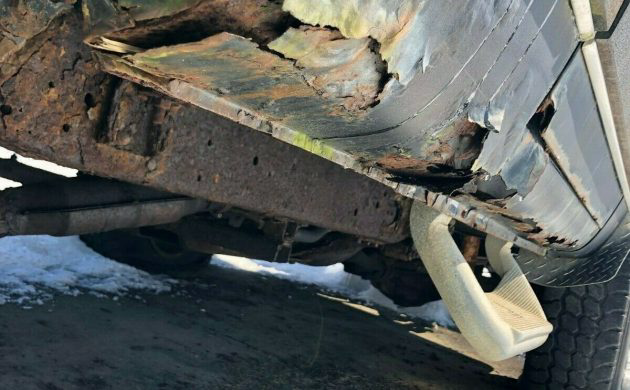 Oof – that's pretty rough, and this is coming from a guy who defends the northern cars and trucks from being written off due to some lousy surface rust. This is pretty deep into the body, with the rockers definitely compromised and the frame being suspect as well. Of course, as a plow rig, there's no harm in continuing to use it on private property, as it'll just be that owner's problem to solve when the frame finally gives out. Of course, given the rise in prices for these trucks, perhaps a frame swap could be justified if the drivetrain is as healthy as the seller claims – or, you could just buy one from a western or southern state. Should this one be saved, especially if it can be bought for $1,000 or less?