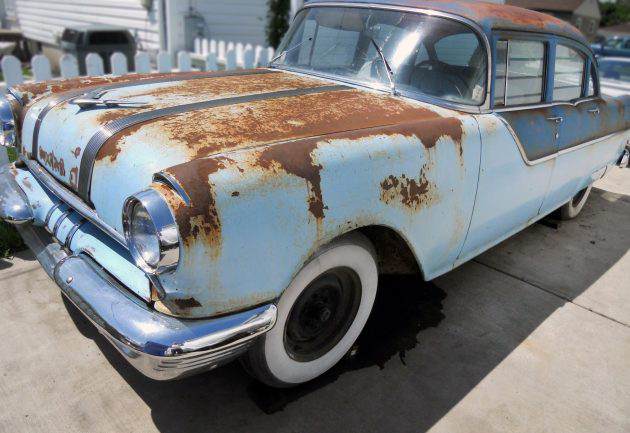 I'm biased, like the vast majority of us are – I openly admit it. I like all vehicles, from the Cugnot Steam Trolley of 1769 to the current (no pun intended) Chevy Bolt, and literally everything in-between. Whether it's gas-powered, runs on diesel fuel, batteries, chipmunk power, it doesn't matter, if it's a personal transportation device, I like it. But, having grown up with my parents having a '56 Pontiac Chieftain in black and white, I have always had a soft spot for these cars. This 1955 Pontiac Chieftain is on eBay with an unmet buy-it-now price of $4,500, or you can make an offer. It's located in Des Plaines, Illinois. This brings up an important question: why is Des Plaines pronounced Des Plaines when Des Moines is pronounced Da-Moyne? Hmm..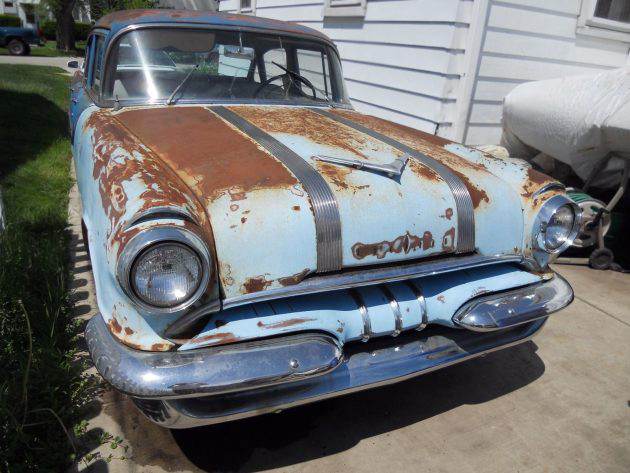 I think that these second-generation Chieftains are the best of the series for Pontiac and they are personally my favorite Pontiac out of any of their models. The Chieftain only ran for three generations, from 1949 to 1958. The 1958 cars, being a one-year only model, may be the most unique and valuable. But, as I said, I'm biased towards the middle-generation cars: the tri-five for Pontiac. This was such an elegant design, and it still is. This is really a two-tone beauty. Or, I guess with the rust maybe it's a three-tone beauty?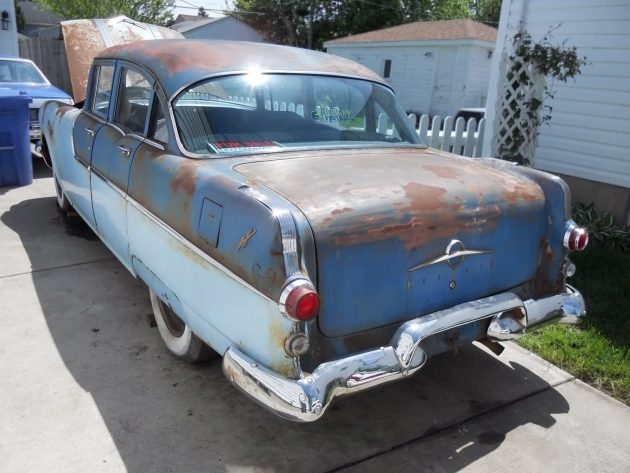 This was exactly like the car that my parents had, I wrote about it here a little over a year ago. What a beauty. This two-tone blue 1955 Pontiac Chieftain looks like a good starting point for a nice driver, but being a four-door sedan it'll most likely never see a full restoration. I can't imagine that most teenagers today are interested in vehicles at all other than to be driven around in mom's minivan for the rest of their lives. Maybe some of you have kids (i.e., younger than 30!) who love cars, but would they care about a 62-year old four-door sedan?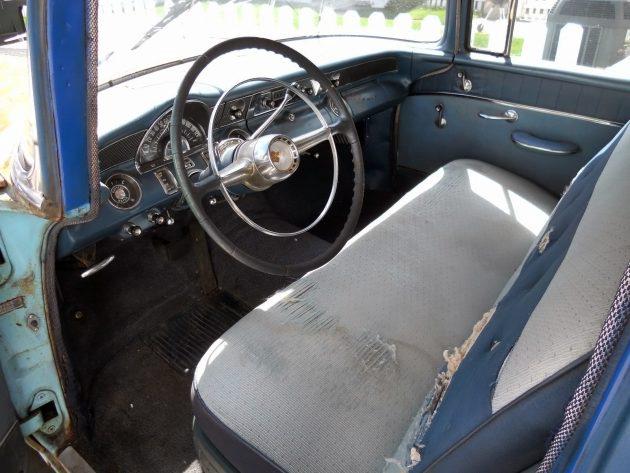 Ahhh.. that interior! And there's that crazy sideways "Blower off/on" switch over the steering column, weird. This car has some bright blue paint on the pillar as you can see, I'm not sure what that's about, that does not look factory-original to me. And, even on the rear seat photo (kudos to the seller for providing a variety of photos, by the way!), the bright blue looks sprayed-on? Maybe I'm mistaken, the seller says that this is an all-original car from Mississippi, with solid floors and rockers.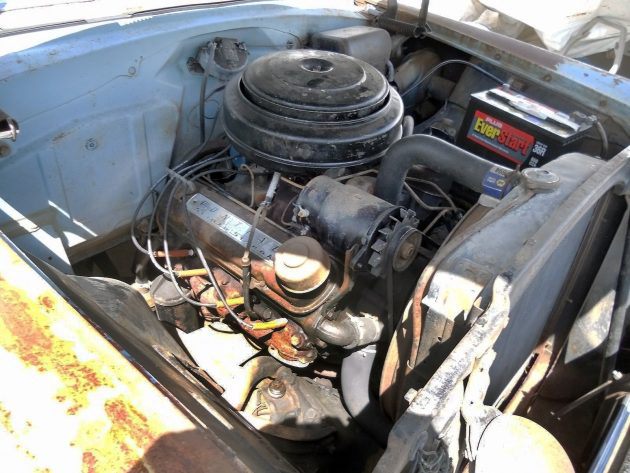 This was the biggest news for Pontiac in the post-WWII era, a brand new V8 engine. This one is a 287 cubic-inch Strato-Streak overhead-valve V8 that would have had around 175-180 hp. There was no six-cylinder option for these cars. The seller is light on words but they say that this car runs and drives. Is this a good project or does it suffer from the affliction known as "too many doors" syndrome? I prefer a four-door in these cars, but maybe it's just for the great memories in my case.