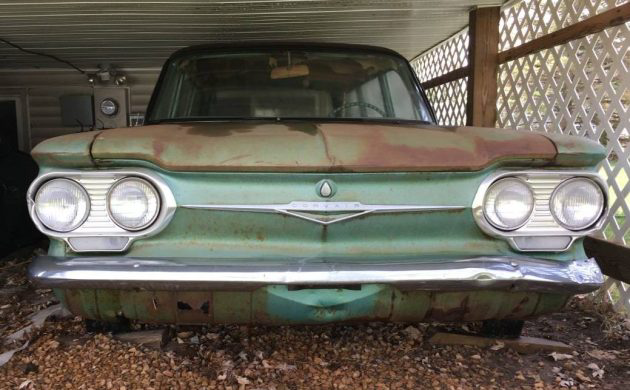 The Chevrolet Corvair was a more remarkable car than many realize. There were the standard two-door and four-door body styles along with, thrown in for good measure, a convertible. Less often encountered are the Rampside and Loadside pickup truck variants, as well as the van version like this Corvair Greenbrier, covered here on Barn Finds a few weeks ago. And finally, produced only two years, was a station wagon body style like this 1961 Lakewood 500, located in Andover, Minnesota, and available here on craigslist for $2,200. Thanks to Pat L. for this tip!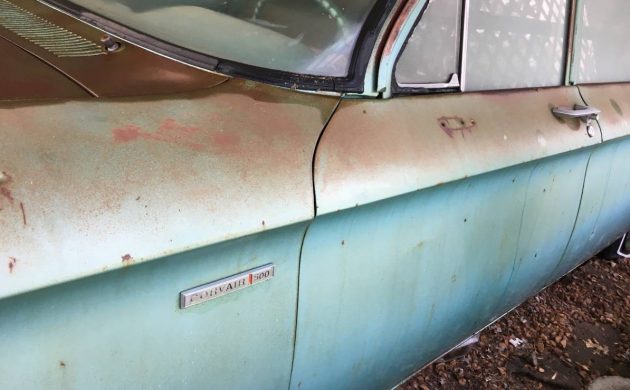 The Lakewood moniker was only used in 1961, replaced in '62 by Corvair Deluxe 700 for the base model and Corvair Monza for the top zoot-suit model. By '63, the Corvair station wagon experiment was over and out. This particular example is the base-level Lakewood 500 and has been parked since 1972. It is unlikely that this Lakewood's 146 CI, 80 gross HP, air-cooled, flat six-cylinder engine is operable. It is equipped with a manual transmission as opposed to the dodgy two-speed Powerglide automatic transaxle – no word if it is a three-speed or four-speed manual but I'd bet on the former. There is no mileage listed and it is probably irrelevant at this point.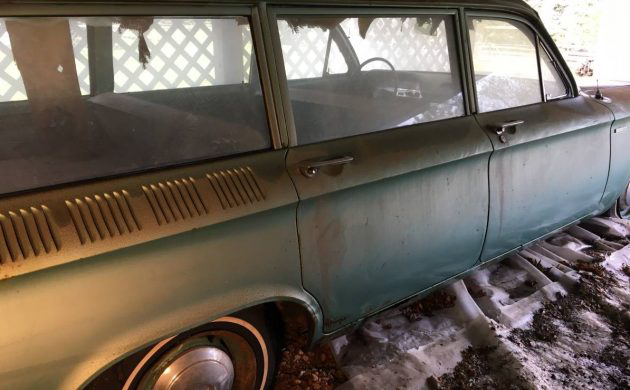 The listing for this Lakewood is a crafted work of minimalism, there are a few fair images and virtually no text other than the aforementioned 48-year hiatus and a reference to, "It is a complete car. No parts have been removed. All the glass is good." There is no description of the interior so you can only imagine its condition. And that's not to suggest that it's trashed, just unknown, though the headliner has become airborne; it's anybody's guess beyond that.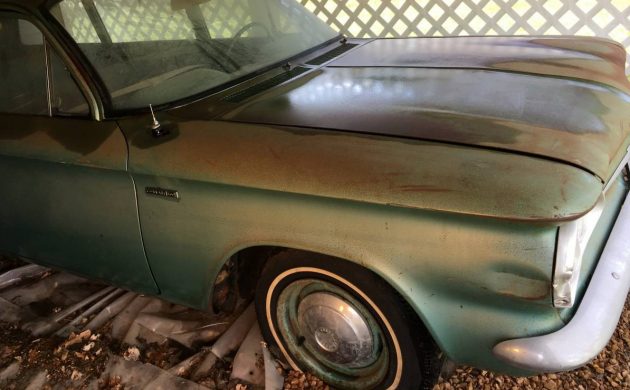 The exterior shows some minor missing trim, a rusted through front roll pan, and a lot of surface rust. There are no comprehensive exterior images so the general condition of the body and structure is like the interior, mostly unknown. There are some minor scrapes and dings that can be seen and the rear right door would appear to have some rust that has settled in along the bottom left side but that's a typical problem. This station wagon is sitting undercover, sort of; the ceiling or porch floor is continuous and not slated to that helps with the top side of this Corvair. It is, however, parked over gravel-strewn dirt, exposed to snow and rain as one side and the front of this Lakewood's tomb are open to the elements. While it is hardly an ideal long term slumbering spot, and conducive to underside rot, a plastic tarp has been partially placed under the car to help control ground moisture.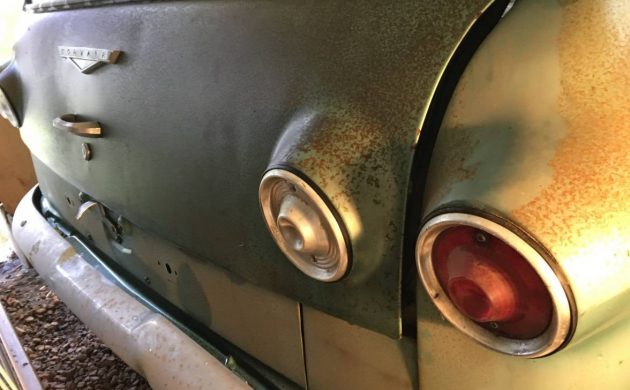 Corvair station wagons are not rare, there were approximately 32,000 produced over its two-year run, with the '62 Monza being the rarest and the '61 Lakewood 700 (a step above this example) being the most common. The completeness of this example is enticing but it's offset a bit by a lack of completeness with the listing. That said, the price is pretty reasonable for a model of car that has a dedicated following. It would be good to hear from current and past Corvair owners; is this example worth further investigation or has its existential siesta knocked it out of contention for being roadworthy again?