We've featured several bikes here on Barn Finds over the past few weeks that are being sold by the famed Wheels Through Time Museum. It appears they are liquidating some of the less valuable pieces of their collection and this bike is part of that sale. It is a 1931 Harley-Davidson and can be found here on eBay with a current bid of $5,500. Wheels Through Time is located in Maggie Valley, North Carolina, and houses "…the world's premier collection of rare American motorcycles, memorabilia, and a distinct array of unique "one-off" American automobiles." Let's check out more of this Harley racer!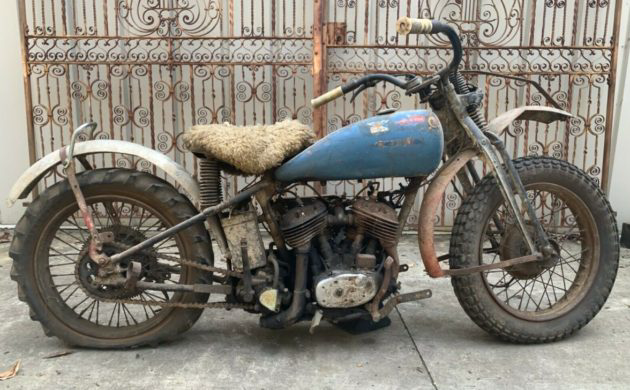 According to the ad, this bike was owned by famed Harley-Davidson dealer George Swim from Energy, Illinois. It was raced in the Jack Pine Enduro several times in the 1940s and the racing modifications look really cool. If you aren't familiar with enduro racing, imagine riding this bike up and down the nastiest steep muddy hills that are boulder covered with trees along both sides of the trail plus racing on gravel and dirt rutted roads. You can check out modern enduro racing in this clip found here on YouTube. By looking at the photos in the ad, you can tell this thing was set up to go off-road. The front fender has the shape of a modern motocross bike and you can see the aggressive rear tire/gear set up in this photo. The seat also has extra padding which hopefully helped some of the bumpy sections.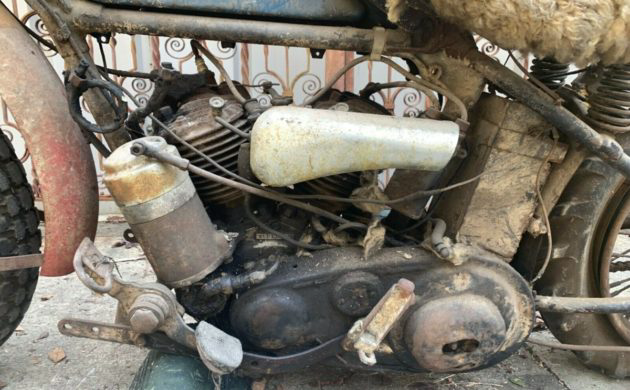 The ad says the engine turns easily and has plenty of compression, but there's no mention if it runs or not…so it probably doesn't. The seller makes a point to highlight the "rare vertical generator" and the "beautiful amp gauge and air cleaner." They also mention that the brake is in working condition.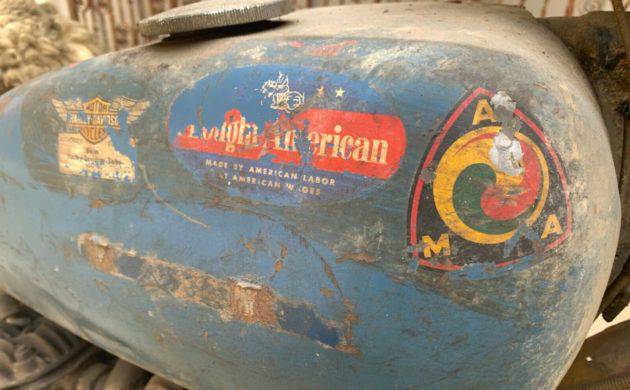 The biggest downside to this ride might be the fact that the left side of the tank is missing along with the shifter arm and dashboard cover. If the new owner plans on displaying the bike, they could just place it so the tank side is out. It would be a shame to lose the cool patina the vintage stickers add to the tank, but if someone is planning on restoring it and/or riding it, then they'll probably want to source another tank. Overall, this is a pretty unique Harley that would be a fun bike to own. What do you think?