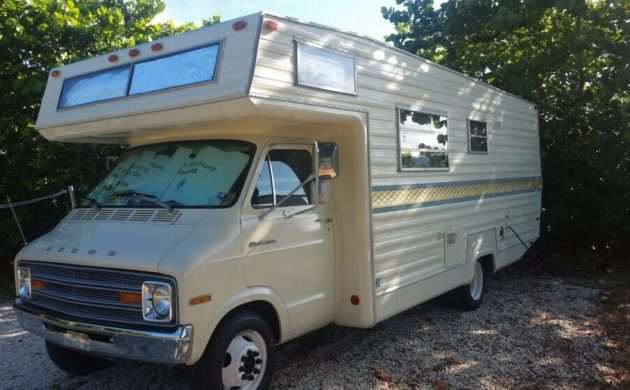 This 1977 Dodge Sportsman R/V is an impressively clean Class C motorhome that the seller calls a "barn find" – but we're not exactly sure why. It could be that the terminology is simply plastered onto any vehicle that's a survivor-grade example. This Sportsman is listed under consignment with an R/V specialist in Sarasota, Florida, and the description notes that the owners have criss-crossed the United States with no issues, and the camper is only up for sale due to a family illness. Mileage is just under 60,000, and it's listed here on Facebook Marketplace for $24,500.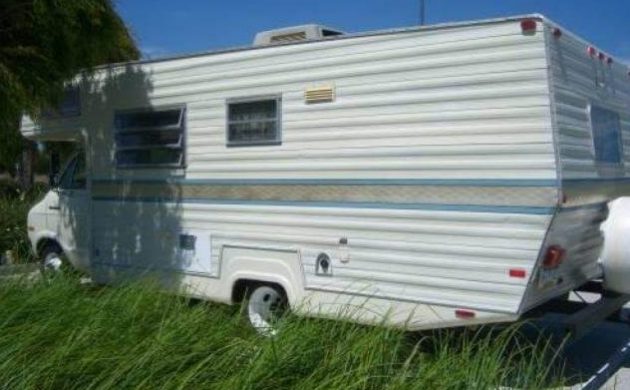 The best part about an R/V like this is you're practically guaranteed to make some great road trip memories if it's a proven vessel for cross-country transport. True, those journeys can go sideways in a hurry if you're piloting a less than reputable rig, but this Sportsman doesn't appear to be one of those at all. While you may see pictures of homeless encampments on the West Coast full of bombed out compact campers like this one, make no mistake – the only way you'll see this Sportsman in a community like that is if it's just passing through on another epic journey. With laser-straight panels and gallery photos that show a pristine roof, it's clear this Dodge has led a pampered existence.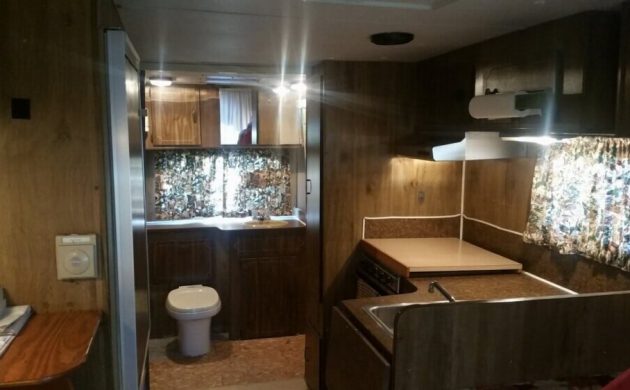 The interior is fully decked out in period garb for a motorhome made in 1977, and that's a wonderful thing. The owners haven't changed it but they have taken great care to preserve it. The description notes it easily sleeps four adults, and there's also a full shower, tub, two skylights,  toilet, bathroom sink, and a privacy divider/ door. The full kitchen includes two sinks, an oven with four-burner range / hood, and a refrigerator. The cabinetry has been refinished, along with the carper that has been recently replaced. The front seats are leather buckets in great shape, and the air conditioning and central heat work as well.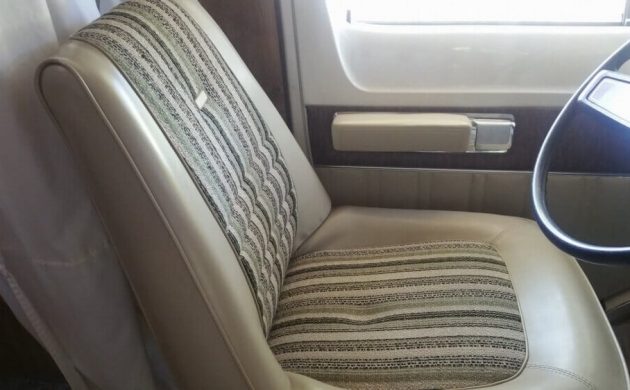 If the driver's seat is in this good of condition, it's a very good sign for the rest of the camper. The Dodge is powered by the venerable 440 V8, an engine you can still find parts for most anywhere and plenty of junkyards with carcasses that can likely help out in a pinch. The seller notes it can run all day on low grade fuel, a small but important detail for long-distance touring. Other details, like the steel wheels that are still painted bright white and nice chrome on the bumpers and mirrors, are also pleasing to the eye. It sounds like a generator isn't included, but the seller is willing to provide an allowance to purchase one if desired. A pristine Class C Sportsman – that's a hard rig to find these days.