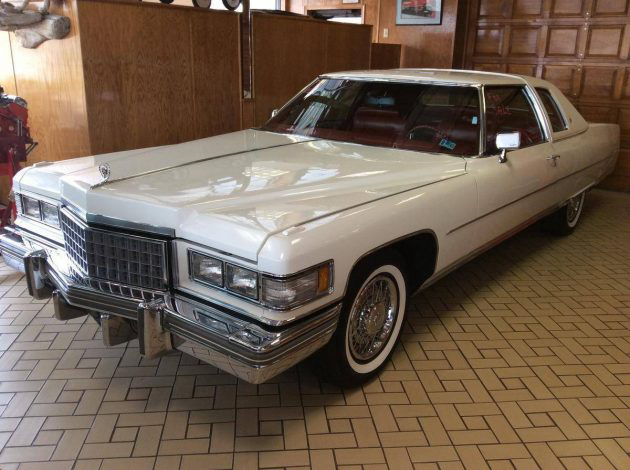 I think I remember a book that started out with the lines "It was the best of times.  It was the worst of times."  For Cadillac in 1976, this line really sums up where they had been and where they were going.  Up to this point, Cadillac was always among the short list of luxury cars that Americans lusted after.  Purchasing a Cadillac meant you had made it to the top tier of American life, and you were a person to be respected.  However, there were dark clouds on the horizon.  Cadillac quality and the public's respect for the brand began a slow descent that rapidly turned into a free fall which still threatens the brand with extinction to this day.  This 1976 Cadillac Coupe De Ville represents the last of the "big" Cadillacs, and this particular one has just 8,400 miles on the odometer.  This showroom perfect leviathan can be found for sale on Craigslist for $23,000, and is currently hidden away in the town of El Dorado Hills, California.  Our friend Pat L. can be thanked for finding this amazing Cadillac for us.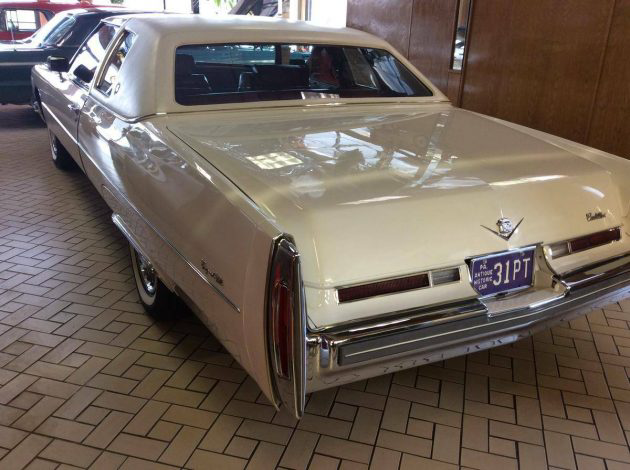 The fourth generation of Cadillac De Villes were produced from 1971 through 1976.  This was a difficult time for the automobile industry, with increasing demands from the government concerning safety and emissions standards.  To make things worse, OPEC began making life miserable for them as well.  Cadillac found themselves producing huge, heavy automobiles powered by 472 cubic inch engines.  By the time 1975 had rolled around, the engine size had ballooned to 500 cubic inches to somewhat offset the falling horsepower that the emissions equipment robbed from these Cadillac exclusive engines.  Even for the wealthy, feeding one of these beasts became a burden.  Cadillacs after this would have to change to meet the times, but the changes wouldn't sit well with Cadillac owners.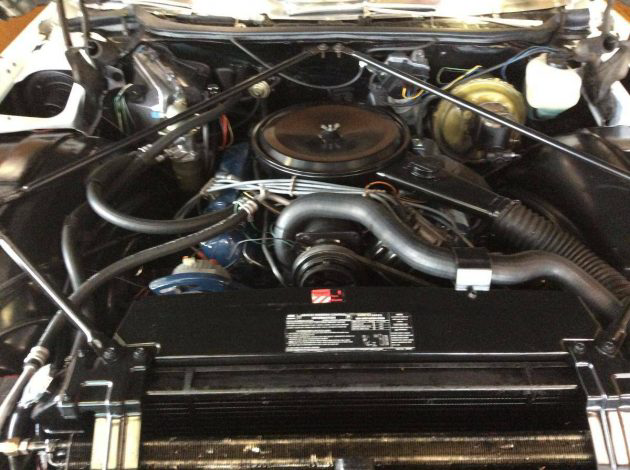 As mentioned, the engine had grown to 500 cubic inches, but had slipped to just over 200 horsepower.  When you consider that these huge automobiles were pushing up on 5,000 pounds of chrome laden weight, every lost ounce of grunt was sorely missed.  Cadillac's large displacement engines of the period were no slouches when it came to oomph.  They didn't unleash horsepower like a cammed up Chevy big block.  They delivered the goods in more of a turbine or electric motor fashion, with gobs of low end torque that pushed you firmly back in the seat.  Coupled with transmissions that had shift points timed to perfectly match the engine's torque curve, these big Caddys probably surprised a few people playing stoplight drag racing games.  I do remember a story of some kids buying a Cadillac of this era from a junkyard and taking it to their local drag strip.  They got a baseline quarter mile time with it, then started taking parts off and making passes after each forced weight reduction.  I think they ended up making passes in the low 13 second range.  Hopefully a reader can fill in the details on this adventure.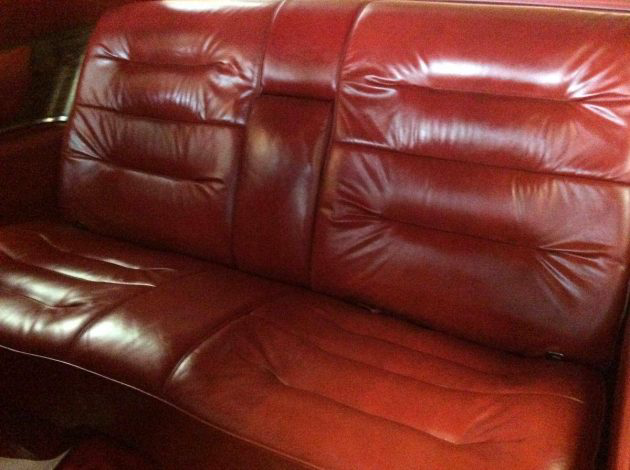 Inside, these cars had seats that would be at home in the finest automobiles of the time.  They were usually made of high grade leather, and had plenty of padding to make your rear end happy.  Combined with Cadillac's legendary ride quality, you probably couldn't find a better road car.  This was proven during the November 1971 running of the Cannonball Run.  Three guys driving a 1971 Cadillac that was being delivered across the country, supposedly by responsible drivers, managed to make the trip in 36 hours and 56 minutes.  Factor in that they were stopped by the cops seven times, and that they averaged a little over 8 miles per gallon, and you can see the potential for Cadillacs of this vintage.  For the record, they placed third.  The winning car, which was a Ferrari Daytona coupe driven by Dan Gurney and Brock Yates, made the trip in 35 hours and 54 minutes.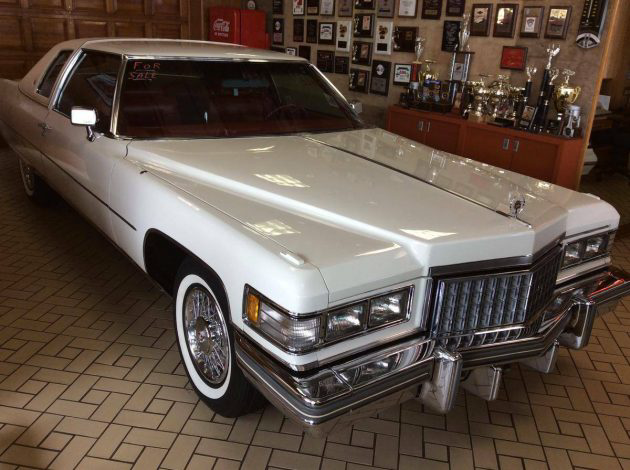 This particular Cadillac is just stunning.  I'd love to know the story behind how it has been preserved so well, but the seller hasn't offered up any details in the ad.  What is even more amazing than the condition is the complete absence of rust.  This is an event of such rarity that it seems impossible.  GM must have searched the world over in 1976 to find the worst steel being made.  Perhaps they consulted with Fiat in this endeavor.  At any rate, it is hard to find a 1976 GM anything, because they all rusted like they spent the first months of their lives parked next to the Titanic.  While I have no proof to back my theory up, my guess is that the bean counters had achieved full control of GM by this time.  The short sighted stinginess that GM displayed in this era and beyond is why customers left in droves, and they had to rely on a government bailout.  GM owned the car market for many years, but you can argue that 1976 was the year it all began crashing down.  To be honest, they deserved it.
If you purchased this amazing Cadillac, the question you have to ask yourself is obvious.  What would you do with it?  Driving it with regularity would take away why it is special in the first place.  It is not a particularly noteworthy Cadillac, so preserving it as a museum piece is not really a great plan.   I am sure it would be a nice occasional driver, and perhaps that is the best solution.  Cars that aren't driven tend to have problems, and these are somewhat complicated cars.  If you drove it in moderation, you would understand why Cadillacs were once considered special cars.  Maybe if the current general manager of Cadillac today purchased it and drove it, it might give them a clue as to what they lost on the road to where they are now.