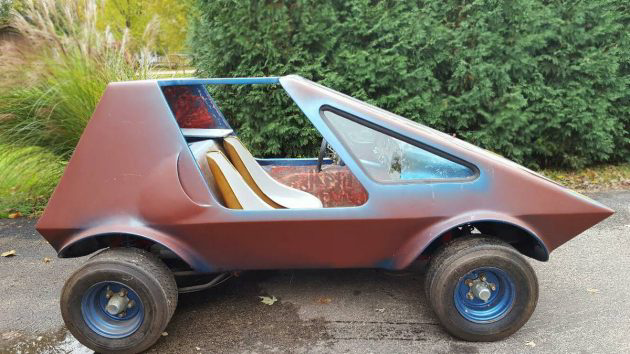 I hope that I'm not the only one who was around in 1975? I wasn't quite at driving age yet but I was close to it, and I was already driving anyway (hey, we lived in the country). I used to literally dream about getting something like this 1975 UrbaCar. These were marketed in magazines and this one is marketed on Craigslist in Amboy, Illinois for $2,500 or best offer.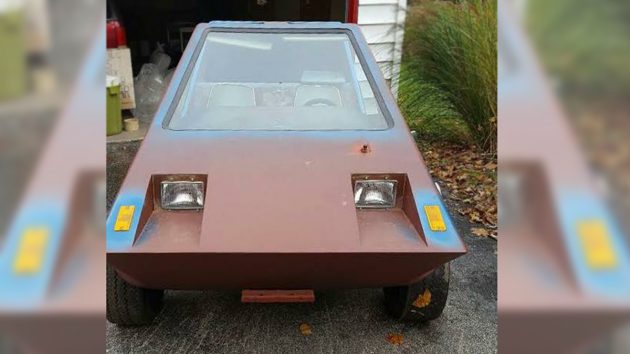 In 1975, Mechanix Illustrated ran a story on this innovative little commuter in an article titled, "An About-Town Car You Can Build For $1,400." This was the era of the gas crunch and fuel shortages in the US so there was a big push for small, light, fuel-efficient commuter vehicles and wacky little EVs, like the CitiCar and others. The wedge shape was hot, hot, hot. And, if you've ever gone to camp, you know about wedgies.. no wait, that's a different thing, never mind.
This car appears to be in surprisingly good condition, maybe because of being in storage for the last 40 years. It comes with the original plans to build it, or in this case, to finish building it. From the owner's description: "Body is made of 3/4″ polyurethane foam; hand cut and covered with 2 layers of fiberglass on each side. (To construct the fiberglass body required 18 gallons of polyester resin and 500 square feet of fiberglass cloth.)"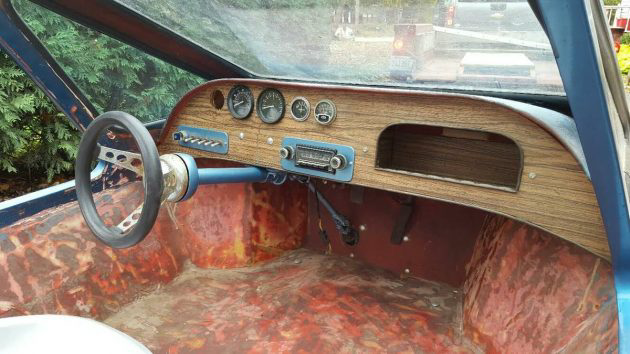 Good grief, drivers were sure spoiled in those days with their posh interiors! This thing is about as basic as it got, although having four gauges is more than a VW Beetle and some other cars had. You are correct, crash protection in this 650-pound car will rely on how many pillows that you can stuff in and around your person. The seats look comfy, though, don't they! There's a bit of a to-do list left to finish this one, including the "gull wing doors, battery, wiring, brake lines, interior, paint."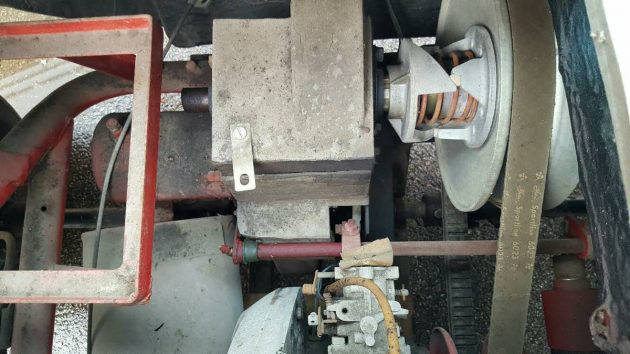 This is a 19-hp, one-cylinder, two-stroke snowmobile engine, which they recommend replacing unless you'll be driving it in the winter or cooler seasons as it can tend to overheat. Believe it or not, a person can still order plans to build your own UrbaCar through Robert Q. Riley Enterprises. Or, for $2,500 or offer you can get this one and in a few weekends you'll be the envy of your Camaro and Mustang-loving friends! This car has a "centrifugal clutch, dual master brake cylinder, 10 gallon gas tank from a VW bus, ford starter motor for the electric reverse function, 10″ wheels with 10 ply trailer tires, safety glass windows."  I think this would be a super fun project. Have any of you seen an UrbaCar? How would you power this one?