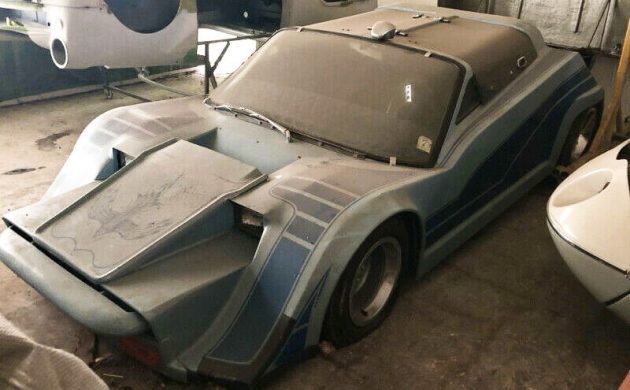 We've seen some wild finds over the years, but this might just be the craziest one yet! The seller clearly has an interest in oddball vehicles, just take a look at the cars in the background. They don't offer much information about this one, but they do state that it's powered by a turbocharged Corvair engine and that it starred in a movie! It's definitely wild and unlike anything else we've ever seen. So, if you've been on the hunt for something unique to add to your collection, here's your chance. You can find it here on Kijiji in Bradford, Ontario with a $5,000 (CAD?) asking price. Special thanks to CanuckCarGuy for this tip!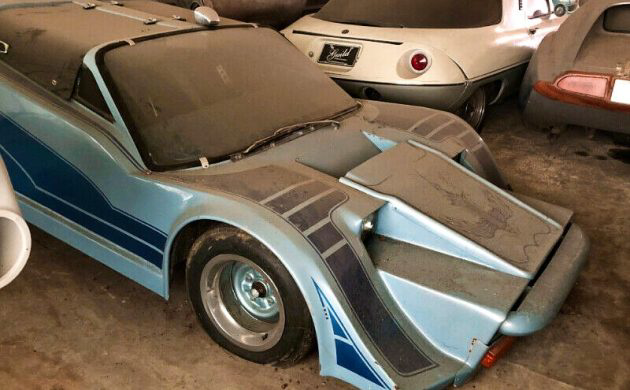 Initially, I thought it might be a modified Bradley GT, but upon closer inspection, this one is clearly a one-off. Whoever built it was clearly skilled with fiberglass. There are lots of intricate curves and lines here, plus getting something like this to look symmetrical is an art form. Of course, there are clear signs that it was handmade, just take a look at the underside of the engine cover here.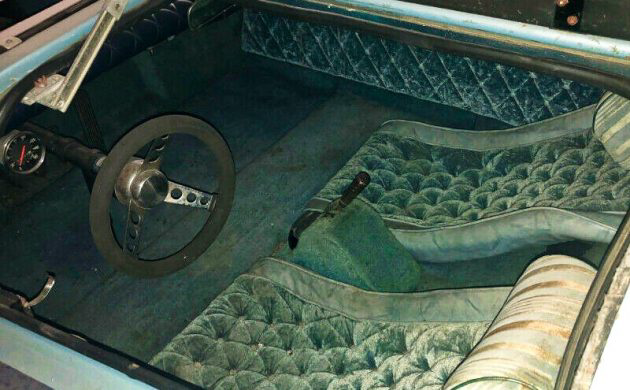 This is one of those mysteries that leaves you with so many questions. First off, why? Second, who built it? Third, why? Fourth, what movie did it make an appearance in? And lastly, why? If any of you remember seeing this in a movie, please let us know! I for one would love to see what it looked like when it was on the road. I'm sure without all that dust covering it, it is even more over the top! Speaking of over the top, just look at this button-tufted interior.
The engine looks to be a stock turbocharged Corvair six-cylinder. There's no word on what year of Corvair it came out of, so it could have anywhere from 150 to 180 horsepower. It's hard to say how much this thing weighs, but chances are it is lighter than the Corvair the engine came out of, so it should prove to be quite wild to drive. Honestly, I would want to inspect the entire car very closely, change a few things (like a fuel cell), and take out a large life insurance policy before pushing it too hard. At low speeds, I'm sure it would be safe enough to drive, but since it is a custom creation that's been parked for who knows how long, it's best to be safe than sorry.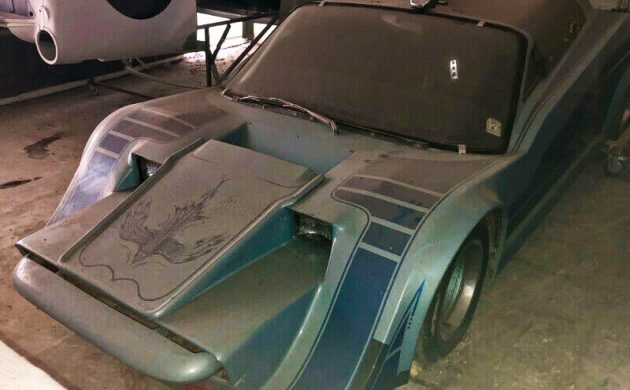 I really can't decide if this is the greatest oddball I've ever seen or the worst, but there is just something about it that makes me want it! Just think of all the looks and conversations this thing would create. And you'd be guaranteed a trophy at the Concours d'Lemons with this thing! So, what do you think of this creation? What are your favorite features? And what things would you want to change if it were yours?