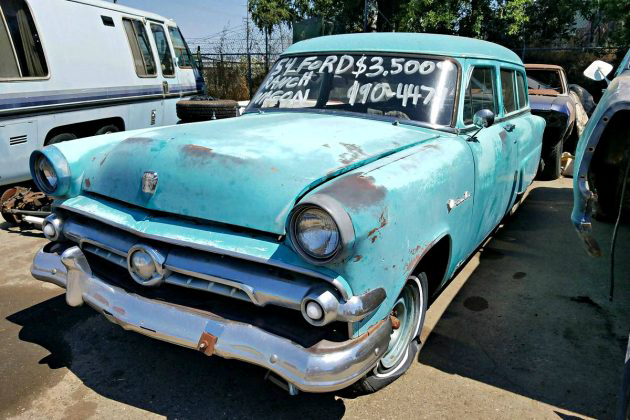 2 door station wagons offer the right amount of "cool" with the right amount of doors and storage. It only gets better when said wagon has a "Y" block V8 and a manual transmission. Although this 1954 Ranch Wagon is a little rough around the edges, there is a lot of potential in this relatively straight and solid wagon. Having sat for quite a while, this wagon is mostly complete, and has the potential to be a great project with plenty of space. This "Y" block classic is offered for $3,500. Check it out here on craigslist out of Oroville, California.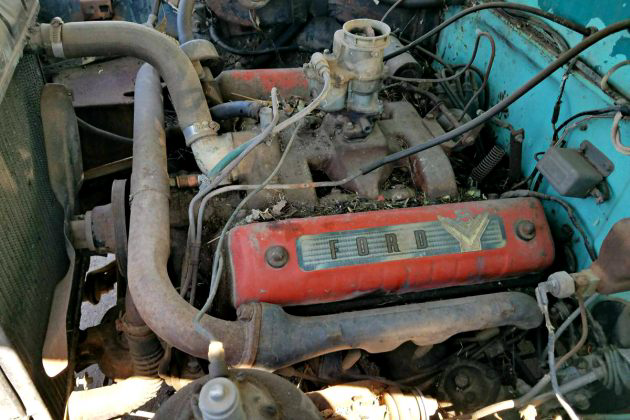 With various grass clippings and other dried vegetation, it would appear that this 292 "Y" block has been hibernating for a while. Being a California car, hopefully doing a careful cleaning and fresh fluids would yield the possibility of this engine running once again. Overall the engine has a relatively nice appearance with the valve covers showing off the Ford name oh so proudly. In the engine bay, and on the exterior, there are two different shades of blue to be seen. Beyond the varying colors, the engine compartment only reflects minor surface rust in a few places. Depending on your flavor, I think more carburation would be a fun option for the 3 speed manual wagon.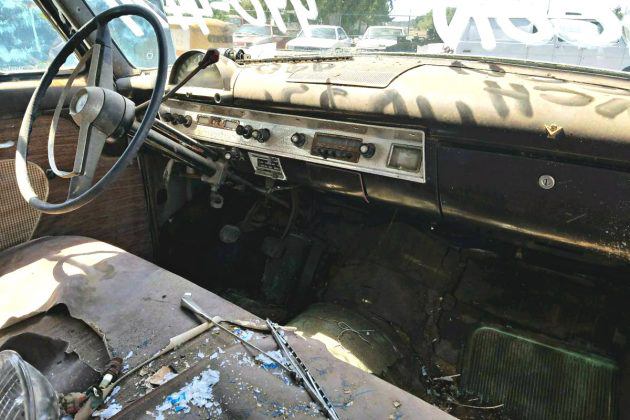 Taking a peek inside, the interior is dusty, and the bench seat and floor are lightly covered with trash. Looking past the trash, the interior isn't too shabby and certainly has some high points. The dash is lightly coated with dust, but appears to suffer with only minor flaws. Thankfully a classic radio is still installed, and this dash never fell victim to a rough and cut modern radio. There is at least the driver side door panel installed, and usually it is the one that receives the most wear and tear through time. Looking at the other pictures, there is a back seat still in the car although the rest of the interior's condition is unknown. I would suspect the interior overall is reasonable, and would benefit greatly from a cleaning, and may even be nice enough to use as is based on your tastes.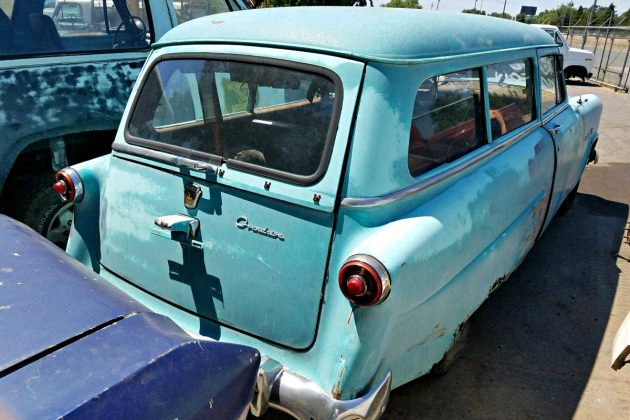 Mostly covered with paint, this wagon is a bit weathered from the California sun. Overall the body looks quite straight, and there only appear to be a couple of missing trim pieces. The worst part of this wagon is the rear quarters as there is a fair amount of rot and holes present. The seller has mentioned that the rockers have some rust, but it is not apparent from the photos. With plenty of potential, and a V8 "tree speed" there are a few avenues this project could take. What would you do with this 2 door wagon?