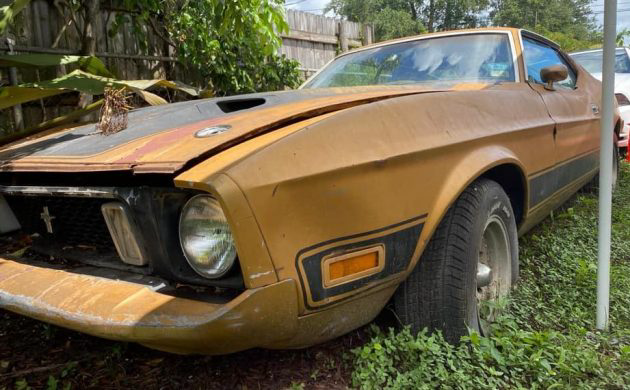 By 1973, the Ford Mustang wasn't as popular as it once was. Instead of selling 1.2 million cars as they did in 1965-66 combined, they were down to 135,000 copies for '73 alone. Sure, the field was saturated with pony cars by then, but the Mustang kept getting longer, wider, and heavier as well as more expensive as time rolled on. For 1974, Ford would reinvent the car like the Mustang II, shorter, narrower, and less expensive. The seller's car is from 1973, the Mustang's last year before its rebirth, and appears to have been inactive for quite some time. It's sitting amongst the flora and fauna in Miami Beach, Florida, and available here on Facebook Marketplace for $10,000.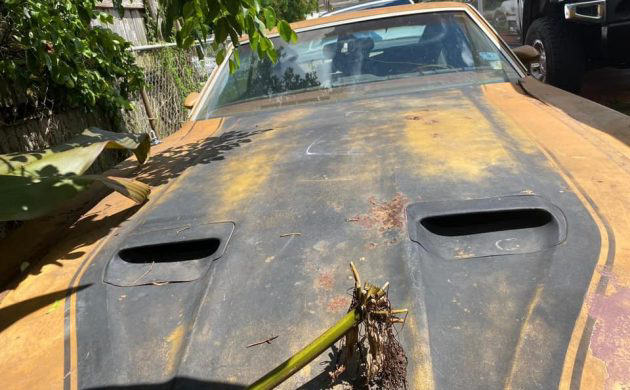 The Mach 1, which had joined the Mustang roster in 1969 to replace the GT, was a big part of the line-up, accounting for some 35,000 cars or a quarter of all Mustang sales in 1973. It came only as a fastback and had a choice between two 351 cubic inch V-8s, one good for 177 hp and the other 266. As we see all too often with Marketplace ads, the write-up is rather thin and the photos few and not well-taken. The seller's car is in Florida now but was apparently last registered in Texas in 1995. That's a 25-year gap that the seller does not explain.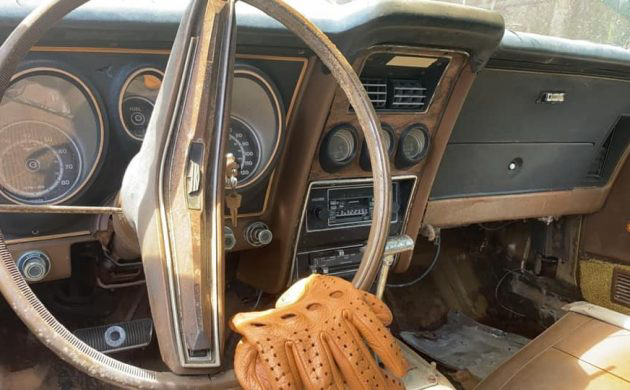 This Mustang Mach 1 appears to have been finished in Ford's Gold Glow choice of colors. We see a car that has faded paint and graphics and a few dings here and there. What we don't see is much in the way of rust which – given its perch between the shrubbery in a humid part of the country – is kind of surprising.  What little we see of the interior suggests there may be hope for it, but again no real explanation of what we're looking at (or not).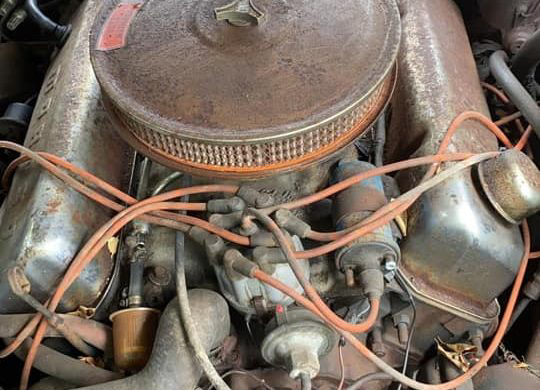 We're told the car has 50,000 miles on it, so the condition it's in begs to ask why and when it was parked. The seller says the car runs, but how well? Will it simply idle for 10 seconds or actually warm-up? The engine markings suggest the motor is the 4-barrel version of the 351 but looks to have gotten pretty comfortable along with the rest of the car.
The '71-73 Mustangs don't command the same prices as the '65-66 models, but north of $20,000 is not unusual for a sharp Mach 1. This car is far from that and we probably know less about the car than more, so a sizeable investment will be needed to equalize things. Would you pay 50% of the going rate for a nice example for one that is resting within the landscape?