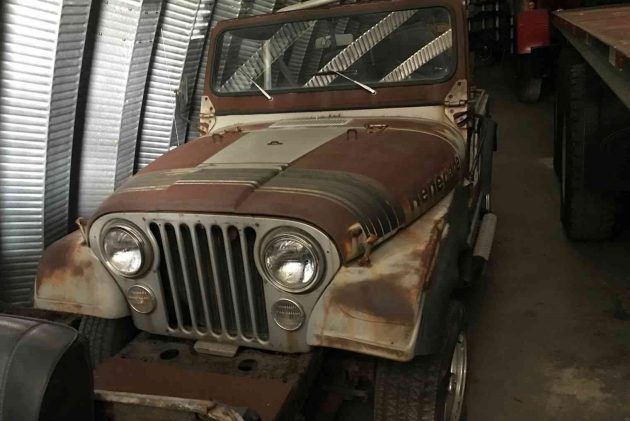 Sending an otherwise complete vehicle into early retirement as a parts car is a tough decision. However, this 1979 Jeep CJ-5 Renegade looks like its days are numbered due to heavy rust in the rear quarters. What makes it compelling for rescue, however, is the silver-to-black striping on the hood that indicates this is a 1 of 1,000 Silver Anniversary edition. You'll find this rotted-out CJ-5 here on eBay in Gardner, Massachusetts, surprisingly with a reserve set.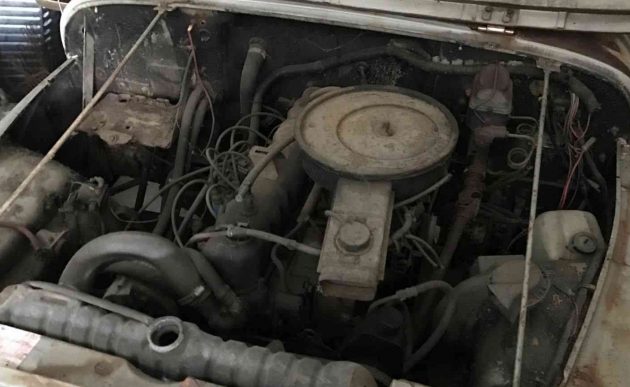 The seller doesn't know much about its mechanical health (it doesn't run), nor does the Jeep have a title. Both of those conditions will make it hard to justify rescuing this Renegade-package CJ. The lack of a radiator cap is concerning both for potential pressurization issues as well as contamination due to exposure to the elements. The Silver Anniversary models didn't receive any sort of mechanical tweaks, but the list of special options wasn't short: the aforementioned stripes, a special spare tire cover, dash plaque, black vinyl bucket seats and more.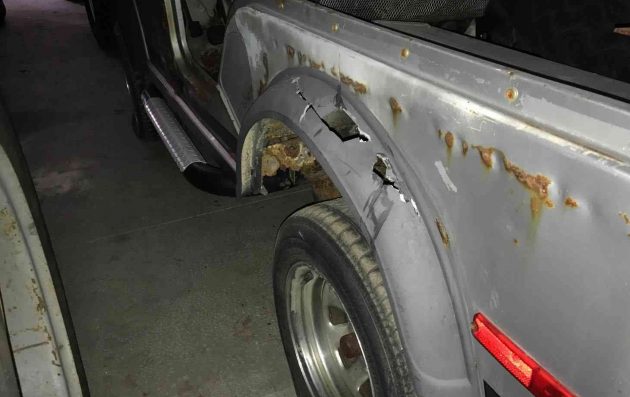 This shot here is perhaps why the seller thinks this Jeep is too far gone to rescue. It's hard not to agree, given the rust looks like it goes deep into the body, and likely indicates the frame has gaping holes in it as well. The angle of the wheel to the fender flare is also a bit suspect, looking more than a few degrees off. In states where no title is required for older vehicles, an enthusiast might figure out a way to salvage the body on a new chassis, but that's a limited buyer's pool. More likely, the good bits will be salvaged and the limited number of Silver Anniversary models will grow more limited.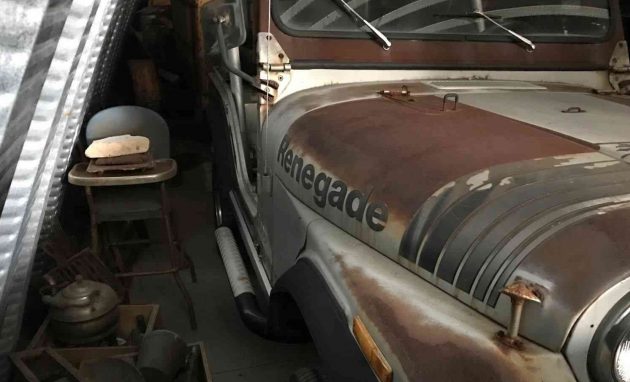 A fully-restored Silver Anniversary edition sold on eBay in 2014 for $32,500, while another website listing calls the Silver Anniversary editions "…the most sought-out collector Jeeps of its era." There's one photo for our rusty Jeep here that appears to show the dash plaque still in place, but aside from a Jeep enthusiast who wants to keep one of the very few Silver Anniversary editions left on the road, the future for this rotten CJ-5 looks bleak. Would you make an exception for a rare variant like this one?