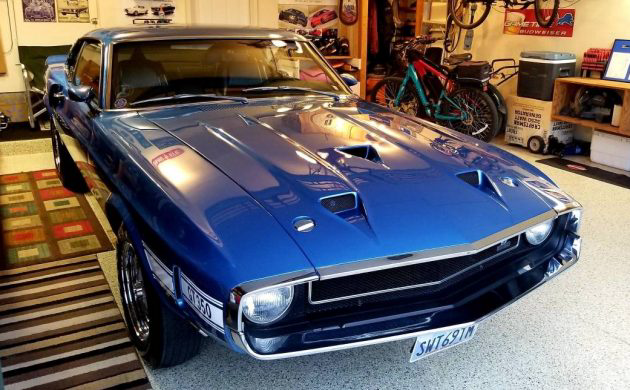 It doesn't matter how many I see, nicely preserved Shelby Mustangs will get my attention either time – especially when they wear colors like this gorgeous shade of Acapulco Blue. The seller notes this color code with this equipment makes it one of 24 models ordered this way, but this one gets even more unique with Carroll Shelby's signature inside and its obviously impressively preserved condition. The seller doesn't mention whether it's been completely restored, so it's either a big-ticket restoration car or a beautiful survivor. Find it here on craigslist with an asking price of $79,995. Thanks to Barn Finds reader Matt R. for the find.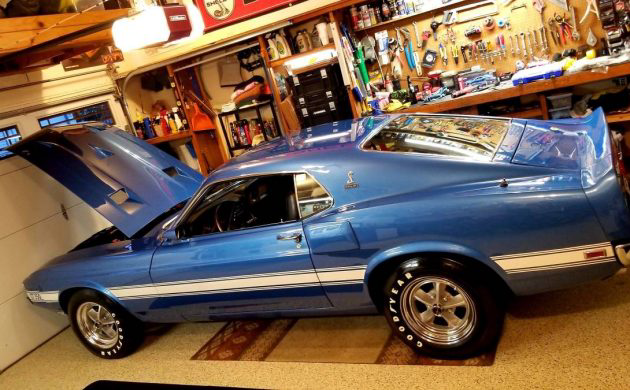 I can't blame the seller for placing a big price tag on this Mustang, as it does look like it's one of the better Shelbys of this generation to come up for grabs recently. The paint is striking, especially when paired with the white stripe and black interior. I was almost expecting a white interior here (the seller includes some microscopic photos of the cabin in his listing), but the black seating is a nice change of pace. The details look correct here, from the side scoops to the period-correct white-letter radials. The garage environment inspires confidence, too, that this Shelby has lived a pampered existence.
The engine bay is impeccably detailed. Even better, the 351 Windsor is paired to the preferred four-speed manual Hurst shifter. It comes with tilt steering/power steering, and power brakes. Now, for a detail I wasn't aware of that factors into the breakdown of Shelby options: the seller claims that in this color scheme, it is a one-of-one car that went to California to be autographed by Shelby. I will admit to not being the expert on these cars, but I wasn't aware whether it was shipped out for a signature impacted its status in terms of how many of a certain model were made. Can anyone confirm?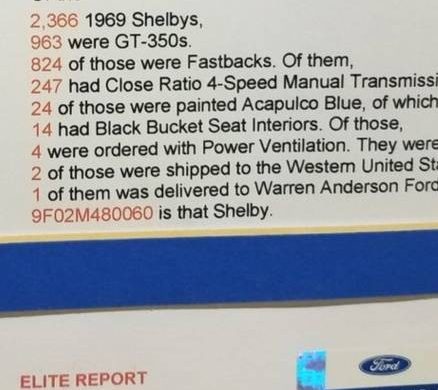 The seller includes a scan of the Marti Report, which presents the full drill-down as to how the Shelby was configured and how it stacks up against other cars. The paint job, black bucket seats, and the factory "Power Vent" system were all determining factors, along with the region to which it was shipped. The Shelby is a looker with this rare factory paint job and black interior, and the close-ratio manual gearbox makes it even more desirable. Throw in the exceptional condition on display here and it certainly looks like it's worth all the money. Would you spring for this rare color scheme or save a few bucks for a more "common" paint code?