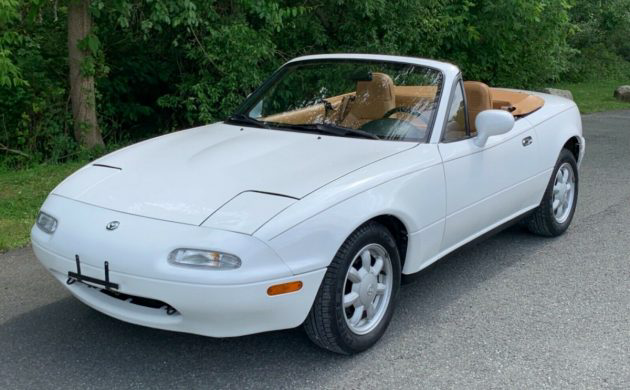 While Mazda Miatas with low mileage aren't exactly uncommon, we don't often see them wearing white paint with butterscotch leather interiors. This is a C-package car, which placed the emphasis on luxury rather than rawness, and some would consider it less desirable as a result. But not every Miata has to become a track rat, and sometimes, having a little extra luxury in an otherwise spartan sports car is a welcome addition. This Miata comes with power windows and mirrors, leather seats and wrapped-steering wheel, and headrest speakers, among other features. The Miata is listed here on eBay with 15,267 miles with bids up to $9,400 and the reserve unmet.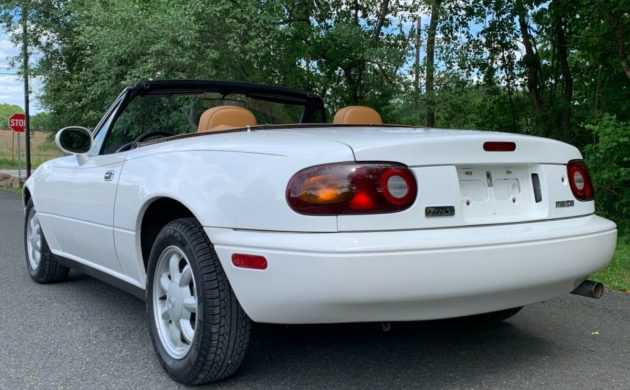 The Miata reminds me of the one I owned, many years ago, in far worse condition. It had crank windows and manual mirrors, and while it did at one time have a limited slip differential, it was yanked out by the previous owner and replaced with an open differential. While many enthusiasts yearn for the models equipped with the factory LSD, I might give this one a closer look as most owners of time-capsule Miatas aren't going to drive them hard enough on a daily basis to miss the locking rear end. The bodywork looks quite nice on this car, but the seller does note evidence of paint work on the left front fender, front bumper cover, and right corner of the trunk lid.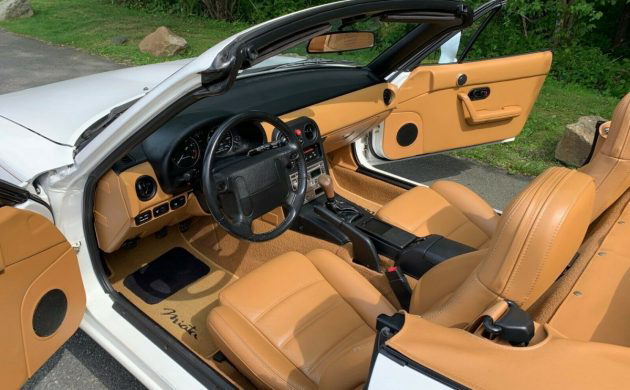 Now, I have to say, that's a surprising amount of paintwork for a low mileage car. I applaud the seller for disclosing it, but it still raises a few questions for me. The interior does, however, look like a 15,000 mile car should. The C-package cars may not seem that different on paper, but this really is way more upscale than what came in the base models. Mine was equipped with black cloth seats and door panels that rattled, whereas this example has leather seats, color matched tonneau, thick factor floormats, a Nardi shift knob, and the aforementioned leather-wrapped steering wheel and speakers in the headrests. It's a great solution for a cheap grand tourer, even with the nominal storage space.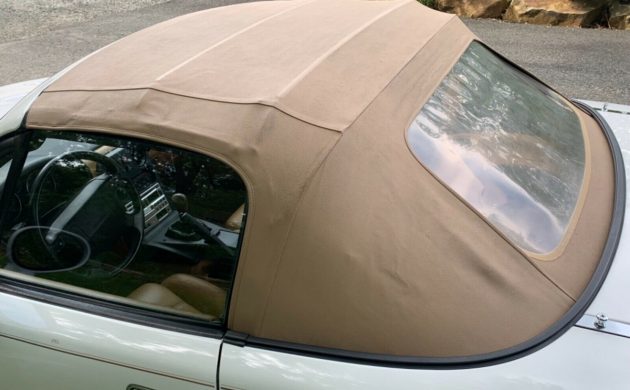 The seller notes the soft top works and is in decent shape, but that there is some sagging evident due to "sitting in the enclosed garage," which I'm not sure how those things go together. The back window is hazy, which usually means a replacement is looming, but there are cleaning solutions that could be used to stave off immediate replacement. The Miata is definitely a sharp car with low miles, but it needs some cleaning up to justify a reserve price much higher than what's been offered so far. And if it were mine, I'd source some BBS-style wheels painted an inoffensive shade of gold, lower it ever-so-slightly, and enjoy years' of low-buck sportscar ownership.