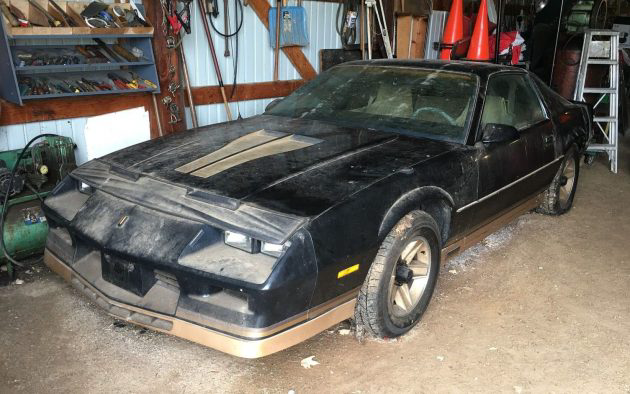 UPDATE 3/20/17 – The seller has relisted this one here on eBay with a $3k starting bid and no reserve.
FROM 3/19/17 – This Camaro has been in storage for the past 16 years and is far from perfect. There's 171k on the odometer and the body has some bumps and bruises. It's a Z28 though. Plus, it's fitted with the optional High Output 5.0 engine and 5-speed transmission! That may still not be enough to justify the asking price, but the seller is willing to hear offers so it might be worth a look. It's located in Dayton, Ohio and is listed here on eBay for $4,900 or best offer.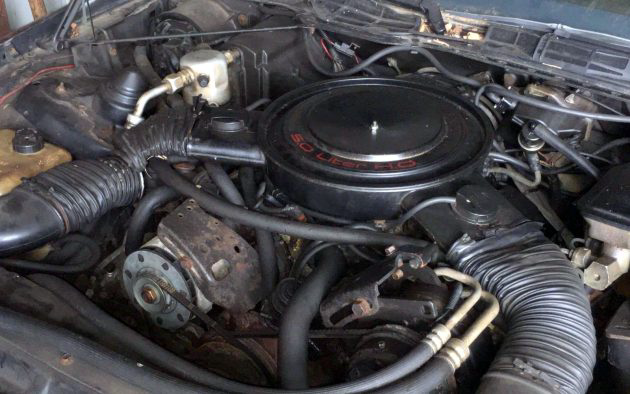 This was the first year for the optional L69 engine. This High Output 5.0 V8 was only available in the Z28, IROC-Z, Trans Am, and Monte Carlo Super Sport. It put out 190 horsepower and 240 foot pounds of torque. That may not sound crazy by today's standards, but this was actually a potent machine in its day. This engine is  claimed to run, but the seller doesn't mention if there are any issues or if it has ever been rebuilt. You may want to ask those sorts of questions before pulling the trigger.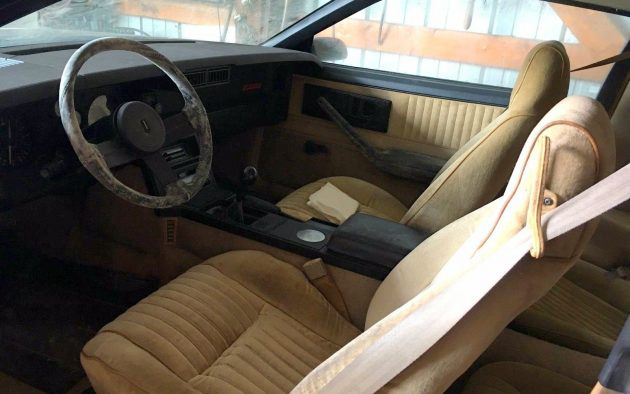 This was also the first year you could get a 5-speed manual transmission in your Camaro! It was a required option when you ordered the 5.0 HO engine. Again, five speeds may not seem like a big deal these days, but this had to be exciting for bowtie fans. Combine all that with the special Z28 additions and you had quite the package. Those seats look pretty clean for such a high mileage car. Perhaps the photos make it look better than it is or maybe it's actually in really good shape?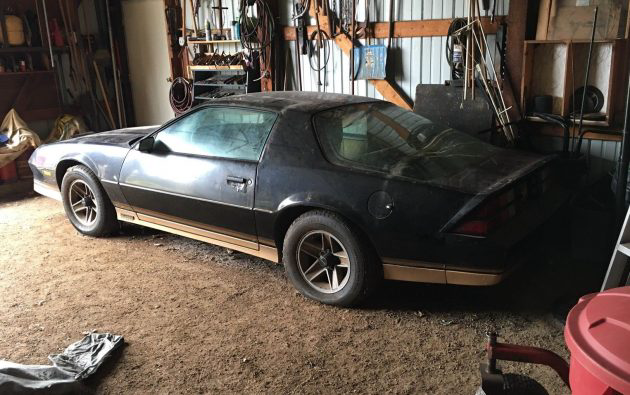 The black and gold exterior should look very handsome after a good cleaning. The seller mentions some rust and paint damage so you'll want to get the specifics there. An inspection may be in order here too. Third generation Camaros aren't as desirable as earlier iterations, but the HO engine and manual transmission do make this one tempting. What do you think – is this one worth rescuing now or does it need to sit in the barn for a few more years?