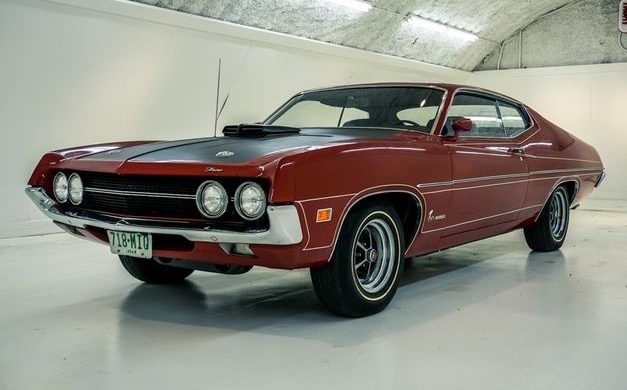 Cars like this 1970 Ford Torino Cobra simply don't come along every day. It has belonged to the same family since new, and it comes fully loaded with all of the options that take it from mild to wild. Making it even more special is the fact that over the past 50-years, it has only managed to accumulate a genuine 17,626 miles on its odometer. All good things must come to an end, so this mighty Ford is set to find its way to a new home. If you feel that the new home could be yours, then you will find the Torino Cobra located in Wylie, Texas, and listed for sale here on eBay. Mind you, if you are interested, then you will need to swallow pretty hard. The BIN on this classic has been set at $125,000, but the option is available to make an offer.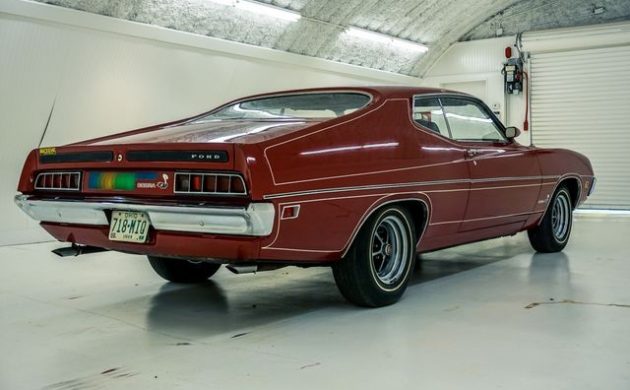 One of the keys to this car is its originality. This is a vehicle that remains basically unmolested, leaving it as Ford intended. The Candy Apple Red paint is said to be 100% original and has a nice shine to it. However, I believe that some of the vinyl stripes and graphics are not original, but removing these might not be a real problem. The car has been kept covered in a garage for its entire life, so there is a good chance that the paint hasn't suffered any fading. If this is the case, then these items could potentially be removed without leaving any visible evidence behind. There are no signs of any significant marks or defects in the paint or panels, while rust is most definitely not an issue. The owner provides a very impressive collection of photos of every aspect of the Torino, and apart from some minor surface corrosion on a few components under the car, it really does look brand new. The external trim and chrome are in first-rate condition, and the same appears to be true of the glass. The wheels seem to be free of any defects, but the shaker poking through the hood provides a hint that this is a pretty special car.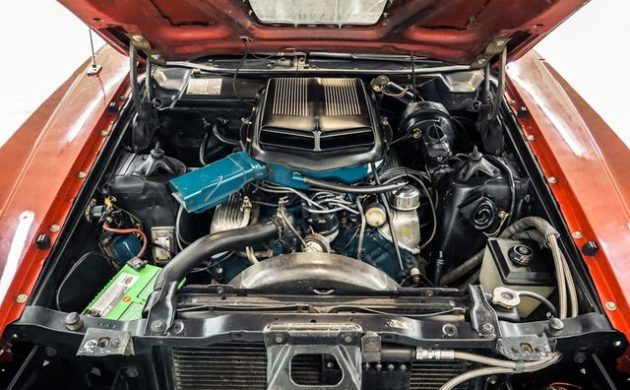 When you look under the hood of the Torino, it's pretty obvious that the person who ordered this car knew what they wanted. Apparently what they wanted was to go fast. With that in mind, what we find is a vehicle equipped with the 429ci Super Cobra Jet V8, pumping out an official 375hp. Of course, this figure has always been considered to be on the conservative side, as many believe that the truth lies well in excess of 400hp, and possibly as high as 450. If that isn't enough for you, they also chose to tick the box on the options sheet next to the Drag Pack. So, backing the 429 is a 4-speed close-ratio manual transmission that feeds all of those healthy horses to a 4.30 Detroit Locker rear end. It really goes without saying that the Torino is also fitted with power steering, power front disc brakes, and the obligatory engine oil cooler to help prevent engine melt-downs when the driving got serious. At 3,942lbs, this is not a particularly light car, but it could still muster some serious performance. It was capable of sprinting from 0-60 in well under 6 seconds, while the ¼ mile was absolutely demolished in 13.4 seconds. The owner is pretty vague about just how well the Torino runs and drives, but if it has been treated with something resembling respect, then it should be okay on that front. He does say that the car has only covered a genuine 17,626 miles, but doesn't mention whether he holds any documentation to verify this. Speaking of documentation, this is a car that does come with plenty. In addition to a Marti Report, it also comes complete with original Build Sheets, Window Sticker, Owner's Manual, and the Owner's Card.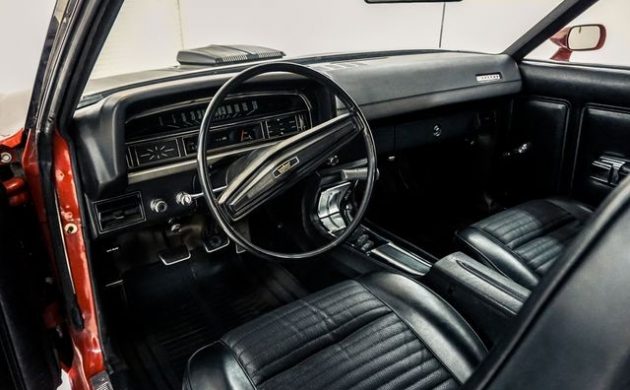 The owner of the Ford describes the original interior as looking brand new, and this really isn't that far off the mark. There is some wrinkling of the Black vinyl upholstery on the driver's seat, but the rest of the upholstered surfaces have an as-new look to them. The headliner is perfect, the dash pad is free of any obvious cracks, while the dash is original and unmolested. Speaking of the dash, one aspect of this car that I find to be quite surprising is that given its performance credentials, the original owner chose not to order the car fitted with the factory tachometer. I would have thought that this would have been a nice feature to have at your disposal in a car of this type. Apart from the minor creases on the driver's seat, the only other potential flaw that I have been able to spot is some pretty insignificant fading in a couple of spots on the carpet.
This 1970 Ford Torino Cobra is a lot of car, but it also represents a lot of money. It is one of the fastest and most potent cars that Ford produced during this era, and if it really is all that the owner claims, then it is a very special car. Given its overall condition, originality, and relative rarity, I suspect that it is a car that will find itself a buyer sooner rather than later. I just wish that the buyer was me, but since it can't be me, maybe it could be you.