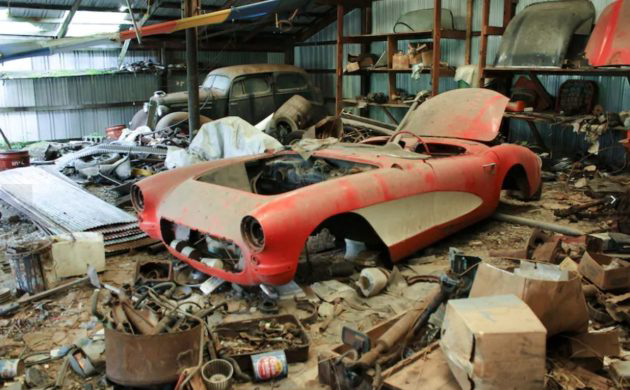 On a farm outside the small town of Glen Campbell, Pennsylvania lies a 40×70-foot pole barn with a partially collapsed roof. For years, Matt Barczak heard stories about a 1957 Chevrolet Corvette that was hidden inside. He assumed that it was probably a 1975, not a 1957, and it wasn't until recently he was able to take a look for himself. He told Jerry Heasley from Hot Rod Magazine: "My dad is 67 and part of that age group of guys that knew in the mid-1970s that a 1957 Corvette was out here in a barn."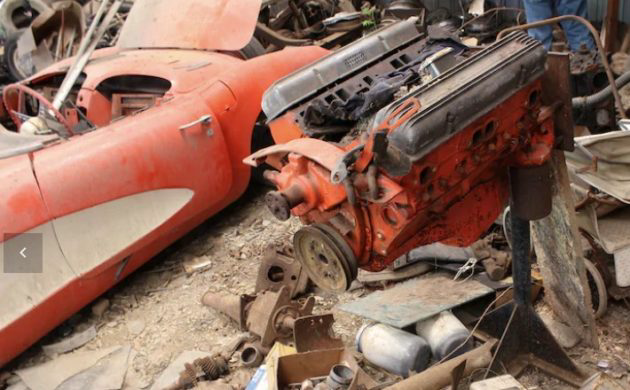 As you can tell, the car is in pieces. According to the owner's brother, the car was originally red but was painted black. The car was torn apart and repainted to the original red and white, then never re-assembled. Apparently owned since 1959, the last inspection sticker on the windshield is dated 1975. You can see in this photo, there is an engine on a stand next to the car. Matt believes this is the original 283 cubic inch V8 with a 270 horsepower dual-quad set up.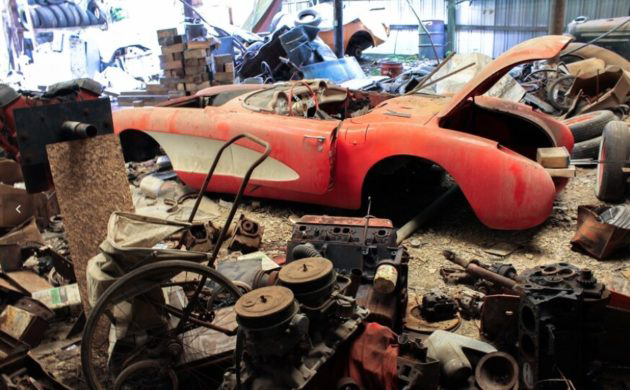 You can see all sorts of parts and pieces scattered throughout the barn. I'm not sure if all the pieces have been found, but Matt says: "It was all scattered, the motor on an engine stand, the frame with five original wheels, the three-speed transmission laying on the ground, parts spread out everywhere, some of them on the shelf, some tossed into the car, some on the ground." Hopefully, this car gets a second lease on life and is able to be put back together. What do you think the chances are? If you want to read more, check out the original article here on Hot Rod Magazine.