I would bet most of you reading this article would love to come across a car like this! I think we've all dreamed at some point about finding a really cool car, putting lots of elbow grease into it, and driving the fruits of our labor. But what if I told you the story of this 1957 Chevy 210 Townsman wagon was a little different? What if I told you that the car pictured above was cleaned up and driving 24 hours after this photo was taken? Yep, that's right. Owner Danny Rathe of Rapid City, South Dakota pulled this '57 Chevy out of the barn where it sat for 35 years and was driving it the next day! Let's take a look at this amazing story and if you'd like to read more, check out the article by Taylor Kempkes that can be found here on automobilemag.com.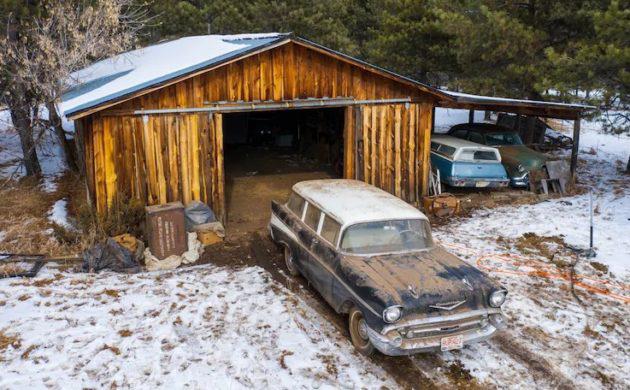 Apparently this car was driven into this barn in 1985 where it sat until last month. The original owner was a gentleman named Donald Russell. Don had driven this car cross-country in his college years, towing an Apache camper. It had a repaint in the 1970s, but other than that was all original. Don parked it in that barn in 1985 for an undisclosed reason and after his passing, his son-in-law had the task of selling his 40-acre property. Not only did the property contain the awesome 1957 Chevy wagon, but it also contained the following: A 1977 Chevy El Camino and a 1952 Buick Special (which you can see under the lean-to), a 1937 Ford ½-ton truck and a 1961 Apache pop-up camper. Inside the barn sat a 1965 Buick Wildcat and a two-door 1975 LeSabre along with the '57.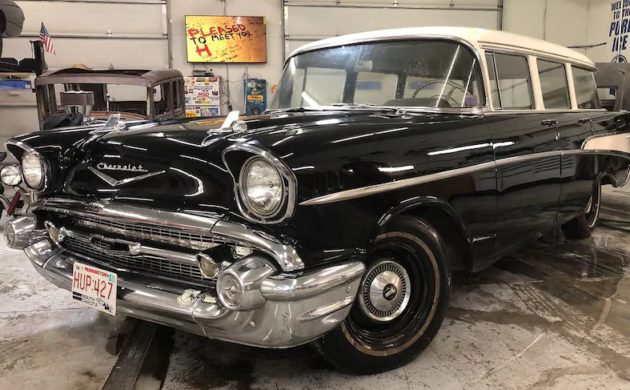 Here you can see the car cleaned up really well. There are photos of Danny washing the car in the original article, which shows just how much debris was cleaned off. Danny says the process of getting it running was pretty simple. "We drained all fluids, pulled gas tank, blew out fuel lines, changed oil, trans, and rear end fluids. Pulled wheels and ran to Walmart—only place to get 14-inch tires on a Sunday—got a battery, carb cleaner, Sea Foam, tires, and bug bombs. Got back to shop, checked brakes, bearings on hubs, put car back together, and set it on the ground. After pulling the top off the two-barrel carb to free the check ball and allow fuel to flow, we hooked a gas can to the fuel pump, poured a prime down the carb, and the 35-year sleep was over! She fired up and blew the cobwebs from the tailpipe—literally. 35 years in the barn and 24 hours after it reaching the shop, I was driving a one-owner, original titled, '57!"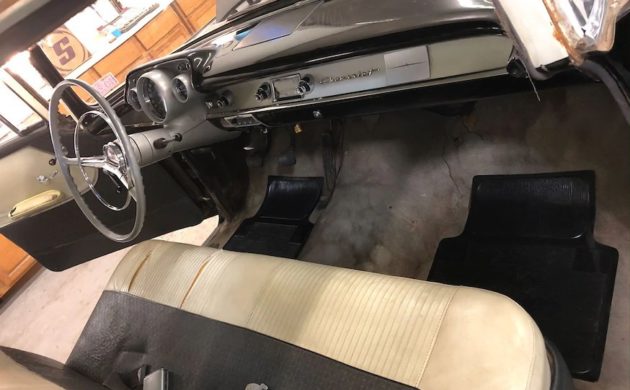 Here you can see the inside. Aside from a couple of tears in the driver's seat, this thing looks awesome! What do you think about this find? If you had the choice to find any car/truck in a barn, what would be your ideal find?
Have something to sell? List it here on Barn Finds!