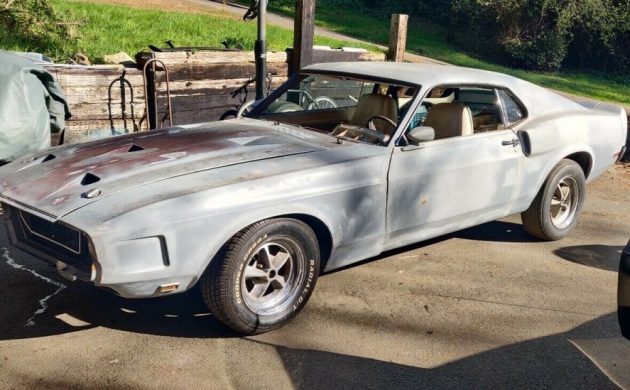 It's hard to believe genuine Shelby Mustangs still turn up in project-grade condition, but here's yet another one that needs rescuing. This time, it's a 1969 GT500 equipped with an automatic transmission. It's been stripped of most of its original Royal Maroon paint but you can still see patches of it on the hood, and it's plainly visible in the door jambs. The engine is non-matching, but the seller believes it to be a service block. With a solid body and no evidence of major accident damage, this seems like an example worth restoring. Find it here on eBay with bids to over $28K with the reserve unmet.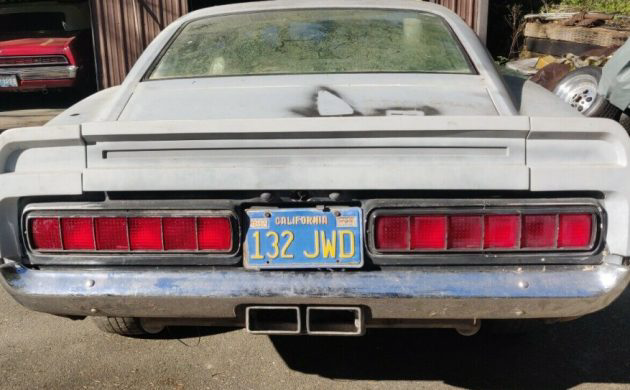 Accident damage is a big deal, as powerful cars like these were prone to finding themselves going in the wrong direction in a hurry. The Shelby wears California blue plates, and in general, looks to be decently preserved despite its factory finish being almost completely baked off. The signature Shelby taillight lenses are in good order with no obvious cracks, and the seller notes several new trim and body parts will be included, such as: a new front bumper, new lattice for the trunk and extensions, new hood locks, NOS hood molding, NOS fog lights, and new fender eyebrow moldings.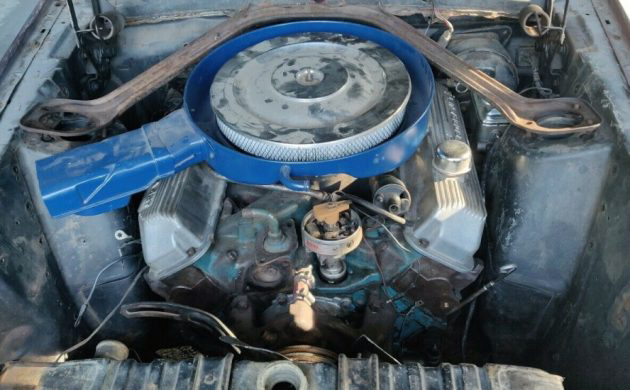 While the engine may be non-matching, enthusiasts tend to be a bit more forgiving when it looks like a factory replacement block. Especially with high performance cars, where high revving and other abuse can often shorten the life expectancy of an otherwise highly durable engine. Numerous details help to confirm this is a genuine Shelby mill, including that the engine retains the correct C8OE heads, the C8OE intake and exhaust manifolds, the correct dual point distributor, along with the valve covers and C9AF-9510-N carburetor. The seller notes the original radiator is also included.
The interior sports lots of cool Shelby details along with factory options, like the trick fold-down rear seat. Other features include the Shelby door panels and roll bar, along with steering wheel and in-dash tachometer. The Teak-style woodgrain trim still looks quite nice inside, and adds an air of sophistication to this otherwise bruising muscle car. The seller notes the interior will be pretty easy to restore, and I tend to agree. And if the exterior is as sound as the listing promises, the overall path to back to road-going use shouldn't prove too challenging.