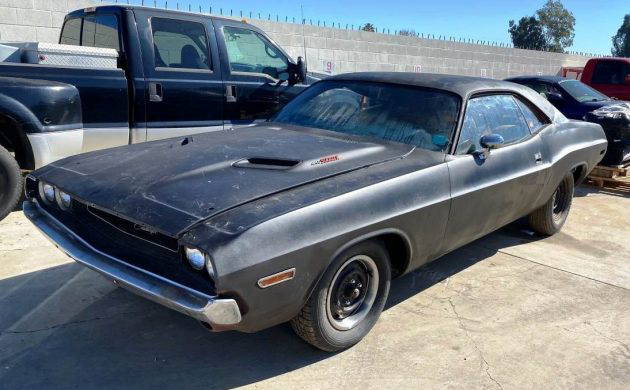 Eagle-eye readers have already spotted the red "SIXPACK" letters on the hood of this black primer pony car. The 1970 Dodge Challenger R/T in Temecula, California is offered as a true V code (440 cid 3 x 2bbl) coupe. While collectors might place the 426 cid Hemi' on a higher pedestal, the 440 SixPack made a more practical and highly potent weapon on the street. The listing on Craigslist shows a solid project car including minimal rust in some low-angle pictures, "date-correct" 440 with a complete six-pack induction package, and boxes of parts. The asking price of $25,000 buys the whole enchilada. Thanks to reader Rex m for spotting this California classic.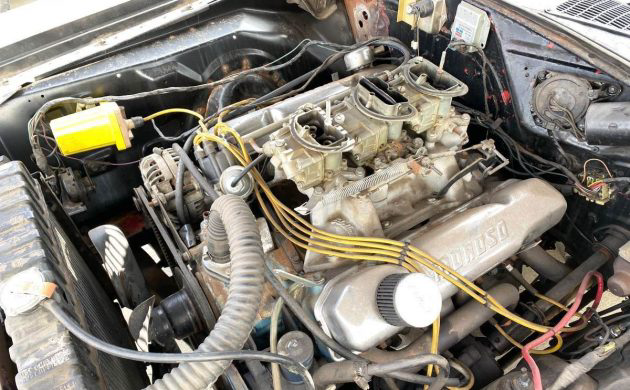 The non-running R/T (Road/Track) reportedly came from a collector's barn in California, and the 440 cid (7.2L) V8 clearly gained some aftermarket speed parts before a long slumber. The lack of heater hoses (or even a heater core apparently) would not shock our southern California friends. In stock form, the '70 V-code 440 made 390 HP and a foundation-shifting 480 lb-ft of torque at 2300 RPM, according to Allpar. Temperate driving uses the thrifty center two-barrel carburetor. Stomp the go-pedal, though, and the outboard carburetors stand at attention, ingesting air, pollen, and any unfortunate creatures straying too close to the air intakes. Joking aside, these air vents channeled air into the engine compartment and not directly into the air filter housing. A three-speed automatic transmission chooses the gears on this R/T.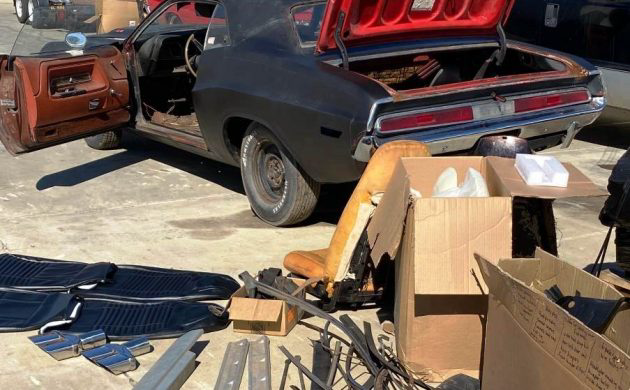 Originally red with a white vinyl top, white stripes, and a black interior, this Challenger would have been one red hot pepper. This stunning fully-restored version shows the potential of a solid starting point. We've seen Mopars with every sign of being dredged out of a swamp sell for $16,000 or more, making the $25,000 asking price on this R/T seem almost reasonable.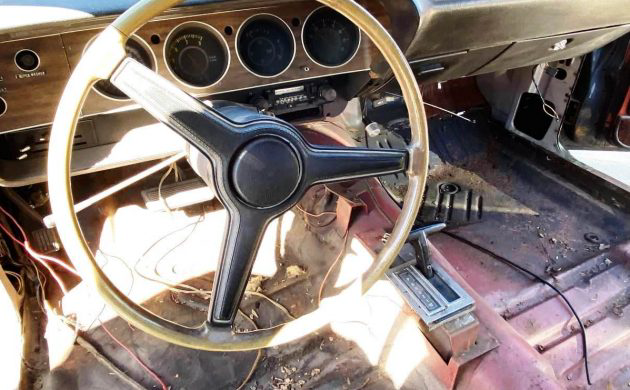 For a never-restored muscle car, those floorboards look extremely solid. The aftermarket stereo suggests an installation from the late 1980s or early 1990s, a time-frame corroborated by the bright yellow Accel SuperCoil under the hood. With the metal looking fairly sound, restoration may be a simple case of prep and paint plus ordering parts and putting them in the right places. Hopefully, the 440 can be saved! Can you picture yourself dropping the hammer on this blacked-out Challenger's SixPack-inducted 440?