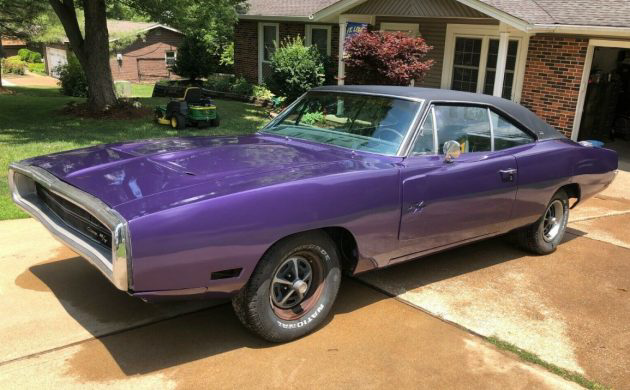 It's always good to see a '68 to '70 Dodge Charger that hasn't been hooned to death or is devolving its way back to FE status on the periodic chart. This 1970 Charger R/T is not only wearing a repainted shade of its original FC7, Plum Crazy, paint it's a SE (Special Edition) model to boot. Let's take a closer look at this third and final year of Charger, Gen-II, located in Imperial, Missouri, and available here on eBay for a current bid of  $25,100, twenty-six bids tendered so far.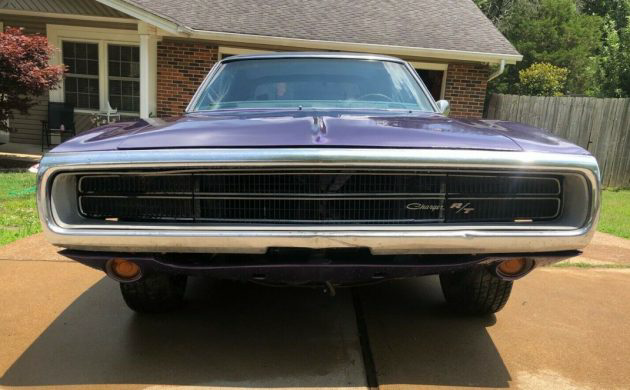 The seller offers a minimal description of his Dodge but the accompanying pictorial is pretty thorough. First up is the 2020 repaint which at this point appears to have been very recently completed. The body looks good and straight, and most importantly, free of rust and rot, a notorious problem for this generation of Charger. Of course, you would expect that any of those types of problems would have been handled well in advance of refinishing. There is some missing trim but there is a pile of included parts too, so as the seller suggests, "Great project car, ready for finishing restoration!" The new owner will have to put some time, sweat equity and perhaps, some additional parts, into this Dodge. The only noted exterior cause for concern is the right-side C pillar, the black vinyl top material appears to be wrinkled, hopefully not due to something brewing under it. While I prefer the front loop bumper on this '70 version to the non-loop affair used in '68 and '69, I'm not much on the R/T reverse-faced door scoops. They seem like unnecessary clutter on one of Detroit's finest sculpting jobs – strictly a subjective call, of course.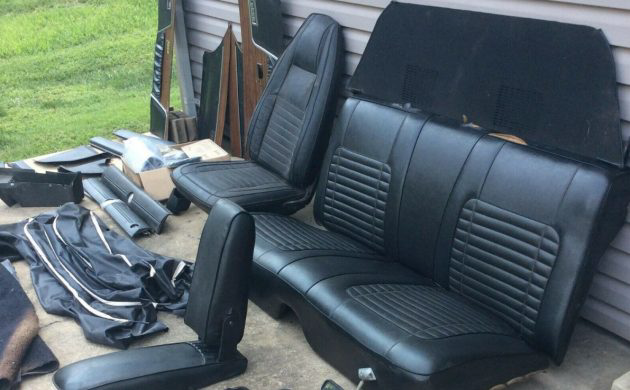 The inside is outside. The seller states that this Charger "needs interior" and it looks like it's all there, so why not just install it? The seats, center armrest, door card trim, and sun visors appear to have been recovered or are brand new – they look great! They'd look even greater on the inside of this Dodge.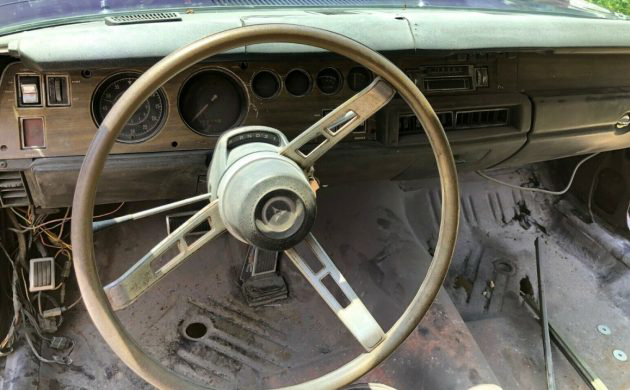 The dash and instrument panel could be a trouble spot. The dash pad is cracked, no big deal, but there is some dislodged wiring in place and the resolution of electrical issues on a half-century-old car can be like the Hunt for Red October. Hopefully, that's not the case. The instruments/gauges would seem to be in place, no word if they all work. The visible floors should help to allay any concern regarding underside, structural integrity. Of note, the original radio/8 track player is still in place!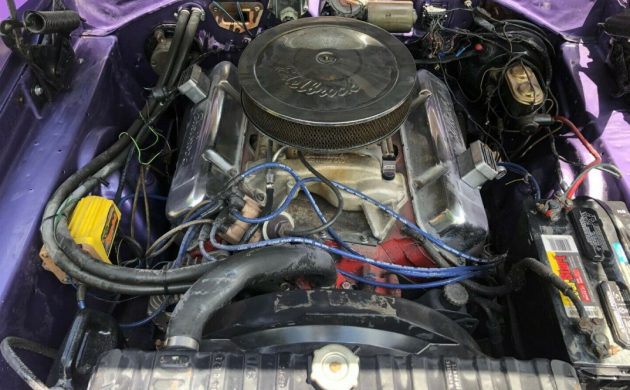 The seller is pretty upfront regarding the engine, it's not the original 375 gross HP, 440 CI V8 that this Charger originally owned. And the VIN bears out the authenticity of this car, it is what it is being represented to be. How's it run? No word. Assuming that it does, you 'll be able to hear it several blocks away with its 3″ exhaust system. The seller claims that there are new brakes, a new fuel tank and sending unit in place. This Dodge is listed as an A/C equipped car but there is no sign of a compressor. As an extra, there is a 440 CI short-block included with the sale.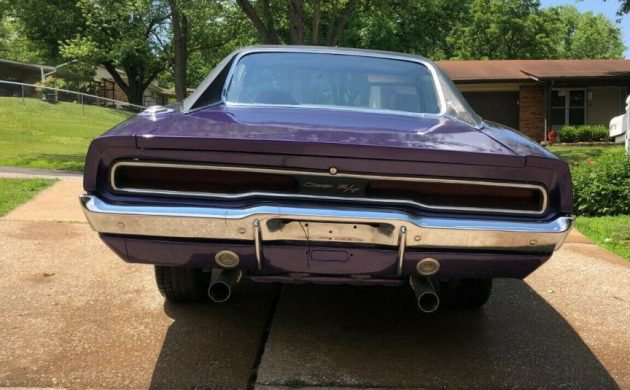 People do different things for different reasons and you never know what's really going on with their specific situations. The logical thing here, it would seem, would be to finish this Charger R/T out. A completed car would really enhance the salability. So what's up? Who knows you would have to ask the seller. Everything here looks like it will make for a pretty good project. Having concern regarding the availability of all of the necessary parts would be warranted, however. There's just no way to know for sure upfront.  Let's take a poll, has anyone ever purchased a disassembled car and had to put it together? And if so, how did it turn out?
Have something to sell? List it here on Barn Finds!