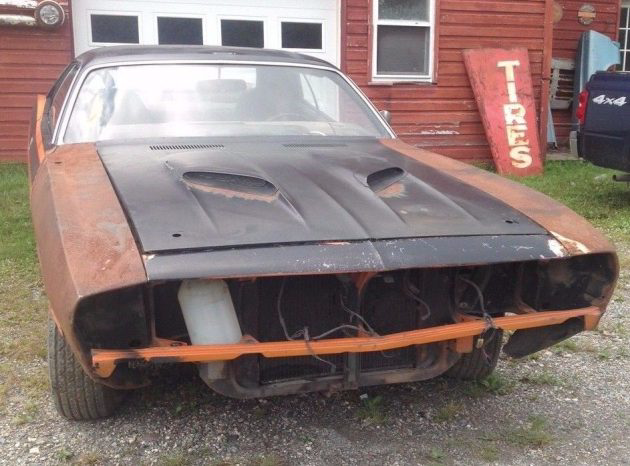 This 'Cuda is very rough, but worse have been brought back to life! What makes this 'Cuda special is it is said to be an original 340 4-speed car, but more on that later. This car will need a full restoration, as it has rust in all the right(?) places! Despite being partially disassembled, this Plymouth will be a great place for a nice restoration to begin. Originally painted Vitamin-C Orange, this 'Cuda is now wearing rust as a secondary color. Find it here on eBay in Vermont with an asking price of $11,999. 
The seller claims that this is an original 340 4-speed car. While a 340 Chrysler small block is in place under the hood, it is stated to not be the original. This engine was "rebuilt some time ago and runs great," which is a good sign. This car has been stored in a barn for the last decade, so having a running engine is a plus because it means that at worst, this engine can probably be rebuilt if the new owner so chooses. This is where things get interesting though, because the seller has neither a build sheet or a fender tag. Though the seller seems certain that this is a 340 'Cuda, there seems to be a lack of documentation as well as original drivetrain. While I'm not doubting the seller's claims, were I a buyer I would like to see some definitive documentation of the car's origin before spending that much money on an E-body project.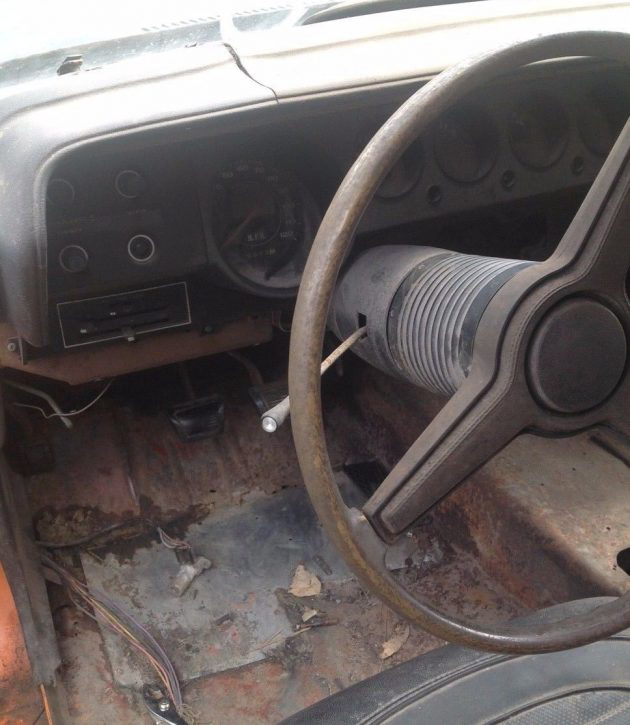 The interior is there, but maybe not all complete. From this picture, it looks as though someone patched the driver's floorboard at some point. Because sheet metal for these cars is readily available, parts sourcing will not be a challenge. Like most MoPars of the '60s and '70s, this car will need the "usual" sheet metal. Though the "frame rails" are in good condition, the torsion bar crossmember is shot which will need to be replaced at the time of floorpan replacement.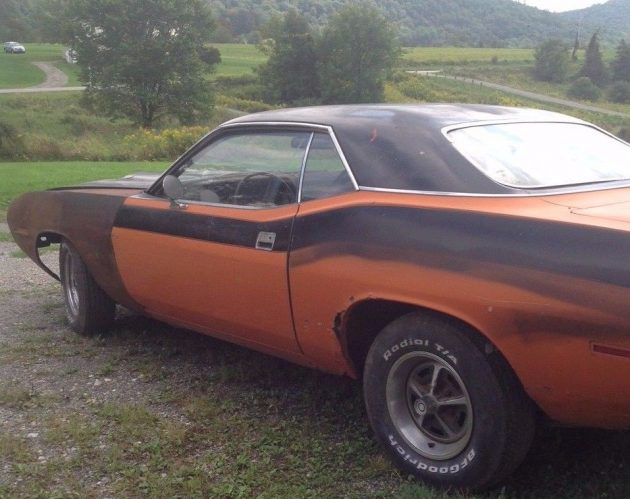 Though a complete picture is not provided, the quarters look sort of decent. I worry that there may be some body filler hiding, as is typical of unrestored MoPars of this vintage. As E-bodies go, this 'Cuda is not a lost cause. With some money, time, and skill this car can be restored to its former glory. If it is indeed an original 340 4-speed 'Cuda, it will be worth every penny once restored. If it is not, it's a 340 4-speed car now and can be enjoyed as such!