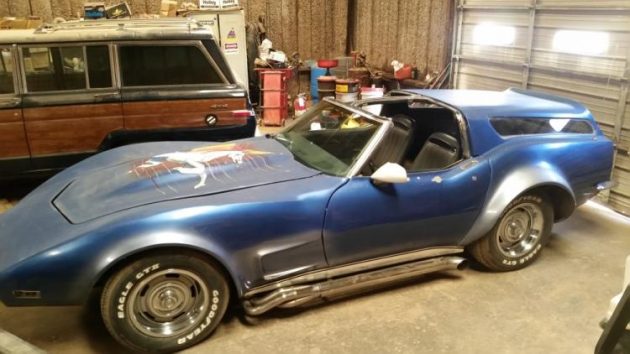 Station wagon conversions on vintage American cars are not unheard of, but they aren't always easy to come by. Thanks to reader John B. for sending this one in! I have seen a '65 Mustang wagon in person, and heard of various other conversions including 'Cudas and Cadillacs. This C3 Corvette wagon is just as cool, and very '70s. This 1971 Corvette would be right at home next to an old Chevy van with a mural on the side! While the wagon conversion has certainly given this car the gift of trunk space, it has also given it the gift of infinite criticism. This may not be everyone's cup of tea, but if you like find it in Texas here on AuctionZip with bidding at $10,550.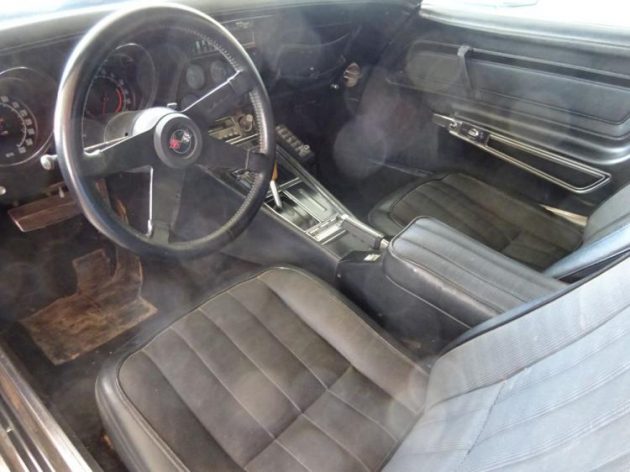 The passenger compartment appears to have been left alone with the exception of the additional trunk space. Having covered only 84,000 miles, it isn't surprising that the seats and console are in nice original condition. Although the interior is somewhat utilitarian, at least for a sports car, this could be a cool driver with minimal work. A good cleaning would go a long way on this interior! For as extravagant as the exterior is, you would think the creator of this vehicle would've added a little more pizzazz to the interior. If the conversion was done when the car was relatively new, it is plausible that the nice factory interior was more appealing.
The wagon part of the car isn't the only modification this Corvette received! This car has had the front end modified as well to give it a bit of a Speed Racer vibe, as well as some kind of weird van vibe. Although it's completely different, Corvette Summer comes to mind! It would be cool to know what company made or did these conversions, if any. There are a few other Corvette wagons of this vintage out there with the same style headlights and grille, as well as side windows on the wagon portion. On top of the hood is a unicorn, and under the hood is a Chevrolet 350 hooked up to the slick '70s side-pipes!
Chuck Miller and John Greenwood are the two big names associated with Corvette Sportwagon conversions, but this particular 1971 Corvette does not appear to be in the style of either of them. It is possible this car spawned from a kit done by someone on their own. Regardless of its origin, this Corvette looks to have been done well and held up well over the years. The ad does not state how long ago it was done, but it does say "original custom paint from 71" which makes me think it was probably done when the car was near new. Although it needs some electrical work, this is certainly a unique vehicle that is bound to bring years of driving pleasure to the right person. If you have more information on the origins of this car, please let us know in the comments!