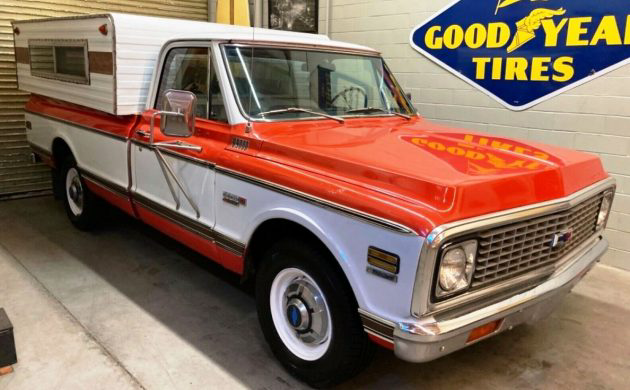 An old-timer at my church once told me that God doesn't count the time you spend fishing against your clock; you get all those hours spent drowning worms and contemplating nature for free. While that may sound optimistic, this Chevy pickup stands as mechanical proof! The seller of this 1972 Chevrolet C20 Cheyenne Super in Upland, California claims it was only used for fishing. Today it shows 96,500 miles on the odometer and the original paint shines almost like new. The well-preserved fishing truck seeks a new owner here on eBay where only a click on Buy It Now and $22,500 stands between you and having no excuse but to wet a line. Western mirrors help you see around the cap and combine with the 16 inch steel wheels to make one sturdy looking Cheyenne. The listing describes a running truck that the seller would "drive anywhere." Thanks to reader Boot for submitting the tip on this Angler's Special.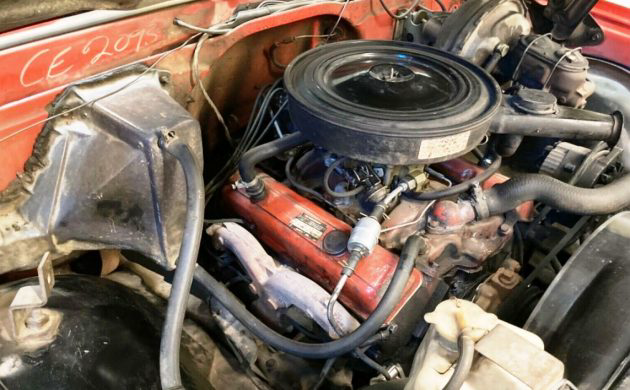 The ubiquitous 350 cid (5.7L) small-block powers this 3/4 ton truck. Power steering and power brakes ease the drive to your favorite fishing hole. Surprisingly an aggressive 4.57:1 gear set came as the default with this engine and the three-speed automatic, compared to a 3.73 in the C10. Burying the pedal from idle will be sure to upset your live bait.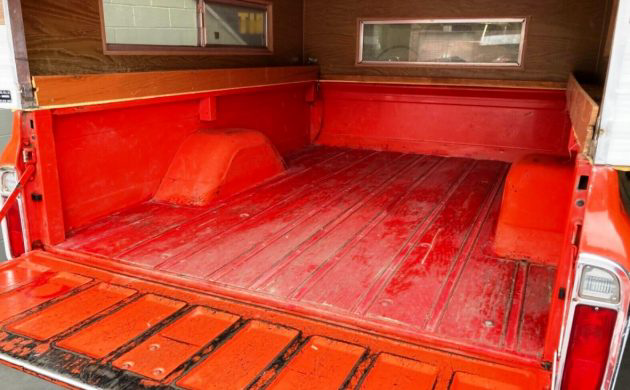 The optional wooden bed was known to quiet travel on dirt roads where an all-metal bed can become a giant echo chamber amplifying road noise. Owner-applied red paint may conceal some sweet-looking original boards. The aluminum top keeps your rods and other gear out of the elements.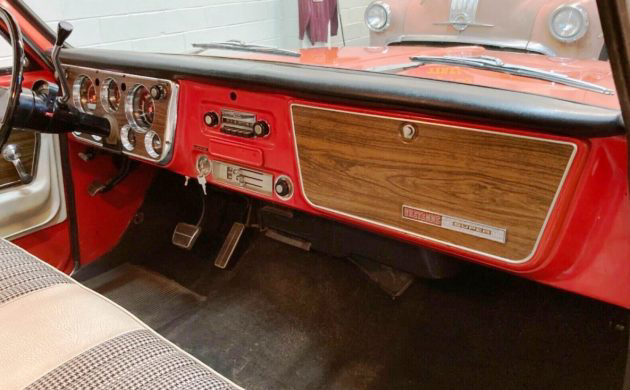 The Cheyenne Super topped the trim levels for 1972, adding additional trim inside and out and practical upgrades like full instrumentation. Like the paint, this Parchment-colored houndstooth upholstery is original too. In contrast, my Grandfather's 1967 C10 was appliance white inside and out with no headliner and no wood trim. Model year 1972 marked the last of this generation of Chevy's popular C-series trucks. Thanks to GMHeritageCenter for some details. What honey hole would you visit in this red hot fishing rig?