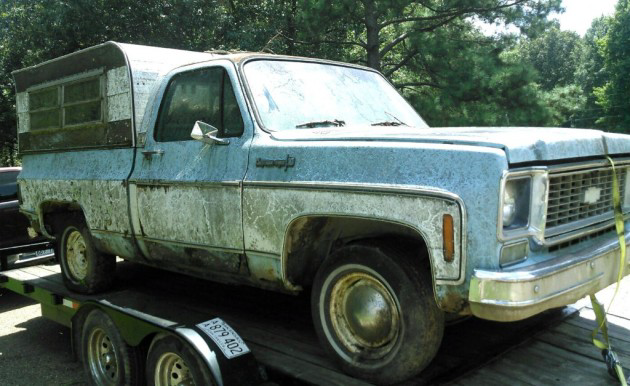 From Derek K – I found this 1973 Super Cheyenne in an old man's back yard in Arkansas. The license plate went out in 1985, some 30 years ago. The owner said it got horrible gas mileage and he drove it behind his house and parked it. Had a horrible camper on it which amazingly saved the interior of the bed. Never to be moved again until today. It is as I said, it's a 1973 Chevrolet Cheyenne Super 10 with factory big block 454, half ton, Fleetside. It has optional Bucket seats, air conditioning, power brakes and power steering. It currently has 83k original miles on it. The truck is in need of body repairs, but floors are as solid as the bed is.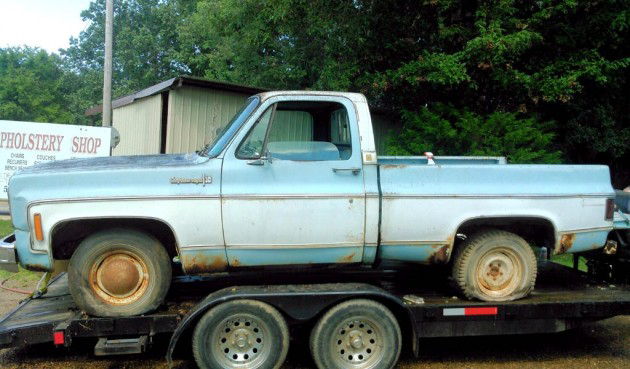 It sat under a lean to next to fertilizer which is likely what has eaten the passenger side door up. There are said to be about 43k Fleetside Shortbed pickups made in 1973, of those roughly 7% were supposedly Cheyenne Supers and only a small percentage of those were big blocks. Due to a fire, a lot of the actual production numbers were lost, therefore it's hard to be sure on exactly how many were made with these options. It is estimated at around 1,500 or less, or so I'm told. I was able to purchase it for a whopping $400 bucks…
Have something to sell? List it here on Barn Finds!